Tiger Rush slot is a colourful, high-definition video slot for both desktop and mobile devices brought to us by Thunderkick. The game doesn't have quite the amount of tigers that one might expect from a game called Tiger Rush, but the basic jungle theme of this slot is a minimalist design, very well done, and created with great detail in all of the elements. One of the hallmarks of a Thunderkick slot is the incorporation of varied bonus features, and this one doesn't let us down.
The Tiger Rush slot is a five-reel, three-row slot at its base, but that changes during free spins. During the main game, bets are made and wins are paid across 10 pay lines, but again, this changes to 25 pay lines during free spins. Also of interest on this slot is the fact that all pay lines in both modes pay both ways — wins count starting from the left or from the right.
Symbols and Payout
There are seven regular symbols on the reels plus a wild and a scatter symbol. The great tiger, drawn with an oriental flair, is the wild symbol and the game logo serves as the scatter symbol. The remaining symbols are various coloured gemstone carvings. Wild symbols only appear on the middle reels, so it is impossible to get five of a kind on those. The highest paying symbol will award 15 times your bet for five of a kind while the lowest paying offers 1.4 times the bet for a line of five.
Wagering on the Tiger Rush slot is very simple and straightforward. There are no coin values or coins per line settings at all. You'll simply be presented with 14 preset bet amounts to choose from. The minimum wager per spin is just £.10 and the maximum, for those willing to take the risk, is £100.
Top Rated Thunderkick Casinos
Yes – Why To Play The Tiger Rush Slot
Tiger Rush follows a very simple, right-to-the-point design. The game is colourful and designed with great visual and audio detail, but it is done with elegance and simplicity rather than flash and over-the-top attempts to grab attention.
The bonus elements of this game go together well to create changes that keep it interested. Especially with the pay-both-way system, there are many opportunities to rack up significant wins.
The return to player (RTP) rate on this slot is quite high, coming in at 96.3%, and gives players a very good value for the money they wager.
No – Why Not Play?
The simplicity of the design of Tiger Rush might fall short for players that like to see characters and animations in the games they play. You won't find any cartoon type characters and none of the symbols are animated on this slot.
This slot machine appears to have relatively low volatility, meaning it will pay off fairly often, but rewards will be small. Indeed, the maximum win on this slot is only 1,750 times your bet whereas others often pay 5,000 times and higher. Veteran players might not get the excitement they want.
It's not the most terrible thing that can happen to a slot machine, but the symbols on Tiger Rush could really have used a bit more imagination. With the tiger right in the name and the jungle background, it seems very bizarre that there is only one animal symbol on the reels.
Tiger Rush Slot Bonus Features
Tiger Rush has an interesting combination of bonus features that work together to create plenty of free spin opportunities as well as increasing the number of possible winning combinations. Everything, as you might expect, starts with the wild and scatter symbols.
The wild symbols themselves do more than just create extra matches when they land on the reels. Any wild symbol that stops in view will expand to cover the entire reel. So, in essence, every wild symbol will become three. In addition, whenever a wild symbol lands, there will be a free respin. The respin will occur regardless of whether the initial spin was a win or a loss, so it's possible to win twice on one spin. Then, if you happen to land a second wild on the respin, you'll be granted a third, allowing you to win up to three times.
Free Spins
Free spins can be triggered in two different ways and offer their own set of bankroll boosting features as well. Landing two scatter symbols will award free spins, but it's also possible to trigger them by landing just one scatter symbol if one or more wild symbols appear adjacent to it. The total number of free spins granted will depend on the exact combination of symbols that trigger the feature.
Making the free spins feature even more interesting, when it is triggered, the three middle reels will expand from three rows to five rows, creating 25 pay lines that also pay both ways. And yes, the wild symbols will expand to fully cover the five-row reels plus grant respins during the free spins feature.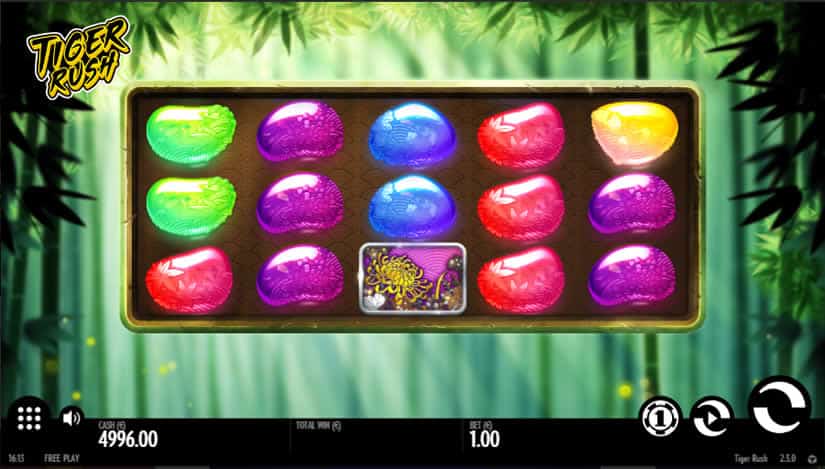 Additional Info
The Tiger Rush slot belongs to the Thunderkick slot library, which can be found at most multiplatform online casinos. As the name indicates, this type of online casino works with multiple softwares, so their library is robust and offers thousands of games.
I personally like slots with more graphic effects, so this one falls short on the type of animations I like. Here are some of the best tittles I played recently, with better effects and reasonable RTP:
By the way, Thunderkick is not available to all players. You can find this software at most UK online casinos, but you won't find it – for example – at USA casino brands.
Hope you like our suggestions!
GL!