The Shogun of Time slot was designed by Just For The Win (JFTW) and released through Microgaming to a wide variety of online casinos across the globe. As is probably obvious, the theme of this slot is based on the Japanese Shogun military leaders of centuries past. There is a twist though, as the pretty female Shogun warrior presented here looks more like she's come from the future than from the past.
Shogun of Time starts out as a four-reel, three-row slot that pays out on 81 ways to win. You'll need to land like symbols on the first three reels to get a minimum win in the base game. During free spins, however, things change up a bit. When free spins start, a fifth reel will appear, increasing the ways to win to 243. In addition, free spin wins are paid from both directions, meaning that combinations going from right to left win just the same as combinations from left to right.
Symbols, Wagering & Payout
There are ten different symbols on the reels with the five highest paying being various symbols of the Japanese Shogun culture and the Shogun of Time logo, which pays the most at twelve times for five of a kind. The five lower paying symbols are made up of the playing card values ten through ace. There are also standard and stacked wild symbols to increase the winning combinations and free spin symbols.
The Shogun of Time slot appears to have a medium volatility, although it is not stated in the game instructions. This means wins will come up fairly often, but will usually be on the somewhat low side. Larger wins shouldn't be extremely far apart, but players should be prepared for some occasional extended losing streaks. The return to player (RTP) rate is 96.02%, which will give good value for the money you bet.
Setting up your wager is very easy. There are 28 different preset wager amounts ranging from £.10 up to £100 per spin. Just pick the amount you'd like to play on each spin and you're all set.
Top Rated JFTW & Microgaming Casinos
Yes – Why To Play The Shogun Of Time Slot
The theme of Shogun of Time slot is simple but effective. The overall design, colours and symbols all go together well. Everything on the screen is clear and easy to see and should work well for you no matter what size screen you're playing on.
The combination of changes that take effect when free spins trigger can lead to some very large wins. It's well worth waiting for this feature to hit a few times.
The medium slot volatility of this game delivers a good mix of large and small wins within a reasonable period of time that should make it attractive to a wide range of gambling styles.
No – Why Not Play?
Although a lot happens to help increase prizes during free spins, they are really the only bonus feature of Shogun of Time. Something a little bit out of the ordinary would have made this slot a lot more exciting.
The "Reel Split Respin" feature comes up frustratingly rarely. The game gives a sort of a teasing animation when there's a chance of the feature triggering but then nothing happens. After you've seen this happen a few times you start to feel like someone is jerking your chain, which is not exactly the feeling you want when you're gambling.
The symbol design the Shogun of Time slot could be a bit better. With only four reels and not a lot of bonus features, you really need to do something to grab attention, and having five playing card symbols on the reels doesn't do that. Shogun of Time slot is still fun to play, but it could have used a bit more attention to detail to really make it stand out.
Shogun Of Time Slot Bonus Features
All of the bonus features on Shogun of Time slot revolve around free spins. There is a respin feature that can trigger in the base game from time to time and traditional free spins with some extra prize boosting changes added.
The Reel Split Respin feature can activate during the base game whenever a win is achieved with the same symbol on all four reels. When this happens, an extra reel will be added between reels two and three, increasing the ways to win from 81 to 243. Then, that newly added middle reel will spin while the other four reels remain locked. If the new combination of symbols generates another win, you'll get another prize. After the respin, the game will switch back to the four-reel, 81 ways to win layout.
Free spins are triggered by landing either three or four of the free spins symbols on the reels at the same time. Three symbols will award eight free spins and landing four symbols will double that to 16 free spins.
During the free spins, again, a fifth reel is added between reels two and three, but now the middle reel will be a stacked wild symbol for the duration of the feature. Like the respin feature, the free spins will also pay on 243 ways to win.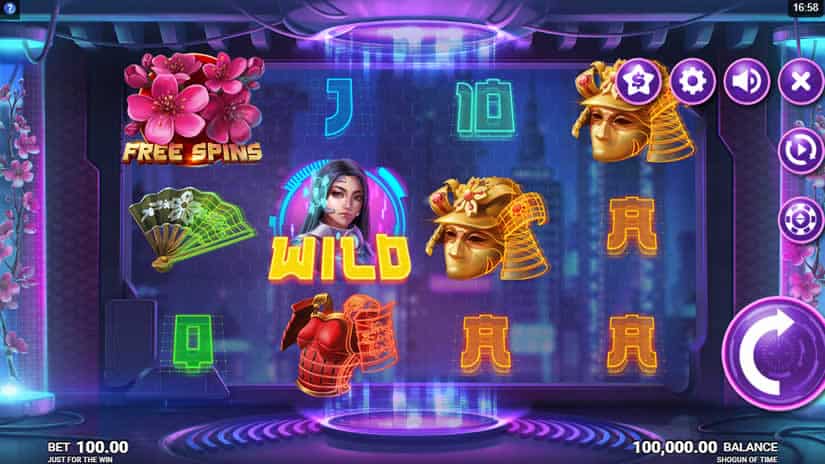 Additional Info
You can find the Shogun of Time slot from JFT + Microgaming at most online casinos around the world, except USA and Australia. If you are located there, please visit our specific section with online casinos in your country.
One thing I like about this online slot is the "Ways to Win" feature. Basically, games with this feature will provide better chances to win. The same happens with the Megaways online slots – and we also wrote about them recently. Here you can find a couple of additional tittles offering Megaways or Ways to Win features:
Cheers and Enjoy!