The Dark Vortex slot was released on October 28, 2018, by the well respected online casino game design company Yggdrasil. It's just one more in a long list of releases that reminds why Yggdrasil is considered one of the best. With an unusual theme and some creatively put together game mechanics, the Dark Vortex slot is sure to make its way to the top of many players' favourites lists. Get ready to run through the realm of all things dark and wretched on your quest for riches.
Dark Vortex is a five-reel, three row slot, but is most certainly not your average 5×3 video slot machine. Using what Yggdrasil calls a Win All Ways pay scheme, they've taken the standard 243 ways to win idea and put their own unique spin (no pun intended) on it. During play, you can trigger bonus features which will change two or more of the reels from three to five rows, plus enable wins from both sides — you get paid for matching from right to left or from left to right. The end result is that the original 243 ways to win can climb all the way up to 3125 ways for some truly big wins.
Symbols and Payouts
It's hard to say exactly what the symbols on the reels are based on. They are a small variety of devilish and ghoulish creatures that you'll just have to check out for yourself. And everything is, of course, animated brilliantly with Yggdrasil's trademark style. The ghouls make up the five high paying symbols, and then there are five different spell books representing the low paying symbols. There are also wild symbols, two magical orb symbols, and the cursed vortex symbol.
Placing your bets on the Dark Vortex slot is an easy and straightforward process. Players can set the coin value they wish to use and that value will be multiplied by ten to come up with the overall bet. The minimum coin value is £.01 and the maximum is £5.00. We can quite easily see that gives us a minimum bet of £.10 and a maximum of £50.00 on each spin.
Best Yggdrasil Casinos to Play at
Yes – Why To Play The Dark Vortex Slot
Like most Yggdrasil slots, this one has brilliant visuals and outstanding animation. The unique theme and characters on the reels also make it a lot of fun to play.
Delivering excellent value to players, Dark Vortex has a 97% return to player (RTP) rate built in.
Bonuses on this slot can deal out quite generous wins, and there are some interactive elements give the player some influence over how bonus features play out.
No – Why Not Play?
There is a "buy a bonus" feature on Dark Vortex that will let you buy into the Vortex Spins feature for 80 coins, which really appears to be a very bad bet. After trying this function several times, it seems nearly impossible to win the amount you'd need to cover the 80 coins spent and come out with any kind of significant positive net win.
This slot scores fairly high on the volatility index, which might make it a bit too unstable for timid players. Players should expect to go through some significant losing streaks every so often, but there are big wins that will eventually hit.
Although this slot is a lot of fun, the bonus features basically come down to an enhanced free spins feature. It's a bit interactive, but if you're the type who likes to see several different kinds of bonus features packed into a game, you might not think this one is so exciting.
Dark Vortex Slot Bonus Features
As was stated above, the main bonus feature on this slot is free spins, but Yggdrasil has added some twists to make those free spins a lot more interesting than your average slot machine. Let's take a look at how it all works.
You'll enter the "Vortex Spins" by landing two or more of the cursed vortex symbols on adjacent reels. That is to say, they don't act as scatter symbols. They must land on reels next to each other, but it can be any two or more reels. They don't necessarily have to land on the first and second reel, for example. It could be the third and fourth.
For each Vortex symbol that lands, one vortex reel will be created during the free spins. A vortex reel expands to five rows instead of three, creating more ways to win. Landing two symbols will get you three spins, plus two more spins for additional Vortex symbols.
During Vortex spins, landing more vortex symbols will create additional five-high reels. You can also collect two different coloured orbs that will affect the possible number of free spins and stacked wild symbols on the reels during free spins. To get to the free spins, you'll need to expand all five reels to five rows before the Vortex spins run out.
It's possible to open the reels for 3125 ways to win and you've got a chance at a maximum payout of 73,180 coins!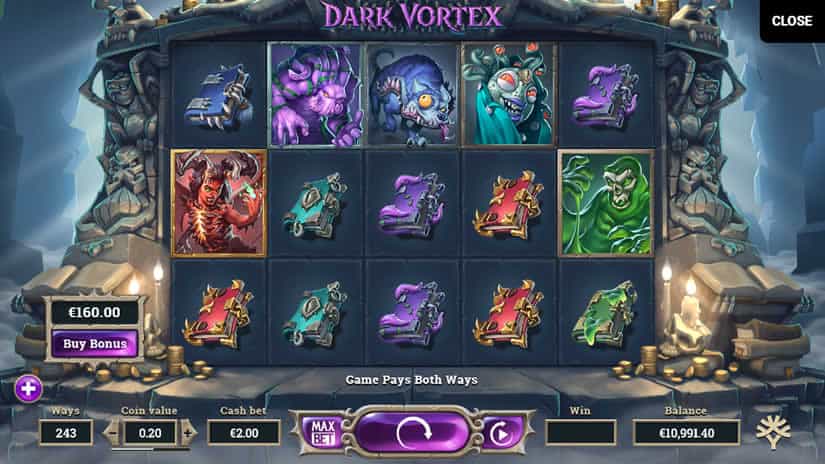 Additional Info
You can find this slot at most UK online casinos. Amazingly, you can also play these slots at Australian friendly online casinos, so if you are located there, you are also good to go. Regarding the RTP rate, I can say is quite good, so players will obtain great value for the money invested. In terms of graphics and sound effects, this game is simply spot on! I loved everything about it and would recommend it to any friend. If you like slots with the 243 ways to win feature, you should also check:
Cheers and good luck!