The Vikings slot, based on the extremely popular HBO series of the same name, comes to us from the gang at NetEnt. The slot is a visual pleasure. The background is highly detailed with lots of movement, from the tall grass dancing in the wind below the reels to the fluttering flakes of snow that fall behind them. Symbols on the reels are animated, highly detailed and presented in crisp, clear high definition.
Following along with popular designs, Vikings is a five-reel, three-row slot that uses the 243 ways to win payout scheme. To make things a bit more interesting, however, during certain features, the layout will transform into seven reels and five rows, creating 78,125 ways to win.
Symbols on the reels include the Vikings logo, which pays the most at 70 times your selected bet level, four of the Vikings characters, and the top five playing card values, plus some bonus symbols. The Viking symbols can also appear as both single symbols and stacked symbols that take up three spaces on the reels.
Wagering Details
Wagering on the Vikings slot can be a little confusing for novice players since this game has no true pay lines and NetEnt insists, for some reason, on continuing to make setting your bet amount much more complicated than it needs to be.
For the sake of setting the wager, the game operates as if it were a fixed 20 pay line slot — you'll be betting at least 20 coins on each spin. You can set the coin value from £.01 up to £.50 and then set the bet level from one to ten. Bet level would be the number of coins to bet on each of the 20 imaginary lines. So you can play from 20 up to 200 coins at a time, in increments of 20. Overall, that gives you a minimum bet per spin of £.20 and a maximum of £100.
Best NetEnt Casinos to Play at
Yes – Why To Play The Vikings Slot
The game has some great bonus features that keep the excitement level high. Some trigger easier than others, of course, but you'll definitely be on your toes while you're playing.
When the 78,125 ways to win transformation occurs and the reels take on their seven by five configuration, it's possible to win a brain-boggling 200,000 times your bet level value. If you're looking for big rewards to chase, that should do it.
As always, NetEnt has built in a generous return to player (RTP) rate. The Vikings slot has an RTP rate of 96.05%.
Of course, if you're a fan of the Vikings HBO series, playing this one is going to be a no-brainer.
No – Why not play?
Just the opposite of what was said above, if you're not a big fan of the Vikings series on HBO, this slot probably isn't going to interest you very much.
Although there are several different bonus features, not all of them will trigger often. This is definitely a slot with a high volatility level. It will most likely take quite a few spins before you see all of the bonus features in action.
Between the betting structure and payout calculations and the combination of rules regarding the bonus features this slot is definitely a bit confusing for novice players who might have to read things over a few times to fully understand how everything works.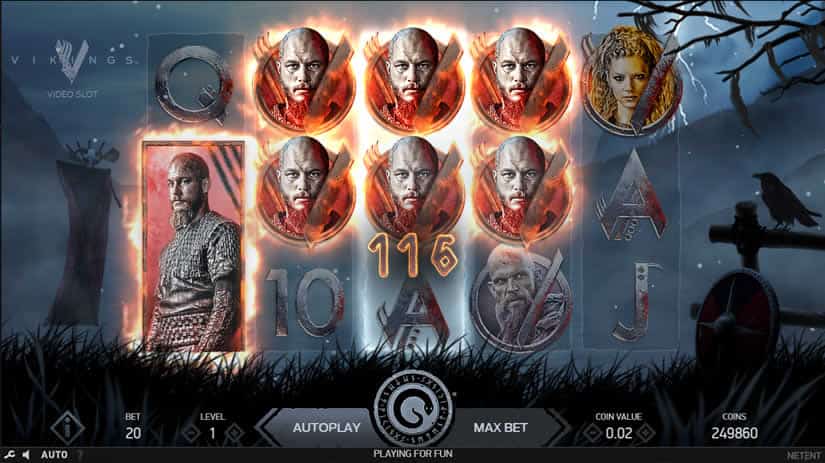 Vikings Slot Bonus Features
As we said above, there are several interesting bonus features on the Vikings slot, including one that can net you massive payouts of over 200,000 coins. Here's how it all breaks down.
The most basic bonus feature is the hotspot on reel three. It's simple. Whenever a stacked Viking symbol lands completely visible on the third reel, all other viking symbols on the reels will transform to match it. This includes both stacked and single symbols on the other reels. After the Viking symbols change, your payout is determined. Landing a couple of stacked symbols when this happens can generate big wins.
Then we have the shield wall feature. It can activate randomly on any spin that doesn't result in a win or the activation of another feature. The shield wall drops in as either a three by two or five by two cluster of shields that will then reveal any of the four Viking symbols behind them.
Then we have the big one, the Raid Spins feature. When three Raid Spin symbols land on the reels, the playfield transforms into the seven-reel, five-row layout increasing the ways to win to 78,125. You'll be awarded seven Raid Spins with hotspots on reels three, four, and five. A stacked Viking symbol landing completely visible in any of the three hotspots will have the same effect as mentioned above, transforming any other visible Vikings. You can also land shield walls in clusters of 4×2, 5×2, or 5×3.
Additional Information
You can find NetEnt games at most UK online casinos (also available to other European players). The Viking theme is one of my favourites, because of the story and legend behind them. Here I go with a list of Viking themed slots, from top software providers:
Cheers and Good Luck!