The Dragon Maiden slot comes from the creative minds at Play'n Go. As you've probably guessed by the name, the slot is themed around a beautiful maiden and, of course, dragons — complete with wonderful fire-breathing effects. As you search for your fortune among jewels and treasures, both the ominous red dragon and the powerful, fiery dragon maiden will use their talents to assist in your quest.
Dragon Maiden is a five-reel, three-row slot that uses the 243 ways to win payout scheme — or, at least, that's the way it starts out. If you manage to activate some of the special features on this slot it's possible to get the reels expanded all the way up to six rows, creating 7,776 ways to win. There are several other bonus features jammed in there to help you increase your wins as well.
Symbols on the reels include the dragon maiden and four of her treasures, which serve as the game's high-paying symbols. The dragon maiden can also become wild at random, and possibly expand up to three symbols high. There are also four low-paying symbols which are made of jewels shaped like the four traditional playing card suits. And last, but not least, there's our hot-blooded, fire-breathing dragon friend serving as the scatter symbol.
Wagering on the Dragon Maiden slot is not a problem at all. There are not coins, lines, or bet levels to adjust. Simply pick one of the predetermined amounts between £.20 and £100.00 per spin and you'll be good to go. With a maximum return of up to 5,000 times your bet, it's likely you'll be eager to get in there and chase that dragon down.
Best Play N Go Casinos to Play at
Yes – Why To Play The Dragon Maiden Slot
The concept and theme of this Play'n Go slot make for some well-designed visuals. From far-off dragons flying in the background to the dragon on the reels spewing fire, the animations on this slot are very entertaining.
The bonus features on this game are fairly unique and when things trigger in the right way, payouts can mount up to significant sums very quickly.
Dragon Maiden seems to be a medium volatility slot, which should satisfy most players. It will provide wins consistently enough to keep from scaring off the squeamish yet provide occasionally higher payouts to give veteran players a poke of excitement when they need it.
The slot RTP is 96.49%, which means that players will find good value for the money they wager.
No – Why Not Play?
The theme and symbols on this slot are well done, but some players might find it to be a little bit too "Dungeons & Dragons".
Bonus features on this slot can be exciting to watch, but they don't include any interactivity. If you absolutely must have interactive bonus features, you'll be disappointed with Dragon Maiden.
Triggering bonus features is not too difficult, but getting paid off during those features seems to be a little hard. It's possible to trigger everything all the way up to the 7776 ways to win special feature and still win almost nothing — which is extremely frustrating.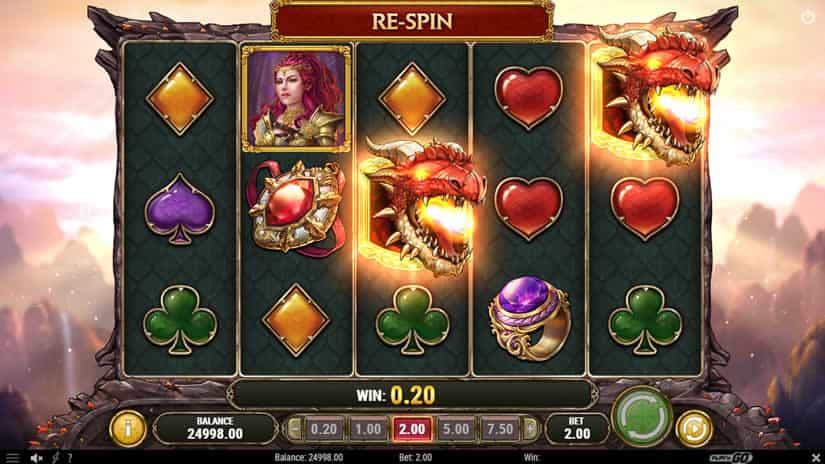 Dragon Maiden Slot Bonus Features
The bonus features on this slot are very easy to understand. Aside from the maiden turning wild, all of the bonus features are based on the red dragon scatter symbol. Here's how it all works.
If you land two dragon symbols on the reels, you'll be given a respin with the reels where the dragons appeared locked in place. From there, if another dragon lands, that reel will also lock and another respin will occur. The process continues until no more dragons land. If no more dragons land after a respin triggered by two scatter symbols, nothing else happens. If the end result is three or more dragon symbols, free spins are awarded as follows:
3 symbols – 8 free spins
4 symbols – 10 free spins
5 symbols – 12 free spins
During free spins, whenever a dragon symbol lands on a reel, that reel will expand upward by one row, generating more ways to win. It is possible for each individual reel to expand up to three times, making 6 rows. If a dragon symbol lands on a fully expanded reel, the player is granted a "Golden Spin".
After all free spins are done, if the player has won golden spins, they will be played. During golden spins, all the reels expand to six rows, creating 7776 ways to win. When the golden spins are finished, the playfield returns to normal.
Additional Info
You can find Play'n Go slots at most online casinos, except the ones catering to USA casino players. The game is available in most mobile platforms, including smartphones and tablets, also accessible from your desktop. If you are into fairytale / legend themed slots, feel free to check the following:
Cheers and Enjoy!