The Vikings Unleashed slot comes to us from Blueprint Gaming. Although some aspects of this video slot are not quite as polished as games you'll see from other game designers, this one is a solid release with both pleasing visuals, music and sound. It also has the potential for some very large payouts.
As you should be able to tell from the name, this slot is following what seems to be a recent trend in Viking-themed slots. Obviously not wanting to be taken too seriously, though, the cartoon Viking characters on the reels here are more comical than fearsome by far. Among the symbols gracing the reels on this one are three Vikings, a wizard, and playing card values 9, 10, J, Q, K, and A. One would think there would be more Vikings on a slot called "Vikings Unleashed" but alas, the mighty Vikings are outnumbered here.
Slot Mechanichs and Payouts
The Vikings Unleashed slot makes use of the MegaWays win and payout system, which can be a little bit confusing for novice players. All together there are 7 reels on this slot with 6 being vertical and one running horizontal across the top. The horizontal reel spins from right to left and always has four symbols that sit above vertical reels two through five. The number of symbols on the vertical reels can vary from two up to seven on each reel. Depending on how many symbols appear on each of the reels, each spin will have a different number of possible ways to win. The maximum, if all six reels stop with seven symbols, is 117,649 ways to win.
Wins are awarded when the same symbol appears on two or more adjacent reels. Symbols don't need to line up on any specific pay line, they only need to appear on reels next to each other starting from the first reel on the left. In addition, on every winning spin, the winning symbols will be removed from the reels and new symbols will cascade down onto the playfield from above, creating chances for a higher payout on each win. If a second win occurs, those symbols will be removed and more will fall, and so on until no more wins are created.
Betting options on Vikings Unleashed are straightforward and a bit conservative. You'll only need to choose your overall stake for each spin and you're all set. The minimum wager per spin is £.20 and the maximum tops out at £10.00.
Yes – Why To Play The Vikings Unleashed Slot
The MegaWays payout scheme has the potential to create monumental wins when the conditions are right. This slot has a maximum payout of £250,000 or 50,000 times your bet, whichever is reached first.
Vikings Unleashed appears to be a medium volatility slot, which should satisfy most gambling styles without causing too much anxiety for anyone. The payouts come fairly regularly, albeit in small amounts, but large wins are there to be had for those with patience.
The overall theme of the game is fun and with the changing number of symbols on the reels, it's easy to get hooked into playing just one more spin to see what's going to happen next.
This slot has a 96.5% return to player (RTP), which is considered good.
No – Why Not Play?
For high-roller players, this slot probably isn't going to be enough to deliver the excitement you're looking for. The low maximum bet of £10.00 doesn't match up well against other slots that will go as high as £100 or more.
This slot requires the player to land four scatter symbols to trigger free spins, which seems to be nearly impossible. The trigger for this feature probably could have been tweaked a little better.
Free spins are really the only bonus feature in the game. This one could definitely do with at least one other feature to help keep the excitement going. After a while, one starts to feel like they're just sitting there watching the reels spin and nothing more.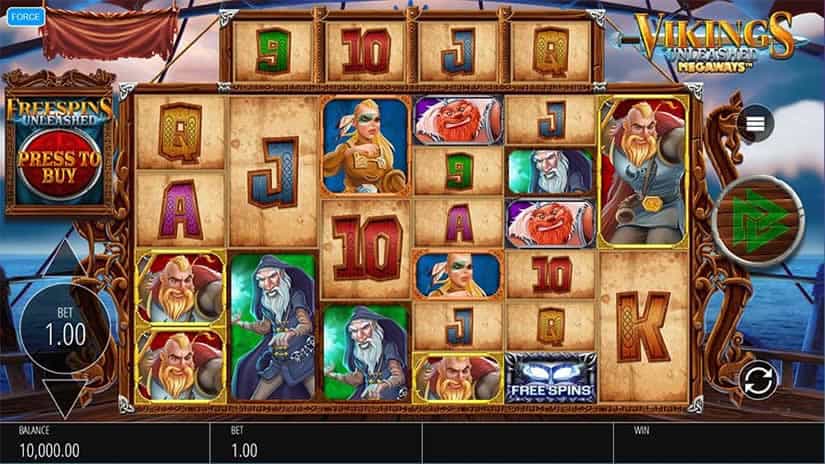 Vikings Unleashed Slot Bonus Features
There are a few different combinations of features on this slot that can help boost wins, but it seems fairly obvious that the makers intended for the MegaWays feature to pretty much carry this game and they didn't put a lot of thought into entertaining bonus features. Here's how the bonus features break down.
In addition to the wild symbols, there are also hammer symbols that can appear on the reels. When the hammers stop, they will all transform into the same random symbol. So, obviously, the more hammer symbols that land, the better your chances of hitting a big win.
Free spins are triggered by landing four scatter symbols, which seems to be very difficult to do. Four symbols will start you off with 12 free spins and then each additional scatter symbol will add five free spins on top of that. When you manage to trigger free spins, you can also gamble both the number of free spins and the win multiplier to be used. If you win, obviously, you get more and if you lose, the bonus feature ends.
During free spins, there is a win multiplier that will increase by one every time there is a cascade from a winning spin. Free spins can also be re-triggered by landing three or four more scatter symbols. Three scatters will award five more spins and four scatters will award ten more spins.
Additional Info
This is an amazing slot machine which I really enjoyed playing. You can find it at most UK online casinos, that are also available to other European players. If you are like me, enjoying Viking themed slots, feel free to check the following tittles:
Cheers and Enjoy!