The Wild Falls slot was recently released by Play'n Go. The basic theme of this slot is based on a rushing river where prospectors are hunting for gold, which ends in a spectacular waterfall. As symbols and objects come down the river and over the falls, you'll have a chance of catching some very big rewards at the bottom.
Wild Falls is a five-reel, three-row slot where all wagers play on 20 fixed pay lines. As the five wild reels spin, you'll see four high paying symbols and five low paying symbols along with a chest symbol that acts as both a wild and scatter symbol. The four high paying symbols are made up of a bag of gold, a prospector's pan, a pickaxe and shovel, and a lantern. The top prize for five bags of gold will get you back 25 times your bet. The low paying symbols are made up of the playing card values ten through ace. Five aces will win a prize of six times your bet.
Wagering, Coin Value & RTP
The Wild Falls slot is listed as a high volatility slot with very generous maximum prizes. It's possible to win up to 10,000 your bet on a single spin, with a total maximum payout of £1,000,000. It also has an exceptionally good return to player (RTP) rate — as we have come to expect from Play'n Go — at 96%.
Play'n Go has standardized the betting options on all of their recent releases, and this one is no different. All wagers play on 20 lines, as was mentioned above, and there are no coin value or coins per line options to set. You are simply presented with 15 different preset betting amounts ranging from just £.20 up to £100. Just pick the amount you'd like to play with and you're all ready to spin.
Top Rated Play'N Go Casinos
Yes – Why To Play The Wild Falls Slot
The overall design of Wild Falls is great. The theme is colourful and everything is drawn with great detail. The symbols are big and bold and will work well on any size screen. The game also loads and responds fast on any device.
The different chests that can land on any spin present big bonus opportunities. It's possible to hit multipliers up to 125 times, and that's not even looking at what can happen during free spins.
With chests acting as wild and scatter symbols, free spins are always accompanied by walking wild symbols which can lead to several big wins in a row before those free spins end.
No – Why Not Play?
The possibility of big prizes might not be enough to comfort more conservative players who could be thrown off by the high volatility of Wild Falls. Players may see extended periods of small winnings or even sustained losses before any significant wins finally hit.
For those who like a lot of bonus features, especially interactivity, this slot might prove to be somewhat disappointing. There are some slight variations on bonus features, but they all basically come down to free spins and there is nothing interactive.
The display of large maximum wins and high multipliers looks nice, but when you really examine the payout tables, prizes for the most common wins — three or four symbols — are really quite low and you'll need to hit some fairly rare combinations to get those really big wins.
Wild Falls Slot Bonus Features
As you play Wild Falls, you'll see several chests sitting in the river above the reels. These chests will come down over the falls every so often, and when they do, they are the key to triggering the big bonus features on this slot. The chests can land any time on reels two, three, and four.
Rapid Respin & Gold Rush Bonus Features
The first thing you need to know is that any chests that land are wild and will match with any other symbols. They can also stick to a spot on the reels and grant a free "Rapid Respin" for a second chance to win. It's also possible that when a chest lands you'll hit the "Gold Rush" feature. When this happens, all chests on the reels will turn gold and grant multipliers between two times and five times. Then they will all combine to create the final multiplier on your win.
River of Gold Bonus Feature
The "River of Gold" bonus feature is triggered when you land three chests on the reels at the same time. During the River of Gold feature, the initial chests that triggered the feature will stick where they are and free spins will begin. With each spin, the chests — now acting as wild symbols — will walk one position down the reels. Free spins will continue until there are no more chests on the reels.
Super River of Gold Bonus Feature
And finally, if you manage to land three golden chests on the reels at the same time, you'll activate the "Super River of Gold" feature. This feature works exactly the same as the River of Gold feature above except that all chests are gold and have multipliers which can combine to create a final multiplier up to 125 times the initial win.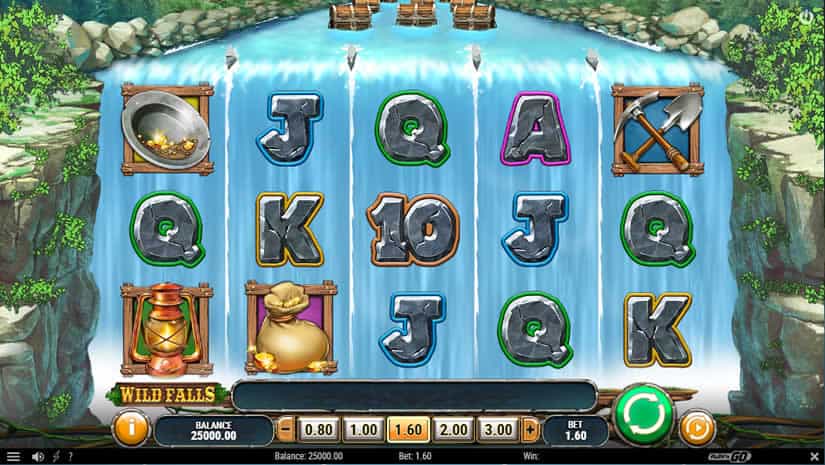 Additional Info
You can find the Wild Falls slot at any Play'N Go Online casino, catering to European players. If you are located in one of the restricted countries (USA, Australia, etc) your casino will probably display games from software companies available in your region. Play'n Go games wont be playable, but since most online casinos are now powered by multiple software companies, you will have plenty of games to choose from. Or you can always visit our section with online casinos in your country.
Back to this game in particular! I honestly loved this game but the high volatility scared me a little, this time. If you have a more conservative gameplay and would prefer to try a low volatility slot, check out these tittles:
Cheers and Good Luck!