The Nitro Circus slot from Yggdrasil brings us everything we've come to expect in a video slot produced by this one-of-a-kind game developer. With great graphics, high payouts, big bonus features, and lots of excitement, the Nitro Circus slot is themed around the television series, 3D movie, and travelling live tour that it is named after. Drop a few coins and join Travis Pastrana and his band of extreme sports enthusiasts for a show you won't soon forget.
Nitro Circus is a five-reel, four-row slot with 25 fixed pay lines. As everything spins by at dizzying speeds, you'll see symbols including the Circus' top riders. Of course, including Travis Pastrana himself, who is the game's top paying symbol, a few different styles of helmets that are the low paying symbols, plus bonus symbols.
Hitting five Travis symbols on a pay line will get you the top regular payout of 500 coins. That's not all, though. When bonus features trigger and things come together just the right way, it's possible to win up to a whopping 50,000 coins. There are plenty of exciting bonus features wrapped up in this slot, too.
Setting up your bet simply involves setting the value of the coin you'd like to use. As was stated above, the 25 bet lines are fixed, so your wager will always be 25 times the coin value you select. The value can range from £.004 up to £5.00, making for a minimum wager of £.10 per spin and a maximum of £125.00.
Top Yggdrasil Casinos to Play at
Yes – Why To Play The Nitro Circus Slot
As always, Yggdrasil has done a superb job on the audiovisual aspects of this slot. Graphics, sounds, images, and animations are all spot on. From high-flying motorcycle stunts to flashing pyrotechnics, everything is there.
There are a few bonus features that add to the excitement of this slot. The Nitro Jump bonus is particularly fun and original.
The Nitro Circus slot has a 97% return to player (RTP) rate and a fairly low volatility. This gives players good value for the money they spend and pretty consistent payouts to keep the boredom at bay.
No – Why Not Play?
Although potential payouts on this slot are quite high, it's a lower volatility slot, so the majority of wins will most likely be smaller amounts.
This is a very narrow and specially targeted theme. If you're not a big fan of X-Games type sports and flying bikes and motorcycles, you probably won't think Nitro Circus is anything special.
This game plays on both desktop and mobile devices, but it does seem to put a bit of stress on battery powered devices. All those detailed graphics and animations come at a price.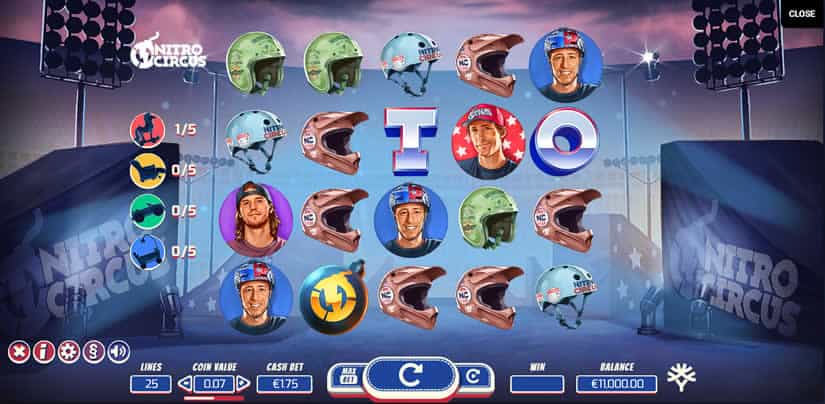 Nitro Circus Slot Bonus Features
In addition to standard wild symbols, there are basically three different bonus features waiting to be triggered. One of them can even be triggered in multiple ways.
First, you have the Nitro Blast mini-game. This feature is triggered by landing two of the nitro bomb symbols anywhere on the reels. When this happens, five bombs will appear over the reels, each representing a different award, and four of them will explode. The remaining bomb will give the player prizes like win multipliers, extra wilds on the reels, and up to 30 free spins.
When you land three or more of the nitro bombs on the reels, they will act as scatter symbols, triggering free spins. Three bombs will get you 10 spins, four will get you 20, and five bombs will award you the maximum of 30 free spins.
Finally, there is the Nitro Jump bonus game. This game feature can be triggered by landing the letters N-I-T-R-O anywhere on the reels or by completing collections of vehicles that can be used to make the jump. The player character will take three warm-up jumps where you can collect bonus boosters to be used on the final jump which is where the big wins are waiting.
Additional Info
As usual, Yggdrasil brings another great slot machine with high payouts. You can find Nitro Circus slot at most UK online casinos and also in Australian casinos. I personally love the latest slot releases from this company and I would like to recommend you other amazing tittles launched recently: