The Hanzo's Dojo slot comes to your favourite online casino courtesy of Yggdrasil Gaming. The theme is based on various Japanese fighting disciplines. All of the action takes place in Master Hanzo's dojo, a traditionally designed Japanese building with intricate decorations. A dojo, for those who don't know, is a place of training for students of any one of a number of martial arts such as karate, sumo, or samurai.
Hanzo's Dojo is a 25 fixed pay line, five-reel, three-row slot with an extra single row of three reels placed above the three centre reels of the main playfield. All reels spin with each play. Matching symbols on the bottom reels works just like any other video slot. The top three reels may land one or more of a few special symbols or they can stop with no symbol showing at all. As you might have guessed, special symbols on those top three reels can enhance the results of spins on the base reels.
Players will find high paying symbols representing sumo, samurai, ninja, and geisha, as well as four lower paying symbols designed to represent the elements. The top paying symbol is the big bad sumo wrestler, which will award 235 coins for five of a kind. The lowest paying symbol is the water elemental, which will only pay back 30 coins.
The betting system on Hanzo's Dojo is very simple. Wagers are fixed at one coin on each of the 25 pay lines with the player given the ability to set the coin value. The minimum value allowed is £.004 and the maximum is £5.00. Those limits give us a minimum overall bet of £.10 and a maximum of £125.
Where to Play Yggdrasil Casinos
Yes – Why To Play The Hanzo's Dojo Slot
As with most Yggdrasil slots, Hanzo's Dojo has excellent visual and audio design. Symbols and background are highly detailed and animations are perfect.
For conservative players, the very low minimum of £.10 is accessible as well as uncommon for 25-line slots.
There are several bonus features that can occur in the main game as well as within free spins to create significantly boosted payouts.
96.1% slot RTP, which can be considered quite alright.
No – Why Not Play?
This slot is well done but doesn't have quite the same level of characters and animations as some other Yggdrasil slots. It does, however, seem to use a lot of CPU processing power for some reason. It will likely heat up your laptop or mobile device and consume battery quickly. If you have limited power, you might want to avoid this one until you can get to an outlet or charger.
Although there are several different bonus features, all but the expanding wild feature seem to trigger very rarely, making the play on this slot highly volatile. Players should be prepared to lose a bit before hitting any big wins.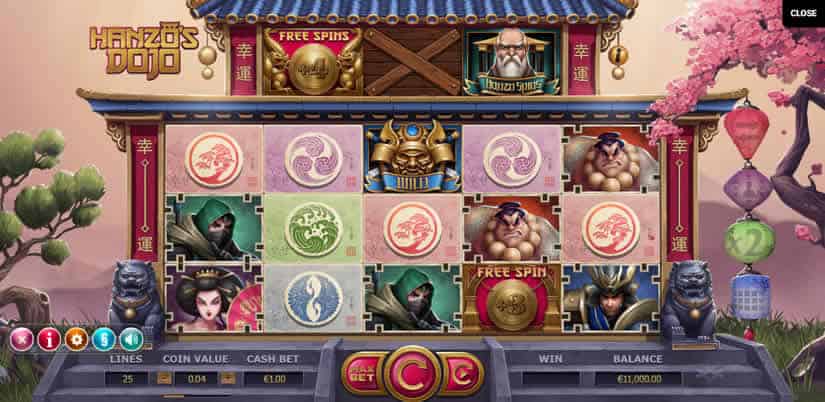 Hanzo's Dojo Slot Bonus Features
There are quite a few bonus features on this slot that can combine with one another to boost payouts to very nice levels. Some will trigger based on how the top reels stop during the base game while others will trigger within free spins.
The top row of reels, called the rooftop slot in the game, can award three different prizes. If a wild symbol lands, it will expand to the entire reel underneath it. If three Hanzo symbols land, you'll get three free spins with a random symbol expanded to a 3×3 block and locked on the three centre reels. A free spins symbol can land to combine with symbols on the base reels which will grant one of three extra bonuses during those spins.
A few things can happen during free spins. First, the three middle reels will spin large 3×3 symbols. Then, if the free spins were triggered by one of the rooftop reel symbols, one of five boosts is activated that will award two extra free spins, win both ways, 3×3 symbol nudge, two times win multiplier or a wild fifth reel.
Additional Info
You can find this slot at most UK online casinos but not at US online casinos. A 96.1% RTP is not amazing, but can be considered alright: you can definitely find better RTP slots. If you are into Ninja Themed slots, feel free to review our dedicated section to this genre. Or, check these ones out!
Enjoy!