The Wolf Hunters slot from Yggdrasil is a howling good time for any slot player. As you may have guessed on your own, the action on this slot revolves heavily around the theme of a powerful werewolf and two hunters determined to destroy the evil beast. An intricately drawn background perfectly conveys the feeling of gloom and doom and evil lurking in the darkness as our heroes do battle with the mighty werewolf on the reels in front of us.
Wolf Hunters is a five-reel, three-row video slot with 20 fixed pay lines. There are seven regular symbols on the reels accompanied by the werewolf himself, who is the highest paying symbol, plus two bonus symbols picturing the hunters, and a wild symbol. If you manage to land five werewolf symbols you'll be rewarded with a hefty 500 coin payout.
The Wolf Hunters slot makes use of some game mechanics that avid players and Yggdrasil fans may have seen before in the company's "Vikings" series of slots. Each time the werewolf lands on the reels, the symbol expands for a moment and one of the hunters will do battle with the beast. When the hunter is successful, the werewolf gets weaker and the hunter builds rage. By getting the werewolf's health to zero or the hunter's rage to 100, you can unlock special bonus features.
The wagering options on Wolf Hunters are also common to most Yggdrasil slots, available at most UK online casinos. There are 20 bet lines, as we mentioned above, and the player needs only to select the coin value to bet on each line. Coin value can range from £.005 up to £5.00. The minimum and maximum bet per spin, therefore, are £.10 and £ 100.00 respectively.
Where to Play Yggdrasil Casinos
Yes – Why To Play The Wolf Hunters Slot
Wolf Hunters has a great return to player rate of 96.3% which gives players great value for the money they wager on this slot.
Bonus features can be a little bit difficult to trigger, but they can give you a big boost when you do manage to build up rage points or defeat the werewolf. Points are also saved between sessions, so you don't have to start over each time you play.
The anticipation that builds up as you watch the hunters' rage increase is undeniable. You'll get hooked trying to get them all the way to 100 and make those upgrades.
No – Why Not Play?
As was stated above, hitting the rage threshold, and especially defeating the werewolf, can take some time — possibly several playing sessions. For some players, this just might be too much. You'll need to have some patience to get there.
Wolf Hunters definitely plays like a high volatility slot, meaning big wins probably aren't going to come along too often. Again, patience is going to be needed to play this slot.
Wolf Hunters Slot Bonus Features
There are a few bonus features offered on this slot that will help you grind out some big wins if you have the stamina to stay in the game and collect the necessary points to unlock some of them.
The most basic feature is wild re-spins. Whenever a wild symbol lands on the reels, it becomes sticky and a free re-spin is awarded. If another wild lands, it will also become sticky and the reels spin again. This will continue until no further wild symbols stop on the reels. When a hunter does battle with the werewolf and wins, the werewolf symbol also becomes wild and triggers re-spins.
If you land two hunter symbols on the reels, it will trigger ten free spins. During those spins, the hunters have a higher chance of winning their fights with the wolf. Additionally, if you collect three of either hunters' bonus symbol during free spins, they will power up causing werewolf wild symbols to expand either horizontally or vertically depending on which hunter got the power up.
When either hunter reaches 100 rage points, 10 free spins are triggered with that hunter in power-up mode. Slayer free spins are triggered when the werewolf is defeated and during these spins, all werewolf symbols automatically become expanding wilds.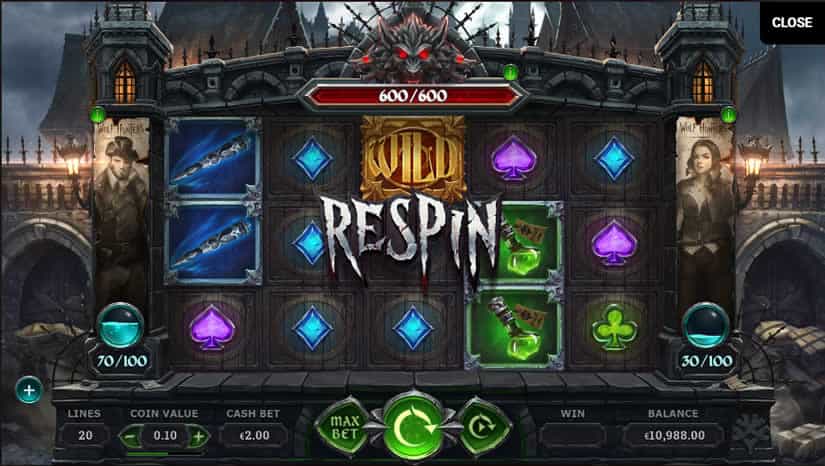 Additional information
Yggdrasil is creating many of the online slot machines we have been recommending. The game quality, features and special effects are usually outstanding, like in this case. You can find Yggdrasil casinos available in UK and throughout most European countries. You can also play safely if you visit our recommended online casinos that offer the fastest payouts.
If you liked this game style, I recommend you to check the following tittles, which I also loved!
Hope you like it! Enjoy!!!