The Wicked Tales: Dark Red slot has been unleashed upon online gambling enthusiasts all over the world as a result of a collaboration between Microgaming and Triple Edge Studios. This is a 25 fixed pay line slot that uses a five-reel, three-row layout as a base adding moving jumbo blocks. That is, there is a 3×4 block of symbols that can move through left, center, and right positions along the reels. This effectively gives the game two reels with three rows and three reels with four rows at any given time.
Sadly, the introduction and payout screens don't offer any kind of backstory to explain the beautifully done symbols on this slot. It appears to be a dark retelling of the classic Red Riding Hood fairy tale. Along with playing card symbols J through A, you'll find a beautiful grown-up version of Red Riding Hood herself, a pendant containing a picture of Red and her grandmother, a handsome villager with mysterious eyes, and a wolf watching under the moonlight. All of the last four symbols can appear as jumbo blocks on the moving reels and will display animations when they land a win.
Wicked Tales: Dark Red allows players to bet between one and eight coins and set the coin value from £.01 up to £1.00. With the 25 fixed line setup, that gives us a minimum bet of £.25 per spin and a maximum of £200.
Play at the Best Microgaming + Triple Edge Studio Casinos
Yes – Why To Play Wicked Tales: Dark Red Slot
This slot has a beautiful audiovisual design. Everything from the background to symbols on the reels to the look of the payout and information table is very well done.
The wandering reels and jumbo blocks can produce some large wins quickly, especially if you get one of the 3×4 symbols to stop completely visible.
A 96.1% return to player (RTP) rate will deliver good value and play time.
This slot is highly configurable, which makes it great for older mobile devices that might lag with sound and graphics at full. It's possible to toggle various sound options on and off, set quick spins, and choose the graphics detail level.
No – Why Not Play?
Although there are some great bonus features to be triggered if you land three scatter symbols, doing so seems to be extremely difficult.
This one appears to be a high volatility slot. There are certainly some big wins to be had, but the time between wins might scare off more conservative slot players.
Wicked Tales: Dark Red Slot Bonus Features
Dark Red has two, or maybe it's three, bonus features to help put some bang in your bankroll. If you hit three scatter symbols anywhere on the reels, you're going to be taken to the Wolf's Wheel where you have a chance at winning some extra money, but there's more to it than that. Read on to see how it all works.
Wolf's Wheel Bonus Feature
Landing the required scatter symbols will take you to the Wolf's Wheel bonus. From the Wolf's Wheel you are guaranteed to proceed to either free spins or the Forest of Fortunes, but first, you have the chance to win some extra cash before you move on.
On the wheel, you will find one symbol that leads you into the Forest of Fortunes, four symbols that will reward you free spins, and various symbols that will award you a return on your bet. It is possible to win up to 20 times your staked bet on the cash reward spaces.
The best part about the Wolf's Wheel feature is that you can't lose. You will spin the wheel as many times as it takes for you to hit either the Forest of Fortunes feature or the free spins. In the meantime, you'll be winning straight cash awards.
Free Spins
On the Wolf's Wheel, if you land on any of the four jumbo block symbols described above — Red Riding Hood, the villager, the wolf, or the pendant — you will be awarded nine free spins. During free spins, all of those four highest paying symbols will be replaced by the one chosen from the wheel.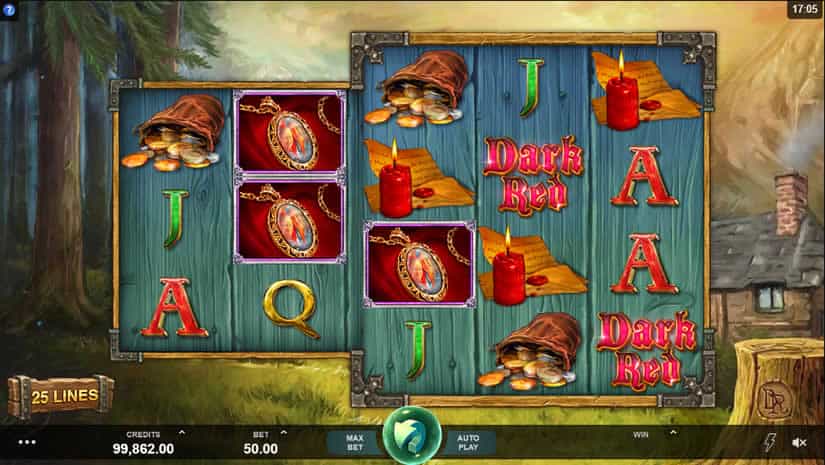 Forest Of Fortunes
If you're lucky enough to land on the treasure chest when spinning the Wolf's Wheel, you'll be taken to the Forest of Fortunes. Pick from the leather bags presented before you to see if you can make it out of the forest with your fortune before the wolf catches you.
Each bag has the possibility of revealing a cash prize, an axe, or a wolf. There are ten cash prizes hidden on the screen in all. Each prize is combined with the current multiplier, and the multiplier increases by one each time you reveal another cash prize.
If you reveal a wolf, you'll be awarded an extra amount equal to your current bet and the Forest of Fortunes feature ends.
If you happen to reveal an axe, it will block a single wolf from ending the Forest of Fortunes bonus.
In case you manage to find all ten of the cash prizes before the wolf catches up with you, you'll win an extra 20 times your staked bet on top of your rewards.
Our Verdict
Wicked Tales: Dark Red is a very well designed and thoroughly enjoyable video slot. In addition to the pleasing audio and visual aspects of the game, there is plenty going on to hold the player's interest.
Between the jumbo block symbols and the 25 pay lines, there are loads of winning combinations possible. A jumbo block on the left side and just one wild symbol next to it can earn you a significant payout. Those jumbo blocks land more often than you might think, too.
When you throw in the bonus games, the guarantee that you will go through at least two of the bonus features every time, and the possible payout amounts, we're getting into some very big numbers. The only complaint is that hitting those three scatter symbols seems to be a rare occurrence.
Overall, I think Wicked Tales: Dark Red should definitely be on your must-play list. It might not be quite spectacular enough to hit the top of your favourites, but it's sure to be in the top five or ten. If you don't mind a slot with a medium-high volatility that will keep you on the edge of your seat, you're bound to have a lot of fun with this one.
As usual, you will find this and other Microgaming powered slots at most UK online casinos – which are also available to other European players.
Additional Tale Style Slots
If you are into Online Slots telling some kind of story – I love those! – you can check the following tittles:
Enjoy!