The Honey Rush slot from Play'n Go is loads of sweet, sticky fun as well as an interesting departure from the company's usual video slot designs. The theme is a bright and colourful mix of high-definition graphics that will have you feeling the fresh spring breeze and the fragrant scents of just-grown flowers as you watch the symbols float by, forming massive combinations that have the potential to pay out astonishing rewards.
Rather than reels and rows, all of the action on Honey Rush takes place on a hexagonal (six-sided) grid made up of 37 smaller hexagons, all designed to look like a large honeycomb. Wins are paid out based on matching clusters anywhere within the grid. Whenever five or more symbols land on adjacent spaces, you win. It's that simple. It's possible to get matches ranging from five all the way up to a full screen of 27 symbols.
Wagering & Payout
The game also uses a cascading symbols effect where on winning spins all symbols involved in the win will be removed from the board and new symbols will fall in to fill the spaces. It's possible to win with more than one cluster at a time and the cascade effect will repeat over and over as long as you keep getting new wins.
There are eight different regular symbols in Honey Rush plus a wild symbol. There are four low-value symbols which all pay the same amounts for matches. High-value symbols pay out varying amounts ranging from 50 times up to 200 times your bet if happen to land 35 or more of the same symbol.
Wagering on the Honey Rush slot is a piece of cake. There's nothing complicated about any of it. There are 15 preset bet amounts and all you'll need to do is choose the one that suits you best. You can play for a minimum of £.20 or go as high as £100 per spin.
Recommended Play'N Go Casinos
Yes – Why To Play The Honey Rush Slot
The game action and theme on Honey Rush combine to create an overall look and feel that is quite tranquil and relaxing but still full of excitement and fun. Very few slots manage to pull off such a great mix of effects.
Because it's possible to match the entire playfield rather than separate pay lines, the potential payouts on this game are huge. It's actually possible to win up to 9000 times your bet on a single spin.
This game has a high volatility, which means there is potential for some colossal payouts, but you'll most likely have to make quite a few spins to get there. Players can feel secure that they'll get good value for their money, however, by Honey Rush's top return to player (RTP) rate of 96%.
No – Why Not Play?
As was mentioned above, this game has a very high volatility level. Play'n Go rates it as "10 – VERY HIGH". This means that it's possible to hit some crazy, heart-stopping wins. But understand that there will most likely be somewhat long streaks with either low payouts or no wins at all. You'll need to be sure that you have both a bankroll and the nerves to handle some big dips in your balance as you play.
This slot has a quick-spin feature but it doesn't really seem to speed things up much. You might find this a bit frustrating if you're the type who really likes to blast through a lot of spins quickly.
Bonus features built into the game can lead to great rewards (9,000 times your bet is nothing to scoff at) but there is no free spins feature. Perhaps it's not really needed, but when a slot doesn't have free spins it's something that stands out and it always makes it feel like something is missing.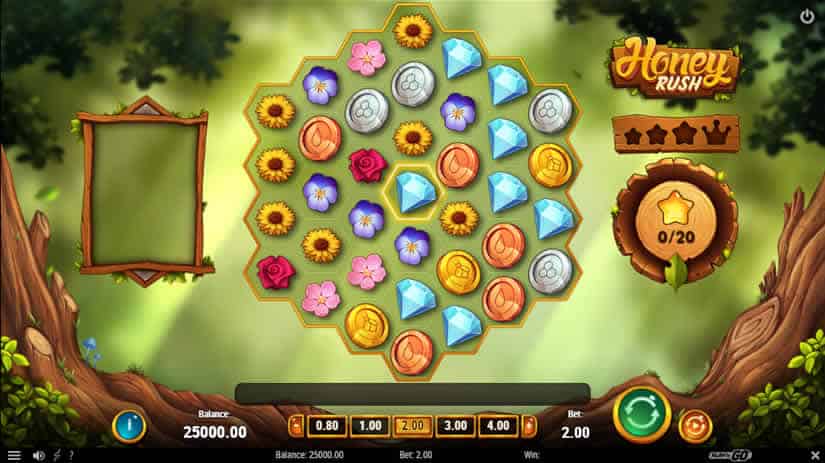 Honey Rush Slot Bonus Features
The bonus features on the Honey Rush slot are fairly straightforward. They basically build one upon another once initial conditions are met and they trigger. If you manage to get from the most basic up to the top tier of the bonuses, you're in for some impressive rewards.
Bonus payouts are based on what the game calls the "Colony Feature". There are three different possible Colony Features that are triggered either by the "Rush Meter" that appears on the bottom right of the screen or randomly triggered after a non-winning spin. Here's how it all works.
The Rush Meter
The rush meter charges based on the number of symbols involved in each winning combination and subsequent cascades. The initial trigger is set at 20 symbols. If you manage to get 20 winning symbols cleared off the board it will trigger the first colony feature, add a sticky wild to the board and set the rush meter to 40. If you reach 40, another colony feature will trigger, another wild will be added, and the meter will go to 80. Hit 80 and you'll get another colony feature, another wild, and the meter will be set to 160. If you manage to hit 160, sit back and enjoy the big prize you're about to collect!
Even though there are technically no free spins in the game, you'll see that these features amount to the same basic thing. You'll get plenty of extra wins without having to pay for any new spins.
Hitting each of the first three levels on the rush meter will trigger the Drone Colony feature. Reaching the final fourth level will trigger the Queen Colony feature. If wins and cascades stop before the rush meter hits any level then it will reset to zero for the next spin.
Drone Colony Feature
The colony features will clone the centre symbol into cells around it. For the Drone Colony feature, a cluster of at least seven connected symbols will form. Winning symbols will be removed and a cascade will occur just as with any other win. The winning symbols will also count toward reaching the next level on the rush meter.
Worker Colony Feature
The Worker Colony feature is the only one that is not triggered by the rush meter. It has a random chance of triggering after any non-winning spin. Again, the centre symbol will be cloned into the cells around it. The minimum cluster created is randomly set at any number between 7 and 15.
Queen Colony Feature
The Queen Colony feature is triggered when you reach the last level on the rush meter. At this point, you'll already have gone through several Drone Colony stages and should have several wild symbols on the board as well.
The Queen Colony feature will clone the centre symbol with a randomly chosen minimum cluster size ranging from 20 up to a complete board match of all 37 symbols.