The Street Fighter II slot from NetEnt brings back all of the action from one of the most popular games ever developed. All the action from what many would call the game that created the fighting genre is there. From the moment the first screen loads, you'll see that this is no cheap look-a-like game trying to capitalize on the original. This is the rebirth of an arcade classic that many will fondly remember spending hundreds, if not thousands of quarters. on as they battled it out with one challenger after another.
The game actually starts the same as the original arcade machine. You must first choose your character. Ryu, Ken, Chun Li, Blanka, and all the others are there to pick from. Each brings his own special effect to the reels. You'll go through actual battles with other characters as you make your spins and can choose a new fighter after each battle. The slot even contains the classic car smashing bonus scene from the original arcade game. Victory will bring great rewards. Defeat…Well, defeat is not an option!
Well, all is good but… where can we play this great NetEnt game? NetEnt slots are available at most UK online casinos, in their European counterparts and also in Canadian casino sites.
Recommended NetEnt Casinos to Play at
Inside The Street Fighter II Slot
The game itself is a five-reel, five-row slot that uses NetEnt's popular Cluster Pays™ system. You'll only need to get four or more of the same cluster to register a win, and you can win with multiple clusters on one spin. Symbols must be adjacent to each other either from top to bottom or left to right to be counted as part of a cluster.
The game also uses an avalanche system that means winning symbols will be removed from the reels and then new symbols will fall in from the top to create opportunities for new wins. There are also bonus features created by the characters that can have the same effect. The avalanche feature will continue as long as new wins continue to occur.
There really is a lot to this game, so rather than break it down into bonus features and pros and cons like we normally do, we're just going to explain how it all works and let you decide for yourself. As far as pros and cons go, we'll say that because of all the features, the game can seem a bit slow at times, but at the same time, because of all the features, it's a slot machine like you've never played before. You absolutely must try it.
Battles In The Street Fighter II Slot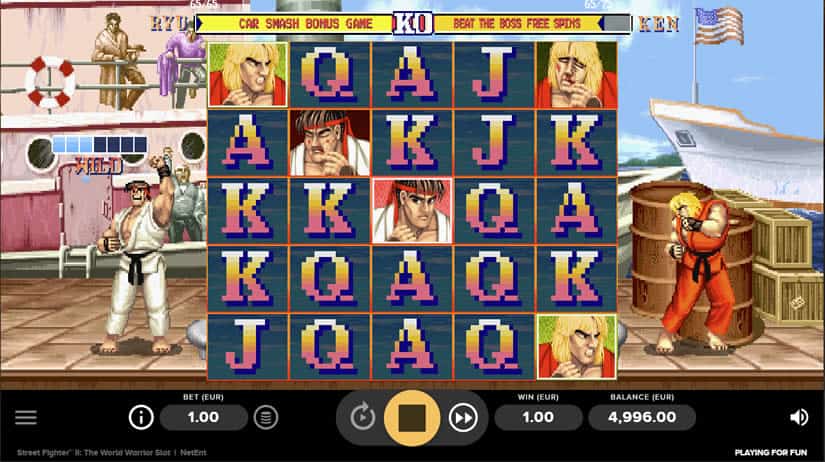 The slot, like the original arcade machine, is played in battles. You will pick your character from one of the original eight and then a random character from one of the other seven will be picked to fight against you. There will be health bars on the top of the screen and the first character to hit zero gets knocked out and loses the battle.
The main game can last for any number of spins until one of the characters is brought down to zero health. If you get your opponent's health down to zero, you'll enter the boss fight free spins round. If your opponent beats you, you'll enter the car smash bonus round. Health points are updated before any avalanche feature occurs, so if an avalanche is in order, it will be completed before the character is knocked out and either the car smash or free spins features start.
The Characters In The Street Fighter II Slot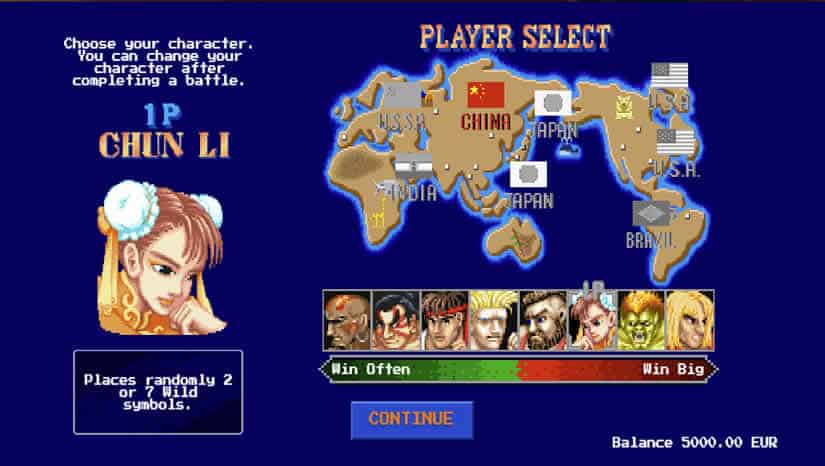 There are eight playable characters in the slot as well as four additional characters that can show up as the bosses. Each playable character has its own RTP (return to player) rate. The average RTP rate of the game is 96.06%, but depending on which character you choose to play, it can vary from an actual rate of 96.02% up to 96.08%.
Each character and boss also have their own set of high-value symbols, one for victory, and one for defeat. The rest of the symbols are made up of playing card values jack, queen, king, and an ace.
During any battle, only the four high-value symbols from the two characters plus low-value symbols and wild symbols can show up on the reels. Both victory and defeat symbols can show up on the reels as special two by two colossal symbols which will count as a cluster of four.
Each character also collects wild symbols as they fall on the reels. When their counter is full, they will run an extra attack, adding wild symbols to the reels that could result in additional wins and avalanches as well. Characters can also charge the meter more than once and end up running two, three, or even more wild symbol attacks.
How Health Points Work In The Street Fighter II Slot
Any battle can last for any number of spins. It will end when one of the characters reaches zero health points. If you choose to play as the same character again after the car smash or boss fight round, both characters will start with 75 health points. If you go and choose to play with a new character, you will start with 65 points and your opponent with 75.
In case you changed your bet amount to an amount that you have not previously played with, your health points will also reset to 65.
A winning cluster of your character's victory or defeat symbols will decrease your opponent's health points by the number of symbols in the cluster and vice versa. Wild symbols within the clusters do not count toward the lost in health.
Wild Symbols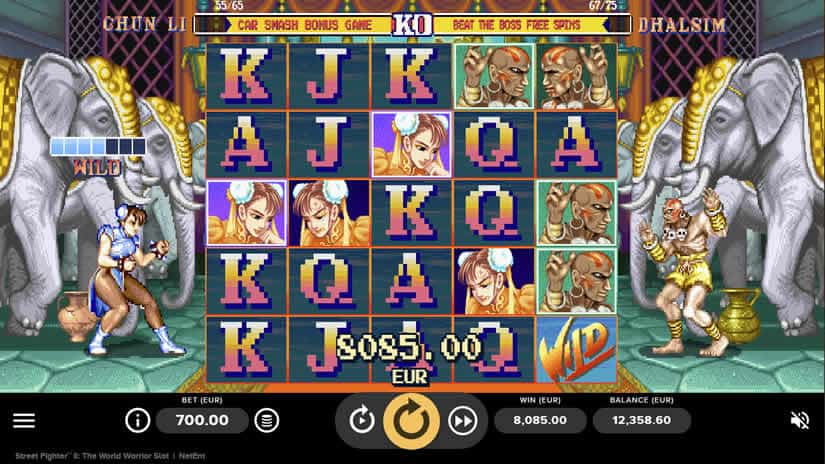 Your character has a wild symbols meter that begins charging at the beginning of each spin. For each high-value symbol on the reels in winning combinations, one space will be filled on the charge counter. It will also continue to charge as wins are created from avalanches.
Your character's wild symbol meter will start from zero with each spin during the main game, but during boss fight spins it will start loaded at 7 for every spin.
For every seven wild symbols collected on the meter, a wild symbol feature will trigger if the next spin is a non-winning spin. There is no limit to the number of symbols that can charge on the wild meter. Wild symbols included in winning combinations, however, do not count in filling the wild meter.
Wild symbols can also land anywhere on the reels and will substitute for all other symbols.
Each of the 8 playable characters has their own wild symbol combo. They work as follows:
Ryu – Awards three wild symbols randomly on the same row
Ken – A single wild or a horizontal stack of five wilds on one row
Honda – Awards three wild symbols randomly on the same reel
Blanka – A single wild or a vertical stack of five wilds on one reel
Dhalsim – Three or four wild symbols placed randomly
Chun Li – From two to seven wild symbols placed randomly
Guile – Two vertical stacks of two wilds placed randomly
Zangief – Two horizontal stacks of two wilds placed randomly
It's also possible that any character may place their wild symbols over a symbol that is already wild.
Beat The Boss Free Spins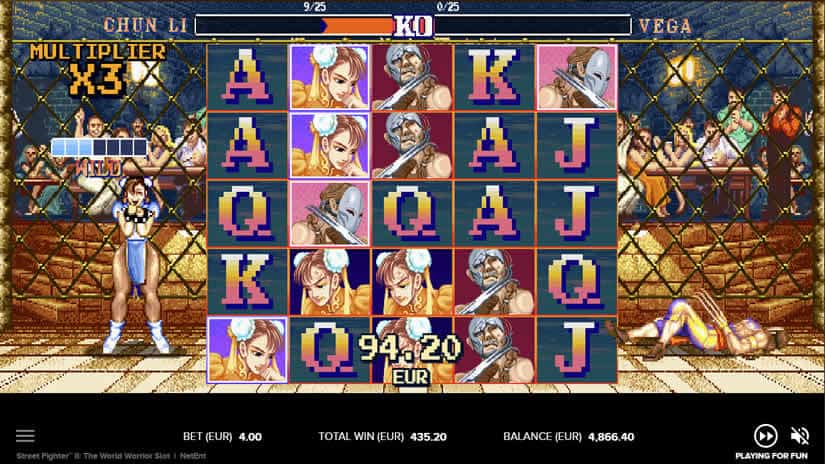 When you reduce your opponent's health points to zero in the main game, you'll be taken to the Beat The Boss Free Spins feature. This is where you can REALLY get paid off big.
There are four levels in the Beat The Boss feature. Each level has a different opponent and its own win multiplier. You'll start at level 1, of course, with a 2x win multiplier.
The Beat The Boss feature will progress in the following order—assuming you knock them all out, of course.
Level 1 – 2x Multiplier – Vs. Bulrog
Level 2 – 3x Multiplier – Vs. Vega
Level 3 – 5x Multiplier – Vs. Sagat
Level 4 – 10x Multiplier – Vs. M.Bison
On the first three levels of the Beat The Boss Feature, you'll move on to the next opponent if you manage to win the match. If you beat the fourth level of the Beat The Boss Feature, you'll automatically win 100x times your bet, and the feature ends.
Just like the regular fights, the Beat The Boss matches will go on for an unlimited number of spins until someone either wins or loses. So you could end up getting an amazingly high number of free spins when this feature is triggered.
In some casinos, you will also be given the "insert coin" option to continue the Beat The Boss feature if you get knocked out before you reach the end. When this happens, you'll be able to give up a portion of your winnings to continue playing on the same level and see if you can get further.
If the "insert coin" feature is not available, or you lose again, you will be taken back to the base game and given the option to select a new character to play as.
Car Smash Bonus Game
If your character's health points reach zero, you'll be taken to the car smash bonus game. The object of the game, as you can probably figure out, is to smash the car to bits.
You can control your character using on-screen controls or keyboard controls to move around and make your character act. There is also a "Quick Finish" button in case you're not in the mood to fool around.
After the car is destroyed, you'll win a randomly decided award of anywhere from five to 15 times your bet. At the end of the game and after your winnings have been paid, you'll be taken back to the character select screen.