The Riches of Robin slot from Play'n Go, as you might have already guessed, is based on the legendary prince of thieves, Robin Hood. In this version of the story, however, Robin is not taking from the rich and giving to the poor. He's taking from the casino and giving to you! Get ready to go on a wild adventure filled with gold and glory as you travel through Nottingham with Robin and his merry men.
Riches Of Robin is a five-reel, three-row slot with 20 fixed pay lines—or at least that's the way it looks at first. In reality, each individual symbol space is its own individual and independent reel. So, what you really have are 15 reels arranged into three rows. The result is that it's possible to make many more combinations than you'd see with only five individual reels.
As the reels spin, you'll see five higher paying symbols, four lower paying symbols, some special money bag symbols (including a special jackpot bag), a wild symbol, and a scatter symbol. Robin Hood himself serves as the wild symbol while an archery target is the scatter. The high-paying symbols are made up of various characters from the tale of Robin including Lady Marian, Friar Tuck and others. Lower paying symbols are made up of the four playing card suits.
Setting your wager on Riches Of Robin is as simple as selecting the amount you would like to bet on each spin. There are 22 preset wager amounts to choose from. You can play for the minimum of just £.10 per spin or push it all the way up to £/100.
Play the Riches of Robin Slot at Top Rated Casinos
Yes – Why To Play The Riches Of Robin Slot
The bonus features on this slot are put together extremely well. They do a great job of keeping the game exciting and building anticipation each time one of them hits. You'll never know quite what's in store when a bonus triggers.
The game has a 96.65% RTP (return to player) rate. That means players can expect to get back about 96% of the money they play as winnings over the long term. This RTP rate ranks among the top available on any video slot.
The wide range of possible wagers makes this slot accessible to everyone. Conservative gamblers can play for almost nothing while those who like a bigger risk can play for the max and take their chances to hit massive wins.
You can find this slot at online casinos available worldwide. For more information about online venues available to you, visit our online casino list in your region.
No – Why Not Play?
The free spins feature can prove difficult to trigger, which gets very frustrating sometimes. It can pay off well, but you may find yourself waiting through long periods before they come up.
Play'n Go has this slot listed as "very high" volatility. That means there are chances for some huge wins here and there but you are also likely to go through fairly long periods with very little or no winnings. Players should make sure they have a sufficient balance to ride out some ups and downs before they sit down to play.
This slot has the sort of theme that just cries out for some kind of interactive bonus feature. The company could have really pushed this one over the top by letting the player get into the part of Robin and fire off some arrows or something similar.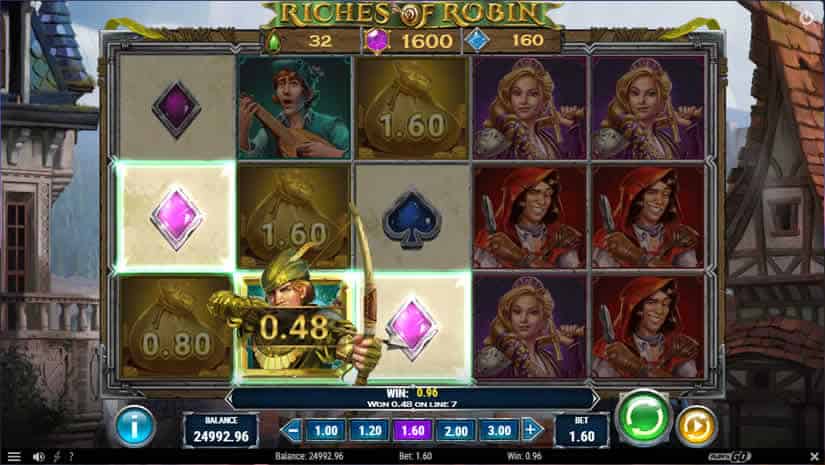 Riches Of Robin Slot Bonus Features
There are three different bonus features built into Riches Of Robin that will help add some extra coins to your balance as you play. If you manage to hit the right combination at the right time, you could end up with some substantial winnings.
Quick Hits
There are special money bag symbols that can land on the reels during regular spins. If three or less of them stop on the reels it's possible that Robin will take aim and hit one or more of them with his bow and arrow. If he does, you'll win the combined amount of any bags that he hits.
There is also a jackpot money bag that can reward you with 1000 times your bet!
Heist Re-Spins
If four or more of the money bags stop on the reels at one time, it will trigger the Heist Re-spins feature. During this feature, all symbols will be removed from the reels except for the money bags. The money bags that triggered the feature will be locked in place and you'll be granted three respins.
On each respin, if another money bag lands, it will be locked in place and the spin counter will be reset to three. The process continues until you go through three spins without any new money bag symbols stopping on the screen. When heist re-spins finishes, you'll be paid the combined total of all money bag symbols present on the reels.
Free Spins
Free spins are triggered when two scatter symbols land on the reels. When the feature begins, two wheels will spin to determine how many spins you'll get and the value of the win multiplier that will be applied during the feature. It's possible to get up to 20 free spins with a 5x multiplier to start.
If two scatter symbols land during the feature, you'll be given an extra two spins and 1x will be added to the multiplier. If the multiplier gets up to 10x, any following re-triggers will award four additional spins.