The Rise of Olympus slot is somewhat of a change in direction for the gang at Play'n Go. This one features some game mechanics that we haven't seen from them before. Get ready to unleash the powers of the mighty Greek gods Hades, Poseidon, and Zeus in your quest to align winning symbols across this slot's five by five grid.
In Rise of Olympus, rather than five reels spinning, there are five columns where all symbols will fall off the bottom to be replaced by a new set of symbols dropping in from the top each time the "spin" button is pressed. Falling symbols include a Greek coin which serves as the wild symbol, pictures of each of the three Greek gods, and golden harp. There are also symbolic icons for each other gods: a horned helmet for Hades, a trident for Poseidon, and a bolt of lightning for the mighty Zeus.
Wins on Rise of Olympus occur when you match three or more symbols either vertically or horizontally. When a winning combination is made, the winning symbols will be removed from the grid and any symbols above fall to fill in the empty space, creating opportunities for more winning matches. When you add the powers of the three gods and the special Wrath of Olympus feature into the mix, you get possibilities for some genuinely heavenly rewards.
Best Play' N GO Casinos to Play at
Yes – Why To Play Rise Of Olympus Slot
Although the basic idea of falling symbols and removing winners has been done on other slots, Rise of Olympus adds some exciting twists to the concept that make play much more interesting.
Players get a generous 96% RTP rate on this one, which gives good value for money wagered.
This title appears to be a medium volatility slot that grants reasonably consistent wins and bonus feature triggers. It's hard to get bored playing this one.
No – Why Not Play?
For those who prefer lots of movement and animation, this one isn't going to do it for you. Symbols and characters are well done, but everything is pretty much stationary. With a theme of godly powers, there was definitely some room for more impressive animations.
For anxious players who like a quick spin feature, you're out of luck on this one. One regular spin moves pretty quickly, but as winning blocks get removed or the gods act on the grid, it can get a little repetitive waiting for the actions to complete.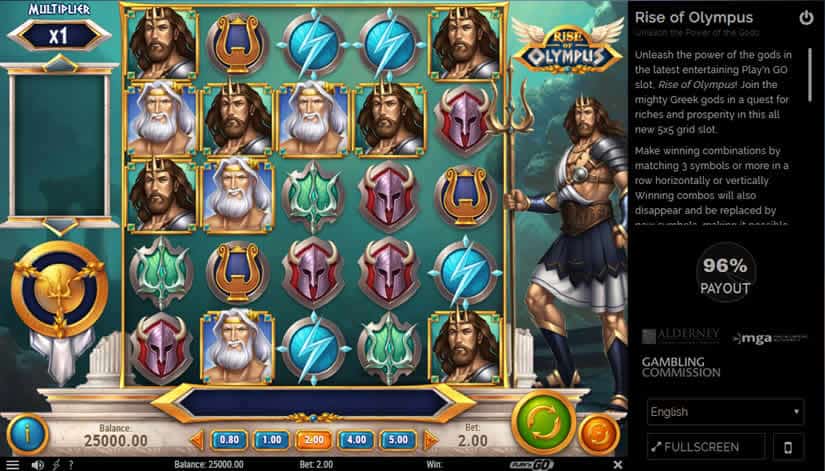 Rise Of Olympus Slot Bonus Features
All three of the gods bring their own bonus features to the game, and their powers can also be combined to really set the win counter climbing. Their individual powers trigger randomly on any non-winning spin. Hades will transform sets of one symbol into another to create chances for more matches. Poseidon will place up to two wild symbols on the board, and Zeus will destroy two sets of any symbol. Fill the Wrath of Olympus meter to score a free round where all three of the gods will use their powers, one after another.
Clear the grid completely to win free spins. You'll be able to choose from three different options, one for each of the gods, with their own unique rewards. Clear the board during free spins and you'll get 200 times your bet back. And don't forget, you can win up to 5000 times your bet on the mighty Rise of Olympus slot.
You May Also be Interested in…
Play 'N GO recently launched many remarkable slots, mainly available at UK online casinos (and other European countries). But if you are interested in mythology and related themes, you can also visit the following slot reviews and try them out at any of our top rated online casinos: