The Sabaton slot from Play'n Go is another heavy metal themed release from this ever-imaginative game developer. The game is based on the iconic Swedish power metal band of the same name. It, of course, features images of the band members on the reels and brutal cuts from their music play as those reels spin.
The Sabaton slot is a five-reel, three-row slot that will pay you handsomely for matching combinations on ten pay lines. The band members make up the four highest paying symbols on the reels plus the very valuable wild symbol. There are also four lower paying symbols, which are various types of battle gear, and a scatter symbol. All symbols are wonderfully done with detailed graphics and animations.
There are plenty of special and bonus features in the game that will keep your heart beating and your head banging as those reels roll round and round. If you're looking for big payouts, this high volatility slot offers a maximum win of £500,000.
Placing a bet on Sabaton is as simple as clicking a button. There are no bet levels or coin values to tinker with. There are 15 different options for preset bet amounts ranging from a minimum of £.10 and going up to a maximum of £100 per spin. All you have to do is select the amount you want to bet and hit that spin button to start the action. As you can imagine, the Sabaton slot from Play'N Go is available at most UK online casinos.
Try the Sabaton Slot at this Online Casinos
Yes – Why To Play The Sabaton Slot
It goes without saying that this game should be a surefire winner for players out there that are fans of heavy metal music and especially fans of Sabaton. The graphics and music pay great tribute to the genre.
There are big bonus features and big payouts possible on this slot. Even without the heavy metal music, the gameplay alone provides plenty of excitement.
Players get a great value for their money on this slot with a 96% return to player (RTP) rate.
No – Why Not Play?
Perhaps it's fitting for an online slot machine based on a heavy metal band that this game has high volatility. It's actually rated as very high volatility. That means chances for some colossal payouts, but also chances for some long cold streaks too. Be sure you have the bankroll and the stomach to endure.
The theme on this slot is very well executed but nevertheless, it is a very narrowly focused theme. If you're not a fan of Sabaton or heavy metal music, you may not be able to get behind the action it has to offer.
Free spins can bring big bonuses but the feature seems to be quite hard to hit. This can get frustrating after you've been playing for a while.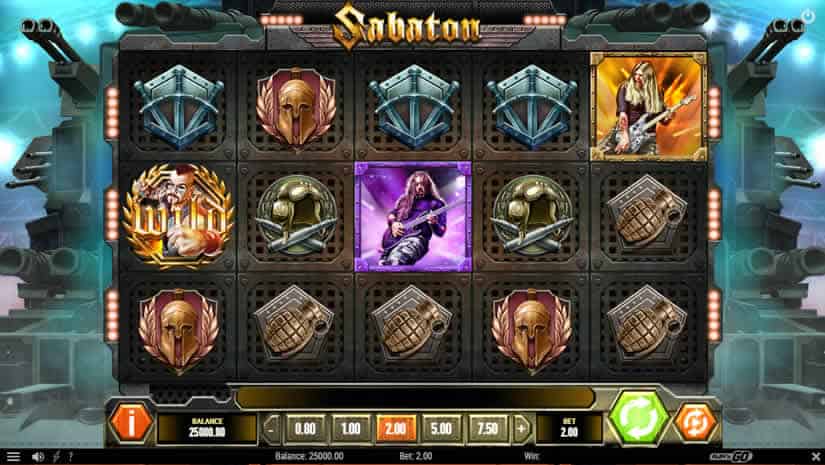 Sabaton Slot Bonus Features
The Sabaton slot has several different bonus features that enhance the action and put some extra bang in your bankroll. Some are randomly triggered and all can combine to deliver some mind-blowing wins.
Chained Reels
The chained reels feature activates randomly on any spin. When it occurs either two or three wheels will be locked together and synchronized so that the same symbols appear on all of them. This feature can't be triggered during the battalion spins feature.
Last Stand
The last stand feature also activates randomly. When it triggers, either one or two reels will become completely wild. Last stand can be triggered during battalion spins.
Metal Stacks And Mystery Symbols
On each spin, one symbol is randomly chosen to become stacked on the reels. The same symbol will also replace scatter symbols if three to eight scatters land on the visible reels. During the battalion spins, a symbol will be chosen at random at the beginning of the feature to be used as the metal stack and mystery symbol until battalion spins end.
Mega Symbols
All symbols featuring the band members can show up as mega symbols on the reels during any special feature.
Battalion Spins
Battalion spins are triggered by landing nine or more scatter symbols on the screen. There is also a mega scatter symbol that can appear during the chained reels feature. Any combination of regular and mega scatter symbols can trigger battalion spins.
Battalion spins will start with seven free spins. During the feature, reels two, three, and four are linked together. The feature can be retriggered—without limit—by landing nine or more scatter symbols on the screen.