The Sherlock Of London slot, a product of the partnership between Microgaming and Rabcat Gambling, is an extremely well done, highly stylized video slot packed with fun and action. It's a unique theme with brilliantly designed graphics, all high-def, and plenty of bonus features that are sure to keep a smile on your face as you watch the mystery unfold before your eyes.
As you should be able to tell, Sherlock Of London is based on the adventures of one of the most famous detectives in literary history, the one and only Sherlock Holmes. The dark cobblestone streets of London sprawl in the background as Holmes, Watson, and three dastardly villains play a high stakes game of hide and seek on the reels.
Wagering & Payout
Sherlock of London is a five-reel, three-row slot that plays on 25 fixed pay lines. There are eight regular symbols on the reels including Holmes, Watson, three slick and slippery villains and the playing card values ten through ace. Wild symbols and scatter symbols, of course, will also pop up to add some extra coins to your winnings from time to time. Base payouts are quite generous on their own and bonus features can really get the adrenaline pumping in your veins. Where to find the Sherlock of London slot? You can find this slot machine at most UK online casinos powered by Microgaming (or Rabcat Gambling).
Betting on this slot is very straightforward. There is only one option to set. All bets automatically play on all 25 pay lines, so all you need to do is set the value of the coin you'd like to play on each line. The lowest possible value is £.01 and the highest is £2.00. That makes for a minimum bet of $.25 per spin and a maximum of £50.00.
Where to Play? Best Microgaming Casinos
Yes – Why To Play The Sherlock Of London Slot
The audiovisual aspects of this slot are amazingly well done. If you really go for games with high-end graphics, lots of animation, and just brilliant design, this one will surely be right up your alley.
Sherlock of London has a very good return to player (RTP) rate that keeps right in line with popular standards and gives players good value for the money they spend on the game. The long term RTP rate on this slot is 96.03%
Bonus features are constantly popping up and do a very good job of holding your interest as you play. You never have to wait too long for something else to happen, which is refreshing.
No – Why Not Play?
If you're a casino high roller who likes to take big risks, the maximum bet of just £50.00 on this slot might not be enough to really give you the charge you're looking for.
This game appears to be a fairly low volatility slot. It can make things fun because you'll see bonus features triggered pretty often, but at the same time, you may get bored when you realize that your winnings aren't going up so quickly. There might not be enough excitement for those accustomed to higher volatility games.
Sherlock of London puts a pretty intense load on the processor of the device you're playing on. This is to be expected with the high level of graphics and animation. Players should be aware of how much battery they have left on mobile devices and extra heat that might be generated.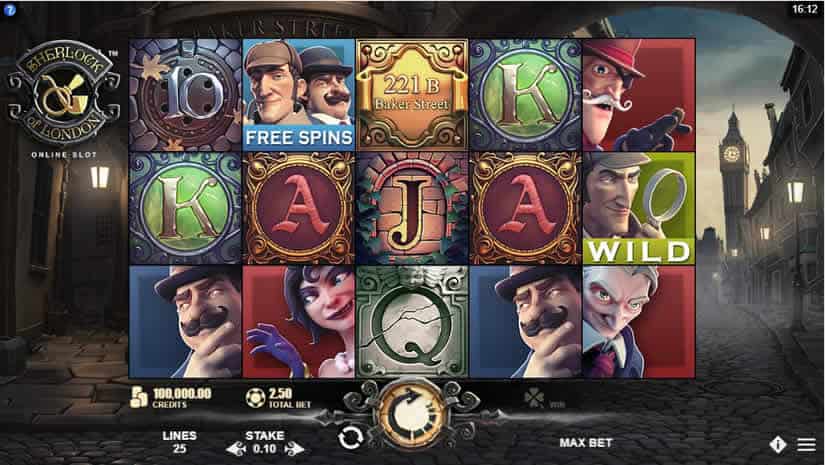 Sherlock Of London Slot Bonus Features
There are a few good bonus features that will trigger quite often and help to keep your winnings trending upward.
Connecting Wilds Feature
If more than one wild symbol lands on the reels, the two will connect, turning all symbols between them into wild symbols as well.
Double Win Feature
If two (and only two) wild symbols stop on the reels and they are on adjacent reels in the same row, they will combine and trigger the double win feature. When this happens, all wins for that spin are multiplied by two.
Bonus Spins Feature
If exactly one wild symbol stops on the reels and it is on reel one or two, it will trigger bonus spins. During the bonus spins, the wild symbol will remain locked in position and the rest of the symbols will spin again. If another wild symbol lands, it will trigger either the connecting wilds feature or the double win feature and the bonus spins will stop. If another wild symbol does not land on the first bonus spin, a second bonus spin will occur.
Free Spins
Free spins are triggered when three or more scatter symbols land anywhere on the reels.
You'll be given ten free spins that come with some special features of their own. During the free spins feature, if exactly one regular wild symbol lands on the reels it will expand to cover the entire reel. All Watson symbols will also become wild, but do not expand. The connecting wilds and double win features are active during free spins as well.