The Swipe And Roll slot from NetEnt is somewhat of a departure from their usual work. Whereas most of their recent releases have involved unusual themes and painstakingly created three-dimensional graphics and animations, Swipe And Roll slot goes almost entirely in the opposite direction. This one is streamlined, simple, and, designed to look like the classic fruit machine slots, 100% retro.
Swipe And Roll is a five-reel, three-row slot filled with most of the classic symbols you'd expect on the old fruit machines. There are several different kinds of fruits including watermelons, plums, and oranges as well as golden bells and some of the higher player card symbols. There are also two different type of wild symbols and a bonus feature that could be worth up to a mind-blowing 1.6 million coins.
Swipe And Roll is a 20 fixed pay line slot that allows the player to adjust both coin value and number of coins bet per line. The minimum bet is one coin per line with a value of £.01 each, or £.20 per spin. The maximum is ten coins per line with a value of £.50, or £100 per spin.
Best NetEnt Casinos to play at
Yes – Why To Play The Swipe And Roll Slot
This is a no-nonsense slot that plays fast and straight. If you like fast action without all the frills, this one will get you there.
There are two bonus features and multiplying wilds that can all team up to make huge wins from a single spin.
There is a 96.35% return to player rate for this slot, which is a good rate that gives players value for their wagers.
No – Why Not Play?
The stripped down design of this slot may not be appealing to those who are more accustomed to heavily themed and animated slots.
In order to win the biggest prizes on this slot, multiple bonus features would need to trigger at the same time, which seems a very rare occurrence.
This slot appears to be high volatility which means bonus features don't trigger very often and there can be long stretched between good sized wins.
Swipe And Roll Slot Bonus Features
There are several features built into Swipe And Roll designed to boost your bottom line. Two different types of wild symbols and two bonus features can all combine to create some very large numbers.
Wild Symbols And Wild Respins
There are two wild symbols on this slot. In addition to the regular wild, there is also a three times multiplier wild. Both can substitute for any symbol on the reels except for each other or the scatter symbols. A three times wild on any winning pay line will automatically triple the payout for that line.
In addition, if three or more wild symbols of either type appear anywhere on the reels when they stop, a wild respin will occur. When this happens, all wild symbols will be held in place and the reels will respin one time.
Coin Wheel Feature
The coin wheel feature activates randomly during the main game before the reels stop. The wheel contains three different symbols: coin wins, a scatter symbol, and arrow symbols.
When the wheel stops, the lit section awards either a coin win, the scatter symbol or an arrow. A coin win awards the amount shown. The scatter symbol starts the bonus game. An arrow symbol expands the lit winning area one step up or down to create bigger prizes.
If a win on the coin wheel is less than five times the initial bet, the wheel will respin and the total of all spins will be awarded.
Bonus Game
If the scatter symbol lands on the coin wheel, or three scatter symbols land on reels two, three, and four during the main game or wild respins, the bonus game is triggered.
In the bonus game, the player is presented with three wheels. He can swipe them one at a time, up or down, in any order. He may also click spin to spin them one at a time from left to right.
The wheels contain coin wins and arrow symbols. An arrow symbol will expand the win area for all three wheels together. If the expanded area includes another arrow, the win area will be expanded again for all three wheels. This will continue until no more arrows are present on the wheels. The maximum height of the win area can go up to five rows.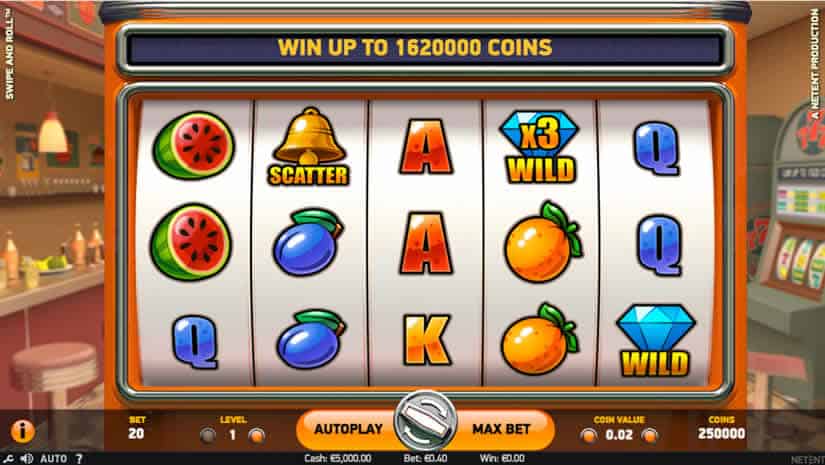 Our Verdict
The Swipe And Roll Slot is very well executed. The developers have done a great job of mixing classic design with modern technology in just the right amounts. The look of Swipe and Roll is true to what we'd all expect from a mechanical fruit machine slot, but the digital technology has been used to create bonus features that would have been impossible on one of the originals. You can find this slot machine at any UK friendly online casino.
As far as the gameplay itself, NetEnt has done a great job there as well. The low minimum bet makes this slot accessible for those with more conservative bankrolls, but there are still chances for some excellent payouts. They've also made up somewhat for the higher volatility of this slot by making it play so fast. Even though wins may be spaced out, spins happen quickly, so players never feel like they're just sitting and waiting.
Overall I'd have to recommend that you, dear reader, check this one out. The action is fast, the top payouts are high, the RTP is on point, and the design is excellent. Unless you're hardcore, dead set on playing slots with 3D rendered characters and animations, you should have some fun with this one.
If you would like to know more about other cool slot machines, you can check our latest article about the Top 5 Online Slots To Play In August 2018.
Enjoy!