The Tome Of Madness slot, or by its full name, Rich Wilde And The Tome Of Madness, is a uniquely themed slot based on the high priest of The Great Old Ones, Cthulu, the almost mythic figure created by H.P. Lovecraft. Through darkness, shadows, and an eerie mist that hangs in the air, the tome of madness will exert its influence on the symbols and the reels to give and take your fortune as you search for the portals that could lead to ultimate riches.
The action on Tome Of Madness takes place on a five by five grid. There are eight regular symbols plus two types of wild symbols. Lower value symbols include four different coloured runes. High-value symbols are all tied to Cthulu, including a pendant, a dagger, a ring, and a mask. Hitting the right combinations can win you up to a maximum of £200,000 or 2,000 times your bet.
This slot pays based on a cluster matching system along with a cascading symbols feature. Symbols don't need to line up from left to right to win. Any group of four or more like symbols that touch horizontally or vertically will trigger a win. When a win occurs, winning symbols will be removed from the playfield and new symbols will fall into place, generating opportunities for more matches on a single spin.
As has become standard on Play'n Go slots, setting up wagers is extremely easy. There are 15 preset amounts to choose from and that's all there is to it. You can play from a minimum of £.10 per spin up to a maximum of £100.
Where to Play? Best Play'N Go Online Casinos
Yes – Why To Play The Tome Of Madness Slot
Tome of Madness slot has a very unique theme and Play'n Go does an excellent job of not just putting characters and symbols together but creating an atmosphere that draws the player into the story that the game is based on.
The bonus features on this slot are also implemented in a unique way. The features all interact with the symbols in different ways and can trigger other features creating chain reactions. It's not too hard to trigger most of the features either, which keeps the action moving and excitement levels high.
The return to player (RTP) rate on this slot is right in line with what we'd expect from a modern release. Players will enjoy a 96% RTP which gives a great value for money spent.
You can find the Rich Wilde and the Tome of Madness slot at most UK online casinos powered by Play'N Go.
No – Why Not Play?
Tome of Madness is rated as a very high volatility slot. That means you could rack up some incredible wins in a short period of time, but you could also see long streaks of nothing but small wins too. Players will need to be prepared to ride out ups and downs in their balances as they play.
The game mechanics on this slot are most definitely different from traditional slots. Those who prefer games with the classic spinning reels and usual bonus features might not like the way this one plays.
Bonus features, as well as their descriptions in the game information, can be a bit confusing. New players especially may have trouble understanding exactly what is going on until they've gone through a few spins and get a feel for it.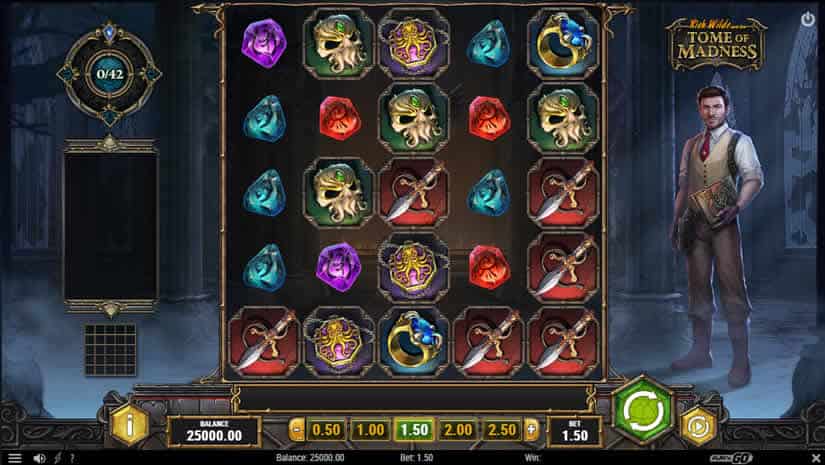 Tome Of Madness Slot Bonus Features
The bonus features on this slot don't trigger in the way that most slot players are accustomed to seeing. The features you see will depend on the number of symbols you match in one or more clusters. In addition, as one feature results in a win, it can trigger one of the others, leading to quite a stack of extra coins being added to your prize.
Multiplier Wilds
The most basic bonus feature on this slot is the multiplier wild symbol. This symbol will double all winning payouts.
Eye Mark Special Wilds
On each spin, there will be an eye mark placed in one of the squares of the grid. If you land a win that occurs over the eye mark, it will add two special wild symbols to the grid after all cascades have occurred and no more wins are formed.
Portal Special Wilds
You'll see a portal in the top-left corner of the screen that charges up each time you hit a winning combination. At certain points during the charging, the portal will add two special wild symbols to the play grid. If these wild symbols generate another win, they can also trigger the following two features.
Abyss – The abyss feature will remove one entire row or column of symbols from the grid, allowing more symbols to fall and potentially create more matches.
Void – When the void feature triggers it will select one random symbol and remove it completely from the playfield allowing new symbols to fall in and create more matches.
Other World Free Round
If you manage to match 42 symbols as the result of a win on a single spin you will fully charge the portal and enter the other world free round. Rather than getting free spins here, as you might expect, you actually get free activation of the other features. They will trigger randomly, one after another, after each completed winning match. You'll also get one more feature added for every three additional winning symbols you collect over the initial 42.
When the round begins, there will be eye marks placed throughout the playfield. If you manage to match winning symbols over all of the marks and open all of the eyes you'll meet Cthulu himself as the mega wild symbol. He takes up several cells on the playfield and will create multiple matches as he moves from the top to the bottom generating more wins.