The Treasures of the Lamps slot is a new Arabian themed slot hitting casinos thanks to top-tier game development studio Playtech. It's a five-reel, 20 fixed pay line slot with a minimum wager of £.20 and a maximum of £200. This slot is packed with features and shows off the talent of the crew at Playtech very well.
Among the symbols on the reels, you will find Arabian swords, Arabian horses, chests full of treasure, and three beautiful genies who will grant you wishes and bonuses at random as you play. You'll also find the J through A playing cards symbols and, of course, wild symbols.
There are plenty of bonus features in Treasures of the Lamps to keep the action moving and keep you on your feet. There are big multipliers, lots of free spins, and chances for some impressive payouts.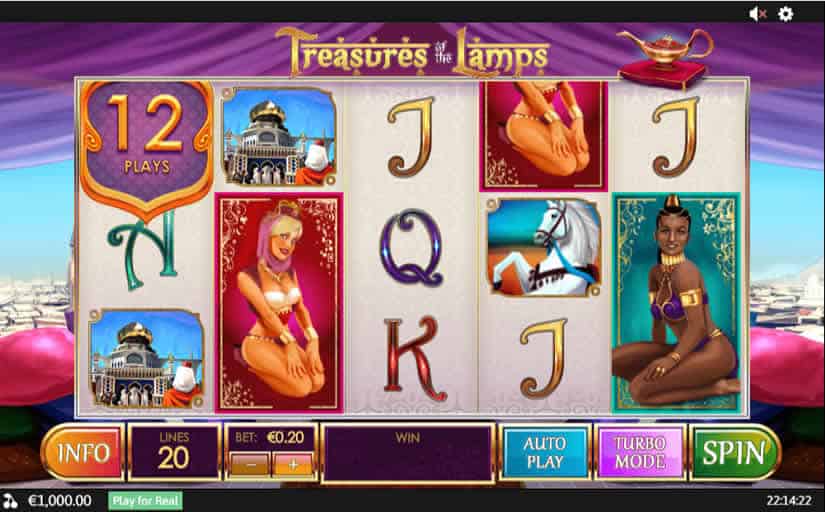 Best Playtech Casinos to get Started
Yes – Why To Play Treasures Of The Lamps Slot
Plenty of bonus opportunities, both through scatter symbols and random triggers on any spin.

Low wagering requirements

make this slot a good fit for just about any bankroll.
High paying symbols pay well at 500 to 5000 coins for five of a kind.
No – Why Not Play
This slot appears to have frequent low paying wins with considerable time between any big wins.
Although there are a lot of bonus features built in, they don't trigger as often as one would hope.
The game is not badly designed, but if you like highly detailed graphics and animations, this slot doesn't keep up with many recent releases.
Treasures Of The Lamps Slot Bonus Features
Treasures of the Lamps has plenty of bonus features baked in to help give your bankroll a boost here and there. There are three beautiful genies who can appear at any time to grant different bonuses, as well as changing scatter symbols that can grant free spins with various options or take you to the Stargazer Bonus mini-game.
The Three Genies
The three genies appear as double stacked symbols on the reels as well as appearing randomly on any spin to grant their bonus features. Let's look at what they each do.
Gloria
Gloria will summon spreading wild symbols that spread out over adjacent reels.
Ruby
Ruby will trigger respins until you win, also locking any wild symbols in place.
Audry
When Audry appears she will add up to five extra wild symbols to the reels.
Scatter Symbols Bonus
The scatter symbols bonus is similar to other slots in that you need to hit three symbols to trigger the bonus, but those symbols will change as the reels spin to give you different bonuses each time. You can win either free spins or picks for prizes in the Stargazer bonus mini-game.
Reel 1
The first scatter symbol will determine how many spins or picks you get. It doesn't state anywhere what the minimum is, but I believe 5 was the lowest I saw as I was testing. The maximum is 30.
Reel 3
The second scatter symbol, which appears on the third reel, will determine the multiplier to be used during your free spins or the Stargazer bonus. This can be anywhere from 1x up to 5x.
Reel 5
The final scatter symbol on reel 5 will determine if you get free spins or the stargazer bonus. Whichever you get, the two previous scatter symbols will determine the options to be used.
Free Spins
If you are awarded free spins, each spin has a chance of summoning one of the genies who will grant her bonus feature.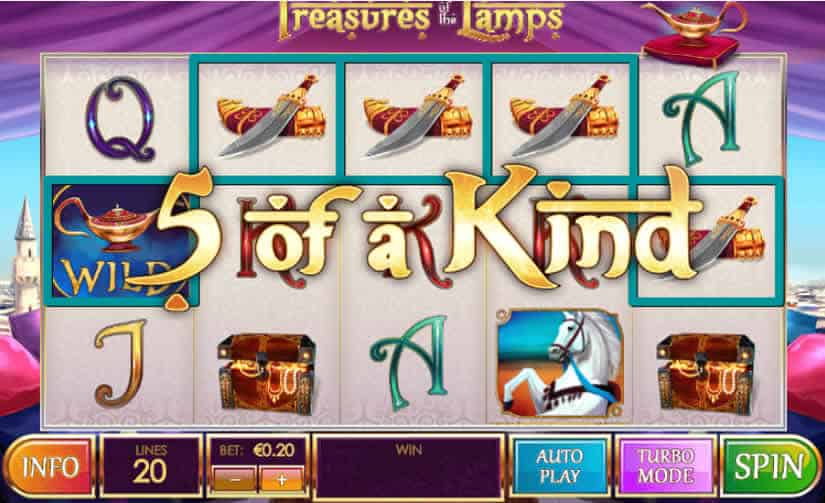 Stargazer Bonus Feature
The Stargazer bonus feature is a mini-game where the player can pick from up to 30 stars to gain cash prizes. Every star contains a cash reward. Choosing the right combination of stars will form a constellation which awards an extra bonus amount.
Each pick also has a chance to summon one of the genies who will grant the following bonuses:
Ruby – Awards a cash prize and extra picks.
Audrey – Automatically awards several star prizes.
Gloria – Increases the reward for the star you've picked.
Our Verdict
The visual design on Treasures of the Lamps doesn't really stand up against many of the video slot machine releases we've seen lately. The gameplay, however, is very good. There's enough going on to hold the player's attention and keep things lively.
There's nothing here that's going to blow your mind, but there is definitely some fun to be had. Especially if you like Arabian themes and/or interactive bonus features, you'll probably enjoy this slot. If you haven't played Treasures of the Lamps, I'd recommend you give a spin and see what the three lovely genies have in store for you.
If you would like to explore additional games with the same theme, you can also check Three Wishes Slot.