The Village People Macho Moves slot is the product of collaboration between Microgaming and Fortune Factory. Straight out of the '70s, The Village People come alive in this slot through sight and sound. Get ready for smoking hot disco dance moves and those catchy Village People tunes that you just can't get out of your head. It's time to boogie 'til the break of dawn! All Microgaming slots are available to UK casino players.
The Village People Macho Moves is a six-reel, three-row slot with 15 fixed pay lines. There are ten different symbols on the reels with payouts ranging from 250 times your bet for landing six wild symbols on a pay line down to two times your bet for six clubs on a line. There's plenty of disco imagery on the reels with golden microphones, platform shoes, vinyl records, and even 8-track tapes.
Every aspect of the Village People is represented on this slot. Of course, all six of the guys in the group are there, dancing above the reels as you play. They each have some special moves of their own that come into play, too. You could probably guess that this slot features some of the music from the group, but the designers decided to take it a step further. There's actually a jukebox that will allow you to pick your favourite from some of the Village People's biggest solid gold disco hits.
Coin Value & Payouts
Setting your bets on the Macho Moves slot is quick and easy with no tricky options to figure out. The total bet is calculated as playing 20 coins. You can set both the coin value and the number of coins you'd like to play on each line. The coin value ranges from $.01 up to $.25 and you can bet from one to five coins on each line. That makes for a minimum bet of £.20 and a maximum of £25.
Play Village People Macho Moves Slot Here
Yes – Why To Play The Village People Macho Moves Slot
The overall design of this slot is very unique. From the animated Village People characters that grace the top of the reels to the ability to select the backing music, this slot certainly doesn't feel like anything else you might have just played a few minutes ago.
Obviously, if you are a fan of the Village People or even disco in general, you're going to love this slot. It's just campy enough to be fun but serious enough to be really entertaining.
The six different bonus features that are tied to each of the Village People characters make this slot unpredictable. You never know when that big bonus is going to strike or what is going to trigger it.
The return to player (RTP) for Village People Macho Moves slot is 96%, which can be considered fair.
Microgaming software is present at reputable gambling sites, therefore you are most likely to find fast casino withdrawals in those venues.
No – Why Not Play?
For the same reason this slot would be a hit with disco fans, it could be almost repulsive to someone who's not. It's not that the game has some disco influence, it is completely built around the disco culture.
Those who don't like high volatility slots may want to stay away from this one. You will definitely hit some dry spells between big wins but if you have the patience to let things play out you could see some significant numbers.
To trigger a bonus feature you have to collect symbols and with there being six different bonus features that can mean collecting quite a lot of symbols before you hit a bonus. The features can pay off well, but waiting for one to hit can become frustrating.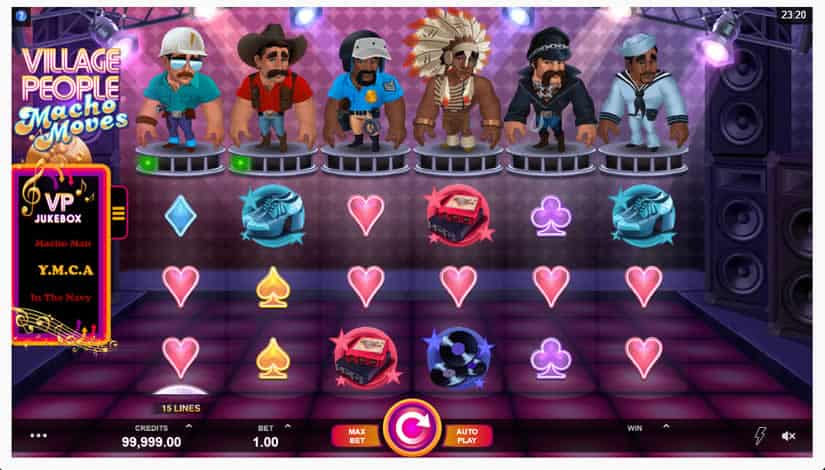 The Village People Macho Moves Slot Bonus Features
There are quite a few bonus features in this slot to keep you guessing and on your toes. There is one feature for each of the guys in the group and when you trigger one of them they'll let loose with their own macho moves. Macho moves are triggered by collecting five VIP wild symbols for one of the characters which will award five free spins with the following bonuses.
The Construction Worker
Free spins with random multipliers. Before each free spin, a random win multiplier is selected. Multipliers range from 2 to 20 times a regular win.
The Cowboy
Free spins with Random Wilds. Anywhere from two to 12 wild symbols are placed across the reels on each spin.
The Police Officer
Free spins with random wild reels. Two to four of the six reels become completely wild before each spin.
The Indian Chief
Free spins with walking wild reels. At the start of the free spins, reels five and six will be wild. With each spin, the two wild reels will move one reel to the left.
The Biker
Free spins with symbol upgrades. All low-paying symbols will be removed from the reels and replaced with random higher value symbols.
The Sailor
Free spins with locking wilds. Before each spin, one to three wilds will be placed on the reels and they remain locked in place for the remainder of the free spins feature.