The Wild-O-Tron 3000 slot is a NetEnt online video slot release, built completely in HTML5 and designed to work on both desktop and mobile devices. It has a futuristic theme, based on several different types of robots while the background imagery gives off the feeling that you are perhaps on board a ship hurtling through space.
Wild-O-Tron 3000 is a five-reel, three-row slot machine with 20 fixed lines to bet on. The symbols on the reels are made up of six different coloured robots. Each robot has three different parts; a head, torso, and feet, for lack of better terms. So, technically, there are 18 different symbols on the reels. The robot parts may land as single symbols, or they can land stacked, filling two or three spaces on a reel. In addition to the robot symbols, there is also a wild symbol that will substitute for all others.
There are no traditional high-paying and low-paying symbol groups. Each of the six coloured robots has their own payout value. The lowest paying bot will award 40 times your line bet for five of a kind while the highest will kick you back 300 times your line bet for matching five.
For setting up wagers, the player can set both the value of the coins to be used and the number of coins to be bet on each of the 20 pay lines. You can bet from one to ten coins on each line and set the coin value anywhere from £.01 up to £1.00. That will give us a minimum bet per spin of £.20 and a maximum of £200.00.
Recommended NetEnt Casinos to Plat At
Yes – Why To Play The Wild-O-Tron 3000 Slot
As we've grown to expect from NetEnt, the Wild-O-Tron 3000 slot comes with a generous return to player (RTP) rate built in. Players can expect to see a return of 96.01% of the money they wager on this slot over the long-term.
For a NetEnt release, this slot is very simple and stripped down. The play is easy to understand and there is nothing that should confuse even the newest of new slot players.
The wide range of betting options available should make this slot easily accessible for new or conservative players while high-rolling players should be able to get the excitement they're looking for as well.
No – Why Not Play?
The wild bonus feature of this slot can make for some big wins, but as far as NetEnt games go, this slot has a surprising lack of bonus features that really is somewhat disappointing.
If you're not a fan of the futuristic robot theme on this slot, there really isn't going to be anything else to hold your attention and you'll probably want to find somewhere else to place your bets.
Wild-O-Tron 3000 Slot Bonus Features
As was stated above, there really is a disappointing lack of bonus features on this slot, especially since it's coming from NetEnt. The company usually makes things much more exciting.
There is only one bonus feature on this slot, which it takes its name from. The Wild-O-Tron feature can trigger randomly at the beginning of any spin. The Wild-O-Tron itself sits in the foreground of the game, just to the right of the reels.
When the feature is activated, the Wild-O-Tron will begin to shake a bit, the reels will slow down, and you'll see some bolts of electricity travelling back and forth between the Wild-O-Tron and the symbols on the reels. When this happens, anywhere from one to six of the robot figures will be transformed into wild symbols. The Wild-O-Tron has six coloured lights which will also light up to indicate which robots have been replaced by wild symbols.
Needless to say, if you trigger this feature and get four or more of the robots transformed into wild symbols, it's possible to score some very big wins. Overall though, we really would have liked to see some free spins or some other type of bonus mixed in just to add some excitement to the game.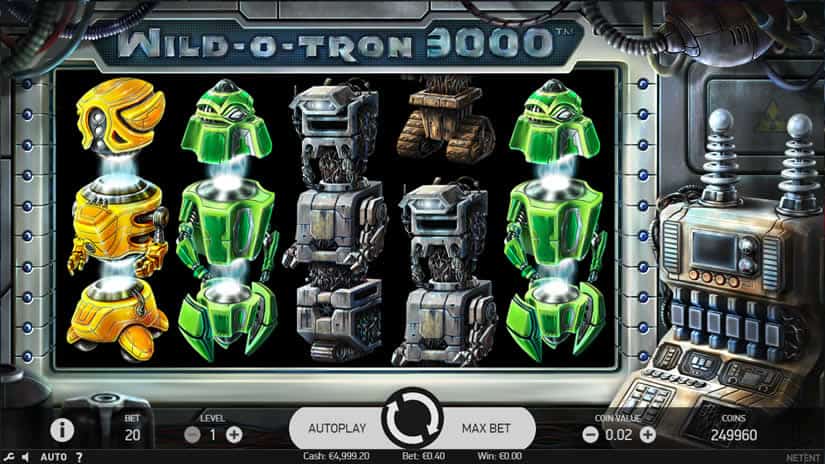 Additional Info
Contrary to what happens with other slot providers like Betsoft or Yggdrasil, NetEnt mainly caters to UK online casinos – and other brands available throughout Europe. If you are located in other restricted regions, you can check our sections with online casinos available to you.
For more interesting slots coming from NetEnt, you can also check:
Cheers and Good Luck!