Wild Scarabs slot is another in a long line of quality video slots from top developer Microgaming. The game follows an Egyptian theme, with pyramids in the background and multi-coloured gems, ankhs, Egyptian god symbols, and, of course, scarabs adorning the reels. All of the action plays out across five reels with three viewable rows.
The audio and visual aspects of the Wild Scarabs slot are well done, but the gameplay is really nothing new. This slot uses the 243 ways to win format rather than pay lines, and players can bet from € .20 up to € 60 on each spin, with a maximum possible payout of 104,000 coins.
Best Microgaming Casinos to Play:
Yes – Why Play Wild Scarabs Slot
Great graphics and animations make this slot fun to watch.
The bonus features guarantee wins when triggered. It's good to know you'll get something even if it's not the 104k jackpot.
The 243 ways format is easy to follow and spot winning combinations quickly.
No – Why Not Play?
This seems to be a rather low variance slot, which means you're more likely to see a lot of low payouts rather than racking up some misses and hitting bigger. Some players like this, but for many, it just doesn't get the juices going.
The RTP is not displayed anywhere in the help for this slot, and I wasn't able to find it anywhere else.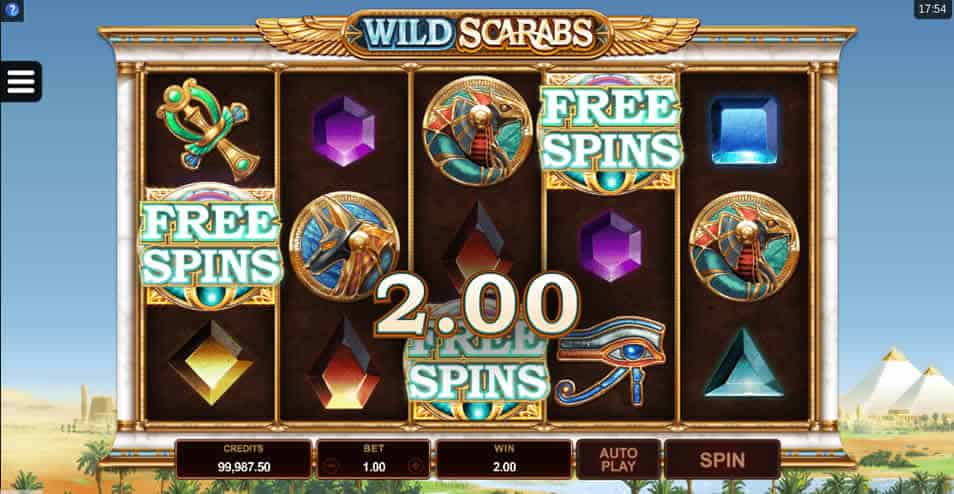 Wild Scarabs Slot Bonus Features
Again, not doing much to break away from the standards, there isn't really anything new among the bonus features offered here, but they can certainly boost your payouts if they come up at the right time. They're designed to guarantee a win, so at least you know you'll be getting some kind of prize when one of them triggers.
Wild Symbols
The wild symbol will substitute for any other symbol except scatter. Also, on any non-winning spin where a wild symbol lands on reel three, Wild Deal is triggered.
Wild Deal
When Wild Deal is triggered, additional wild symbols are placed on the reels for a guaranteed win. Up to four additional wild symbols can be placed, and they can substitute for any symbol except scatter.
Free Spins With Stashed Wilds
If three or more scatter symbols appear anywhere on the reels, the player is awarded ten free spins. The bet amount for the ten free spins will be the same amount as the spin that triggered them. During free spins, Stashed Wilds is activated.
Stashed Wilds
During free spins, all non-winning wilds are collected. When three or more are collected, they are randomly distributed across the reels to create a guaranteed win. Free spins will also continue until all wilds have been awarded.
Our Verdict
There's nothing particularly wrong with Wild Scarabs, but there is nothing to make it stand out either. Whether or not to play this one is very much going to come down to the taste of the person playing it. It's similar in many ways to many other slots.
It's most attractive points are probably going to be the theme and graphics for those who like the Egyptian theme, and the low variance for those who don't like slots with lots of ups and downs. There isn't much more to say. It's worth a look to see if you enjoy it, but you probably won't find anything you haven't seen before.
If you think you'd prefer something more exciting, check out some of our other Microgaming or NetEnt slot reviews. You'll find plenty of high excitement games from both providers in many UK online casinos.