Ninja themed online slots
When it comes to online slot themes, there is no shortage of choice. Almost every major theme imaginable has been replicated and reproduced in the online casino world at some point or another. Take ninja slots, for instance. You have probably never thought about playing a ninja slot before. Even if you have, you may not have realised just how many ninja slots there are out there. Off the top of our head, we can name 9 ninja slots. That gives you some idea of the scope when it comes to slot themes. Is this popularity based on the legendary Japanese warriors or has the massive global rise in popularity of Sasuke and Ninja Warrior had some influence on the slot makers?
Whilst we have you on the ninja slot topic, if you haven't played one before, you're missing out on a great slot gaming experience, with a wonderfully cultural (and sometimes very silly) theme. If you're on the lookout for a new slot to play, and you fancy trying a theme you may not have played before, why not give ninja slots a run for their money? We've listed 10 of the most popular ones below to help get you started.
The Ninja slot

Introduction: This simply titled slot represents Endorphina's take on the genre. It is one of the leading ninja-themed slots out there on the net and offers up a true, authentic cultural theme. The Ninja slot is played over 5 reels and 20 lines and contains plenty of imagery which is faithful to its theme. As one of Endorphina's older slots, the special features a little hit and miss in this game, although scatter wilds certainly help you bag wins. Landing 3 or more of them will also trigger a free games bonus, which acts as the main special feature in this slot. Any wilds accumulated in the base game will be redistributed onto the reels during the bonus, providing sizeable wins for players. The Ninja is about as authentic a ninja-themed slot as you're going to find, as some of the other games in our list take on a sillier, far less serious tone with their ninja themes.
| | |
| --- | --- |
| Online Slot Machine | The Ninja |
| Slot Provider | Endorphina Casino Software |
| Jackpot Slot | No |
| Reels | 5 |
| Win Lines | 20 |
| RTP | 96% |
As I sit down to expand this slot review I'm getting the nagging feeling that this is the very first Endorphina slot I'm actually reviewing. I could be wrong though, my memory could be failing me. It certainly shouldn't be the first, Endorphina are a very interesting bunch of designers. Note to self: review more from this company!
Ok now that we have gotten that out of the system, let's properly review "The Ninja". So what is it? It's a 3×5 reel 20 line video slot based on a ninja theme (obviously). The graphics and animations are excellent, absolutely spot on with the theme they were aiming for. But it is the free spins round that is what this slot is all about. Free spins are triggered by landing 3 black ninjas. The amount of free spins is determined by the number of preceding 2 black ninjas you have won and at which bet level they were won on. Before you win free spins you can actually adjust how many black ninjas you have by varying your bet level. For example 4 black ninjas at 1.00 stake can be exchanged for 2 @ 2.00 or 24 @ 0.20. And this does not determine the number of free spins you will recieve but the number of extra wilds that the black ninja will serve up during the free spins…
Confused? Yeah we were too at first. The best thing for this slot is to get the autoplay running in demo mode and watch it till you get the feature.
Our Verdict: We love Endorphina slots and this new entry is certainly no exception. The Black Ninja feature is exceptional and as very often with Endorphina slots, you are talking about a pretty high variance slot which we do like. But it really is a slot you need to see for yourself (again we can't stress enough that you should test any new slot in demo mode before risking your own money).
Ninja Online Slot Strategy: There are two things to consider when playing this slot which may make your life easier. The first is that if your bank balance is shrinking, you sometimes do well to reduce your stake and increase the Black Ninja Wilds so that your gameplay hasn't gone to waste if you think you are going to go bust before landing the free spins and you don't want to deposit again. The second thing to consider is the "Take Risk" button if you have landed a decent win. You are free to check out the card offered in the gamble and decline the gamble if you don't feel secure. We have actually had a €500 win from free spins, clicked Take Risk and been offered a 2 of spades. Landing a 2 is a no brainer to take the gamble and we doubled our win to €1,000!!! Beware though, if you have a very good win and the slot offers you a 3 to gamble, it does happen that the slot will dump a 2 on you and you will be ruing the lost gamble.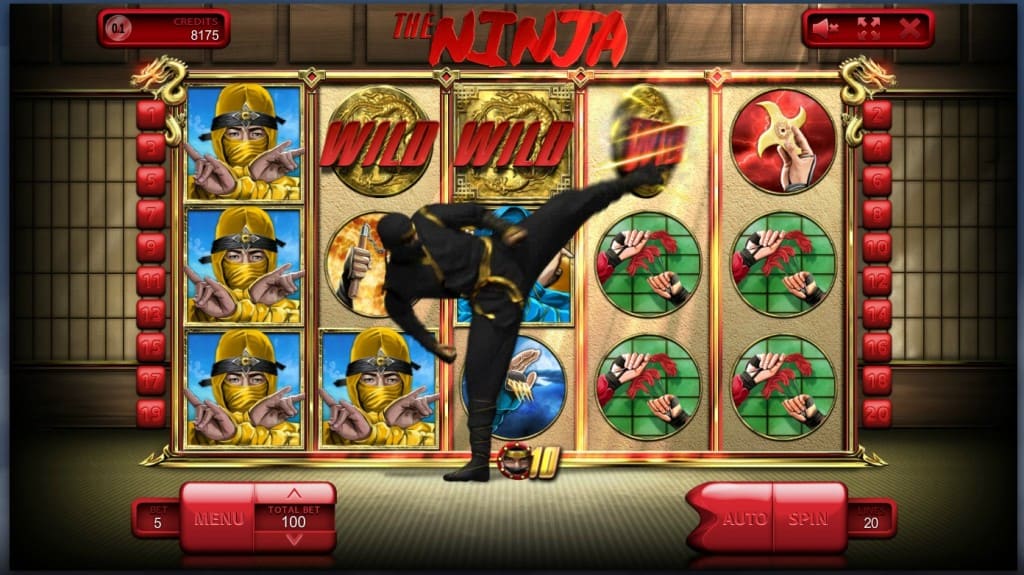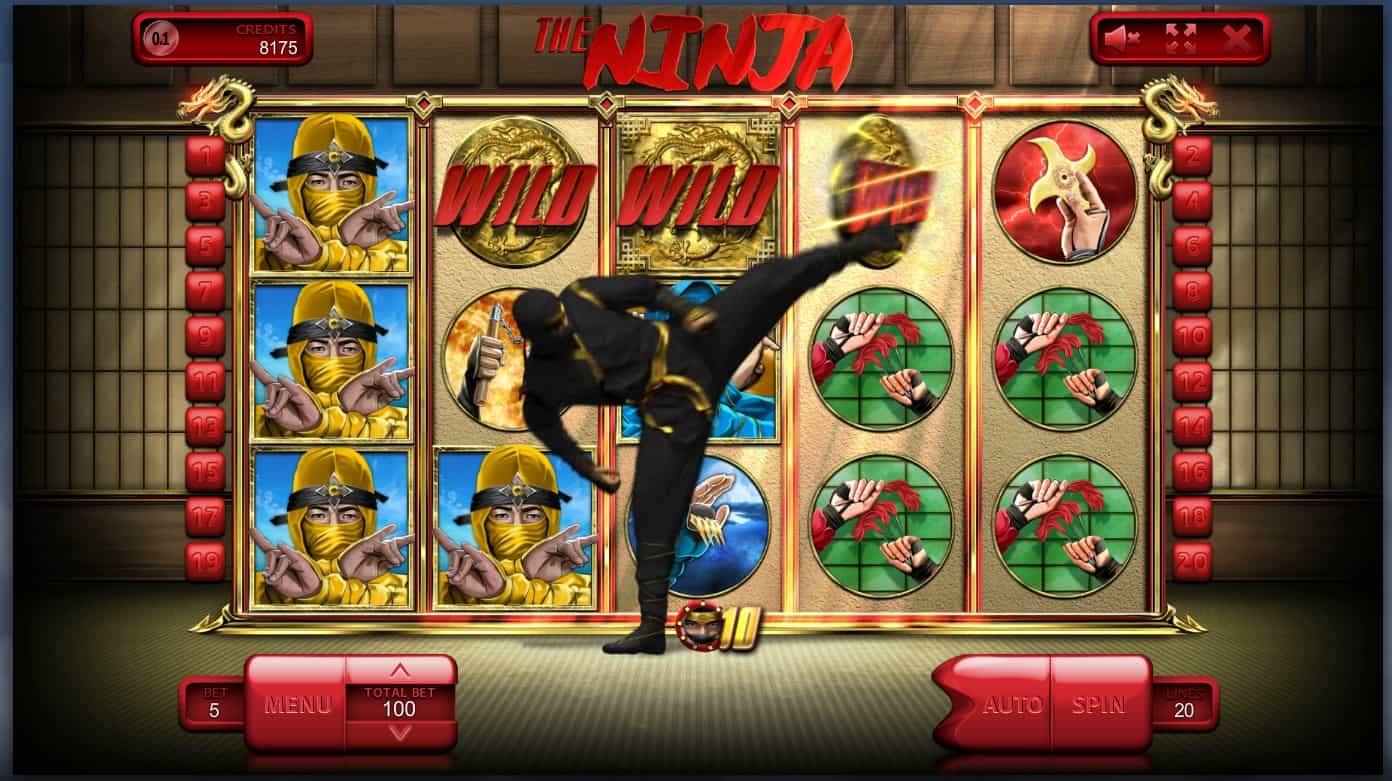 5 Ninjas slot
Eyecon's take on the genre comes via 5 Ninjas. This is a far more cartoony take on the genre and features very primitive if adorable graphics. 5 Ninjas is known for its dirt-cheap bets, which flex from 1p per line per spin, up to £12.50 per spin in all. With a non-progressive jackpot worth around 5,000 coins, 2x multiplier wilds, a free spins bonus round, and a randomly awarded instant cash bonus, you can get a lot of mileage out of this game. Players should also note that element symbols can trigger a secondary bonus feature which can offer wins worth up to 200x their total bet. It may be cartoony in nature, but just like the afore mentioned The Ninja slot, this one is also about as realistic a slot machine as you're going to find in the genre, cartoony graphics or otherwise.
Ninja Chef slot
Ninja Chef is a comical take on the ninja theme, and it has been designed and developed by iSoftBet. This particular game offers 30 paylines over its 5 reels and offers rapid and fast-paced gaming action. The superb 3D graphics in this game help sell it to players and the 30p to £6 wagering range doesn't hurt either. One of the really exciting aspects of this slot are the very generous special features. Wilds can multiply wins, there is a free games bonus which promises up to 15 spins and 6x multipliers, and there are frozen and stacked wilds to boost your chances of success, to boot. If you're looking for cheap gameplay, a wealth of bonus features and generally the most exciting ninja-themed slot on the net, then Ninja Chef can certainly fit the bill rather nicely.
Dark Ninja slot
Zeus Play's Dark Ninja takes things back to reality. A bit "Mortal Kombat" in style and design, the Dark Ninja slot machine is based on Japanese culture and tries just as seriously to portray ninjas in a historical light (like The Ninja) to get its point across. Sure, there are a few erroneous Chinese symbols thrown in to boot, but we can forgive them for that. Wagers cost between 1p per line per spin, and £30 a game on this slot, and you get your usual wild and scatter symbols to boost your chances of landing a win. The Shogun Bonus is the main special feature in the game. It consists of 10 free spins, although players do have the ability to land more. In the feature, wilds can also expand to occupy whole reels, but only if a win is assured to occur in the first place.
Ninja Star slot
RealTime Gaming (RTG) mainly caters to the North American gambling market, so it is no surprise to see that they have taken the ninja theme over to players in the USA. Their game is very basic in terms of graphics and appears to be quite some way behind the excitement level of their rivals' slots. However, it is worth noting that there is a more original story and theme to this game than in its counterparts. Two progressive jackpots are also up for grabs, and they will always lure players. Ninja Star's 25 lines are adjustable, but special features are kind of minimalistic in this traditional ninja slot. It is worth pointing out, though, that if you are based Stateside, you won't have too many ninja-themed slot options open to you, so Ninja Stars could be worth a punt.
Ninja Master slot

SkillOnNet are a niche developer of slots, although you may never have guessed that from their Ninja Master slot game. This baffling slot machine launched in 2015, and is certainly a 3D slot, but my oh my, are there poor graphics here. Big-headed characters appear on the reels of this game, which is more about martial arts in general than it is about ninjas. The graphics aren't much to write home about, and the features are even worse. There are 20 lines of action to be had in this sot, which offers up a 5p to £25 wagering range, and carries a top prize worth roughly £500. The ninja himself performs both wilds and scatter duties, but the 4 free spins he offers seems rather poor in relation to other ninja slots. This is probably the weakest link in the entire ninja slots genre.
Intermission: From here on out, ninja slots will start to get a little wild
As you've seen so far, there are many developers trying to compete to make their ninja slot stand out from the pack. The final 3 games we will look at get a little bit wilder, a little bit crazier, and stray from the true ninja theme path slightly, but they aren't all bad. They certainly stand out, to say the least. First up, is Cyber Ninja.
Cyber Ninja slot
You can see straight away what Join Games was thinking of with the theme of this game. Cyber Ninja is, of course, a cybernetic ninja slot. Think Terminator meets Aliens meets Enter the Dragon and you're well on your well to getting what this slot is all about. Cyber Ninja could very well have rolled out of a bad episode of Doctor Who (with alien enemies included) and offers 5 reels and 20 lines of action. Players will note that wagers cost anything from 1p per line per spin up to £100. Whilst it is certainly nice to be able to flex your financial muscles with such a generous and alterable wagering range, the special features in the game need a lot of work. Wild symbols which appear randomly on the second reel will expand, whilst a free spin bonus round will triple all your winnings. That's about all there is to this nutty slot, really.
Ninja Magic slot
Microgaming are the biggest developer of online slots, so it shouldn't come as a surprise that they have also got involved in the ninja-themed slot genre. Their effort focuses on a set of 5 reels with 40 paylines spread over them. Curiously enough, creepy crawlies play an important part in the imagery selection of this game, with less emphasis on the ninjas themselves. The storyline is pretty basic (and extraordinary) in which a set of ninjas use magic to take on world-conquering bugs. To be honest, it isn't much of a selling point. If you can look past the crackpot theme, you will find a few decent features (even if they are predictable for a Microgaming slot), which includes free spins with multipliers. In total, up to 20 free games with 6x multipliers can be bagged, in a game which carries a non-progressive prize worth around 500x your total bet.
Ninja Fruits slot
You shouldn't have any troubles guessing the theme of this game, either. In a bid to try and stand out from their rivals, Play 'n Go developed Ninja Fruits with a simplistic gaming structure of just 15 lines spread over 5 reels. Players will note that spins range from 15p up to £18.75, whilst there are 3 bonus rounds to be had in this game. A Hit the Fruits bonus allows players to lob shuriken at fruit symbols to pocket cash prizes, whilst a free spins bonus round can offer an extra scatter icon to boost your chances of retriggering the feature. We shouldn't normally consider a gamble feature as a bonus, but, in essence, it is, since you can win as many as 2,500 coins with this feature. In virtually every other aspect, the Ninja Fruits slot is nifty looking, contains a quirky theme, but isn't as impressive as some of the more traditional ninja-themed slots out there on the net.
Paws of Fury – Enter the Panda slot
Game facts: This Paws of Fury slot by Blueprint grips over 5 reels, 20 paylines and an RTP of 95.16%. So settle in and see how spins from the Far East pay at LeoVegas. Look out for: the Meditating Panda that may rise on any spin to award 1 of 5 reel modifiers, the random Jackpot King feature, and 3+ panda bonus symbols for the Panda Bonus ladder. See bottom of the page for full details.
While Paws of Fury is not exactly a ninja slot, it does have a few little ninja moves in it and we liked it so much we took license to include the slot on this list… not as a part of the 10 ninja slots promised but as a little cute extra bonus slot.
Play ninja slots today
As you've seen, the ninja slot genre covers a vast variety of games. There are those which have stayed true to the content, drawing inspiration from the historical ninjas. There are those which have taken on a cartoony approach, whilst trying to stick to the source material, and there are those which have tried to create fusion slots, by trying to merge ninjas with other popular themes, such as fruit. Lastly, there is the group of ninja slots which is just out of this world (in the case of Cyber Ninja, quite literally), and they play so loose and fast with the theme that they may as well be considered non-ninja slots.
Some of these games offer great value for money, and others are pretty poor efforts by their developers. Fortunately, with such a vast range of ninja slots available, you shouldn't have to swap casinos to be able to play them. Ninja slots are available from seemingly every major developer, so there is always going to be a ninja-themed slot right on your doorstep. Whether or not it is a winner of a waster, depends on the casino you're playing at, and what you consider to be your cup of tea, though.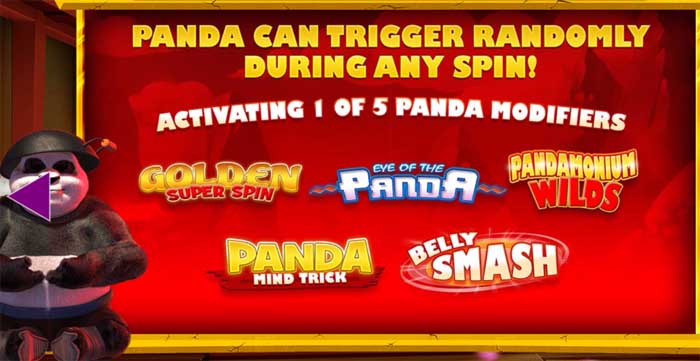 Paws of Fury- Player Instructions
INTRODUCTION
Paws of Fury is a 5-reel 20-line slot journey on the way to GREATNESS! The game has 5 PAWSOME features as well as Enter The Panda – BIG MONEY BONUS, where you can win up to 1000xTotal Bet!!
Step 1: Getting Started
Click the TOTAL BET button to increase or decrease the amount of your TOTAL BET. Select from the list of available stakes from the Total Bet options (depending on Operator configuration and currency equivalent).
Click 'SPIN' to start your game.
There is an Autoplay function in the game that will start each spin automatically. If you wish to cancel this during your auto spins then simply press the Stop Autoplay button.
Step 2: How To Play
Press 'SPIN' to start the game.
The reels will spin and eventually stop at random.
If the combination of symbols appearing on the reels forms a line of 2, 3, 4 or 5 matching symbols (starting from the left) on one of the win lines, then you win. Any winning lines you have will be highlighted and your winnings will be credited to your account balance.
3 or more Bonus Scatter symbols anywhere on the reels awards the Bonus.
Spinning the wheel and landing on Win Sum Dough during the Bonus awards the Win Sum Dough Bonus.
Spinning the wheel and landing on Journey of the Panda during the Bonus awards the Journey of the Panda Bonus.
Spinning the wheel and landing on Rise of the Panda Free Spins during the Bonus awards the Rise of the Panda Free Spins Bonus.
Spinning the wheel and landing on Panda Warrior Free Spins during the Bonus awards the Panda Warrior Free Spins Bonus.
Spinning the wheel and landing on Enter the Panda – BIG MONEY during the Bonus awards the BIG MONEY Bonus.
Reel Wins
Line wins are multiplied by the value bet on the winning line.
All Wins across all different lines are added together to form the total win.
All line pay symbols must appear on a played line and on consecutive lines beginning with the far left reel.
Only the highest line win is paid on each line.
Scatter wins are added to any line wins.
Wild Symbol
The Wild(s) symbol can be used to help form line wins by substituting for other symbols.
The Wild(s) symbol cannot substitute for scatter symbols or bonus symbols.
Only the highest paying win on each line is paid (for example 3 wild symbols being a win or those symbols being used with another symbol to make a win of 4 symbols will only pay which of those two is the highest).
Wild symbols include: Panda Warrior Wilds, Rise of the Panda Roaming Wilds, Belly Smash Wilds and Standard Wilds.
Meditating Panda
If the Panda wakes from his meditation during any game there is a chance one of the modifiers can be triggered.
Panda will leap from his meditation, where he can award one of the following:
– Pandamonium Wilds – Whilst the reels spin Panda shall wake up and kick the reels turning positions wild. After any wins have been processed occasionally Panda shall jump up and kick the reels causing the reels to respin holding any wilds in position.
– Belly Smash – Whilst the reels spin Panda shall wake up and belly smash the reels creating a stacked wild. All 5 reels can be made wild.
– Golden Super Spin – As the reels continue to spin, Panda will awake and use his mind trick to add mystery symbols to the reels. These can turn into any other symbol.
– Eye of the Panda – Once the reels have stopped and presented a combination of winning symbols occasionally Panda will awake and use his Ninja mind trick. This will cause the reels to respin holding the trigger symbols in position. This will continue until the win is not improved.
– Panda Mind Trick – On any spin Panda can add more Bonus symbols to the reels. This significantly increases the chance of triggering the bonus on that spin.
Bonus Activation
The player enters the bonus by achieving 3 or more bonus symbols anywhere in view. There is no payout awarded directly for getting this, just entry to one of the bonus rounds.
There will be 5 unique bonuses which will be determined by the Panda Bonus.
The player will spin the wheel, which after a spinning will stop on one of 5 features, revealing the bonus that has been awarded.
Win Sum Dough
Triggered by landing on the Win Sum Dough segment of the wheel during the Panda Bonus.
After a short transition, a scene will be shown with a number of bowls on screen along with a winplan to the left.
The player selects barrels to reveal an item. Each item will match up to a total bet multiplier, which is paid for matching 3 of the same item. Additionally, revealing a special icon will upgrade the total bet multipliers, and collecting 3 Golden Pandas shall award the BIG MONEY Bonus.
Journey of the Panda Bonus
After a short screen transition the player will be presented with a secondary bonus screen that represents a trail.
The player always begins at the far left and is required to select lanterns in order to advance along the trail increasing the total bet multiplier. Selecting the lanterns will reveal one of the following positive or negative outcomes:-
| | |
| --- | --- |
| Event | Action |
| Advance 1, 2, 3, 4 or 5 | Will action Panda to move up the trail by the corresponding number of Windows. |
| BIG MONEY TEXT | Takes the player directly to the BIG MONEY Bonus part of the feature. |
| Collect | Ends the bonus and pays the current total bet multiplier. |
If the BIG MONEY Bonus end game is reached, Panda enters the big money end game. See Enter The Panda – Big Money Bonus.
Rise of the Panda Free Spins
Triggered by landing on the Rise of the Panda Free Spins segment of the wheel during the Panda Bonus.
A screen transition will occur and the player will be taken to a new destination, the top of the Temple with multiple reels in view.
The screen will start at the top, before the screen pans down the other reel sets, which display the reels, and a side banner detailing the upgrade for that reel set.
The player is then presented with the bottom level. Here the player will play out their set of free spins on this reel set. The object of the Free Spins round is to collect Yin Yang icons which appear randomly on the reel symbols. By collecting a number of Yin Yangs this then advances the player up to the next reel set. The further the player levels up, the more powerful the upgrade awarded.
As the player gets higher up, additional spins are awarded.
Free Spins continue until all spins are used where the player is awarded the amount displayed in Bonus Winnings. Additional free spins are awarded each time the player completes a level.
Panda Warrior Free Spins
Triggered by landing on the Panda Warrior Free Spins segment of the wheel during the Panda Bonus.
Panda Warrior Free Spins are played out on a 5×4 reel format with 40 win lines and a fixed amount of Free Spins. After each spin if any special wild symbols land in view a wild bank panel situated on the right-hand side of the screen will be incremented by the corresponding number of wilds. Once the initial round of Free Spins end the player will then be awarded a series of 'Wild Spins'. Wild Spins play out on the same reel set and during each spin the accumulated number of wilds shall be placed randomly on to the reels. After a spin ends the player will be presented with 4 lanterns over the top of the reels and prompted to select a lantern revealing either a Yin Yang (Spins the reels again with the wilds shuffled to new positions) or a Collect which ends the feature.
Panda Warrior Free Spins cannot be retriggered during Panda Warrior Free Spins. During Wild Spins, additional spins may be awarded.
Enter The Panda – Big Money Bonus
Collecting 5 Bonus symbols, gambling to, or having landed on the Big Money Bonus on the Bonus Wheel triggers the Big Money Bonus.
Here the player will be presented with numerous different amounts in orbs where the orbs will spin around the Panda. Keep picking from flowers to spin the orbs and collect big money prizes until COLLECT is revealed.
Feature Gamble
Whenever a Feature win is achieved in the game (except for BIG MONEY Bonus), the player has the option to either COLLECT the feature or Gamble to try and win one of the other features in the game.
After the award of the initial Bonus from the wheel spin during the Bonus, the player will be presented with a Gamble screen showing the 5 features from bottom to top, ranked in terms of average payout. The feature the player has won will be shown to the player with the words COLLECT and GAMBLE shown on the feature panel in the centre of the screen.
If the player gambles and win, the feature they have gambled to can be collected, with all features below that now eliminated. This continues until the player collects, reached the top feature (where it awards that feature) or the player lands on the Mystery Win segment during the wheel spin where they are then awarded a Mystery Win Prize (a mystery cash value based on a multiplier of the player's total bet).
The odds of winning during the gamble feature are not necessarily the odds shown.
Jackpot King Promotional Pot System
During any spin there is a chance that the Jackpot King Bonus can be triggered by achieving 5 Jackpot King overlay symbols on reels 1 to 5.
The Jackpot King Promotional Pot System is available on any stake on any game plugged into the Jackpot King Promotional Pot.
Spin the reels to accumulate Crown symbols to move up the win ladder. Achieve 15+ Crown symbols to enter the Wheel King section of the feature.
After any spin CHOOSE AN ICON to reveal one of the following outcomes:
SPIN – spins the reels again, with any additional Crown symbols in view adding to the win ladder.
COLLECT – ends the feature with the player being awarded a Bonus Win based on the multiplier of their Total Bet reached on the win ladder.
WHEEL KING – reveal this to go directly into the Wheel King round of the feature.
Achieving 15+ Crown Symbols during the Jackpot King Bonus awards the Wheel King Bonus.
The Wheel King Feature is a Tombola style Wheel consisting of Big Win Multiplier segments and Progressive pot segments.
Spin the wheel to win either a Big Total Bet Multiplier or a Promotional Jackpot.
NOTE – The Jackpot King Promotional Jackpot can only be won during the Wheel King part of the bonus.
When the Promotional Pot is won, it is reset and begins to rise again.
Simultaneous jackpot wins cannot occur. Should two players appear to win the jackpot at the same time the first player to trigger the jackpot will win the whole jackpot amount, the second player would win the reserve pot plus any further contributions made.
In the event of a communication error after a promotional pot win result has been determined and before it has been displayed on screen, the win amount will automatically be transferred to the player's account.
While the game is live, the jackpot cannot be terminated. If the game is removed, the outstanding pool amount can be transferred to another jackpot.
Depending on Operator configuration, the following additional Pots may also be available: Regal, Royal.
When the jackpot is won, it is reset to the Reserve Pot amount and begins to rise again (0.41% reserve).
Jackpots are funded by contributions from the player's stake except for the initial seed which is funded by the Operator (0.08% + 0.41% reserve).
Auto Play
There is an Autoplay function in the game that will start each spin automatically.
By selecting 'AUTOPLAY' you can choose to place up to 100 bets automatically, one after the other.
Select your stake as normal then press the 'AUTOPLAY' button to select the number of 'Autoplay' bets you want to play.
Select your Loss Limit (maximum amount willing to lose for the autoplay session) and then press PLAY to begin your autoplays (other options are available).
Auto Play will turn off if you get into any bonus round including Freespins, if you reach the set Loss Limit or if a Progressive pot is awarded (where applicable).
You can stop Auto Play from continuing onto the next spin by clicking the 'STOP' button
Payout Information and Game Rules
Line wins are multiplied by the value bet on the winning line.
Wins on different paylines are added.
All line pay symbols must appear on a played line and on consecutive reels beginning with the far left reel (20 lines always active except Panda Warrior Free Spins where 40 winlines are always active). Only the highest line win is paid on each line.
Feature symbols are scatter wins and are awarded when appearing on any position on the reels for any number of played lines.
Multiple scatter features can be won in a single game.
Scatter wins are paid in addition to reel wins.
Free Spins are played on the same number of lines and bet per line/Total Bet as the triggering game (20 lines always active except Panda Warrior Free Spins where 40 winlines are always active).
MALFUNCTION VOIDS ALL PLAYS AND PAYS.
This game has a theoretical return to player of 95.16%+promotional pot(s). This is based on long term payback. The maximum win from a single game is £250,000 or 10,000xBet – whichever is reached first (or currency equivalent. Other Operator limits may apply).
Applicable date from: 12/09/2017