An online world filled with Monopoly slots and games
Monopoly is arguably the most famous of all the board games in the world. It also has a very long-standing history in the online casino world. For over a decade, Monopoly-themed slot machine games have been part and parcel of the online casino industry. In the beginning, only IGT produced Monopoly-themed slots, but now other developers have also got in on the act. Today, there are over 10 major Monopoly themed slot machine games for you to play, as well as a handful of Monopoly roulette games and even an online casino which is themed on the world-famous board game.
In this article, we're going to be looking at the major games in the Monopoly slots series, charting the rise of Monopoly franchise games, and working out just which games are best suited to your needs as a Monopoly enthusiast who loves slots. To get started, let's go back to the beginning, with IGT's early dominance of the Monopoly genre.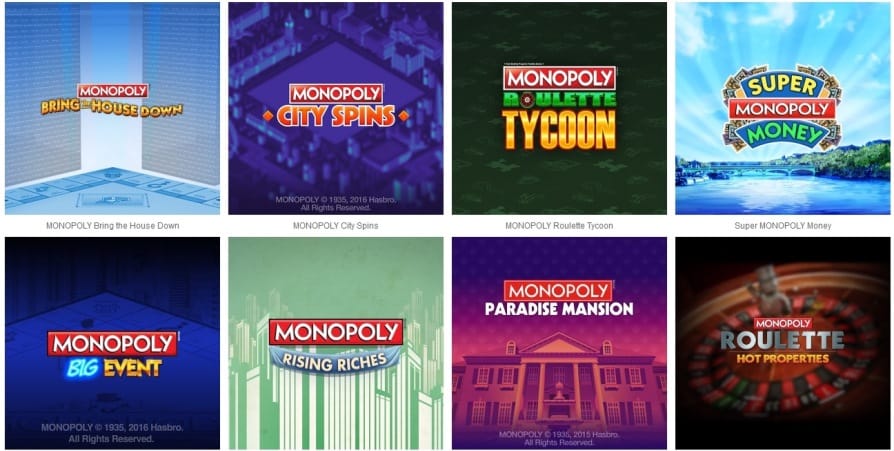 IGT's early dominance
IGT was the very first online casino software developer to get involved in the Monopoly franchise. What originally started out as land-based casino games soon made their way to the online casino world when the time was right, and IGT rapidly realised that the popularity of Monopoly slots meant that they could develop more titles themed on the real estate board game. It was an astute move for the famous casino software providers.
The very first IGT Monopoly slot was simply known as Monopoly. This non-progressive game brought the basics of the board game to the casino world, but it wasn't until the Mega Jackpots version of Monopoly was released that they really hit the big time. The Monopoly: Mega Jackpots slot brought with it a progressive jackpot – albeit a network one – and suddenly, every casino gamer got Monopoly fever. This first game offered Pass Go icons as scatters, and this allowed players to roll dice to make their way around a simplified Monopoly board to pocket cash prizes via multipliers. It was a feature that worked out well for IGT, and it has seen been replicated in other developers' Monopoly themed slots. If that wasn't enough, the Chance Win Spin Bonus enabled players to bag free spins which guaranteed wins, although this slot did only offer a paltry 9 paylines.
With the release of Monopoly Plus, IGT decided to make the imagery more realistic and faithful to the original game. Known as an overly complex slot this was the very first Monopoly game to feature the whole board in a bonus round. The only other feature of merit was a mystery wild bonus which occurred at random and could see up to 5 reels turn into wilds. Whilst Monopoly Plus brought the slot franchise as close to reality as possible, it was also accused of being too difficult for slot players to enjoy easily.
You would think that IGT would learn from their mistakes with Monopoly: You're in the Money. They didn't really. The RTP was considerably better for players in this release, and with 30 paylines, you stood a better chance of winning. As usual, Mr Monopoly showed up as a wild. The randomly triggered features continued with this release, with players able to potentially bag stacked wilds reels once more. Once again, a Monopoly board bonus was present, this time with Community Chest and Chance features worked into its design. Plenty more "board" features such as train stations and utilities came into play, but the overall premise of moving around the board remained the same. The game was not made simpler for players, and neither this nor its predecessor did as well as the original Mega Jackpots entry.
IGT would not get another chance to rectify this. The casino software developers had done well with their Monopoly slots, but before they could release another, Scientific Games took over the Monopoly license, and they had big plans for the Monopoly-themed slot genre.
Scientific Games takes over the license
Enter Scientific Games a.k.a. SG Interactive. Scientific Games had already snapped up Bally Tech, Barcrest and WMS Gaming by the time they acquired the Monopoly license, and the latter two developers in this trio of companies would go on to play an important part in developing and expanding the Monopoly slot franchise. Scientific Games did not want to make the same mistakes IGT did, and so they decided to split the work between Barcrest and WMS Gaming, with each developer creating their own range of games. Some would be simpler than others, but with so many new Monopoly games available to play, there was guaranteed to be something for everyone in the Monopoly slot franchise.
Barcrest have only released one real attempt at a Monopoly-themed slot thus far, with the bulk of the effort being given to WMS Gaming (a firm favourite in the land-based gaming world, and the creator of many original gaming engines for online slots). Barcrest's effort is known as Monopoly: Bring the House Down.
Monopoly: Bring the House Down is the fourth major Monopoly slot to be released and the first for Barcrest. The developers chose to focus on the player tokens in this game, with most of the other graphics being high playing card symbols. Graphically simplistic, this 5-reel, 40-line slot costs between 20p and £500 a game and has an RTP rate of between 94 and 98%, depending on the part of the game you are in. One of the key features of Bring the House Down is the Hot Zone feature. In it, random wilds can appear on the reels and upgrade themselves into hotels, which add multipliers to your winnings. A Big Bet feature can also be paid for by the player, allowing players to pick up Community Chest cards to either pocket multiplier wilds, guaranteed wins, remove lower paying symbols from the reels, pocket scatters, add extra spins or pocket an instant win cash prize of £50. Free spin bonuses, and random Chance Card features also find their way into this slot. The fact that you must pay for extra bonuses has not gone down well with players, even though there are plenty of original bonuses included in the game.
WMS Gaming have developed the lion's share of new Monopoly slots for Scientific Games, and they have been a lot better at it than Barcrest. Their Big Event slot is a particularly nifty game.
Monopoly: Big Event was actually the very first game from WMS Gaming in this genre. The slot costs as little as 20p per spin or as much as £500 per spin, but only features 20 paylines spread over its 5 reels. Three features find their way into this game, and the first of these is the titular Big Event. This bonus can see players select Chance and Community Chest cards to pocket free spins and guaranteed wins. Meanwhile, a Locking Wilds bonus can see wild reels lock in place until the "In Jail" symbol appears. As usual, a Big Bet bonus allows players to "purchase" bonuses for their game. This is a bit more generous than in Bring the House Down and offers up features which allow players to multiply all wins by 5x, locked and wild reels and sticky wilds, amongst other goodies.
Monopoly: Once Around Deluxe takes a darker theme to the Monopoly slot franchise. As usual, classic Monopoly symbols are present on the reels, and once again Mr Monopoly is the wild symbol. There are 15 lines in this game, and this slot sees the return of the board bonus, similarly to the IGT efforts from earlier years. The Once Around Deluxe bonus is only triggered by landing 3 or more Mr Monopoly bonus symbols and follows the same pattern as in previous IGT releases. Players can also build houses or hotels in this game (which is a first for the Monopoly slots franchise), and although this may appear complex for a Monopoly slot, the game is actually a lot easier going than some of its sister releases.
Perhaps the most famous Monopoly-themed slot on the market right now is Epic Monopoly II. This WMS Gaming developed slot machine is the first colossal reels Monopoly slot to be developed. WMS Gaming loves to produce original and creative engines, and that is exactly what you get with this release. There are two sets of reels (one 5×4) and one colossal reel set (5×12). Played over 100 paylines, players have a chance of seeing wild symbols transfer over from the basic reel set to the colossal reels, whilst bonus features include a wheel bonus (which offers instant cash prizes), and the board bonus which carries over from Once Around Deluxe. A free spins bonus round is also worked into this slot's design and offers colossal stacked wilds to really ramp up the gameplay. Costing between 50p and £250 a game, but with a 250x your total bet non-progressive jackpot and so many ways to win, it is no surprise that Epic Monopoly II has proven itself the most popular Monopoly slot since IGT's Monopoly: Mega Jackpots.
Launched just two years ago, Monopoly: Super Monopoly Money is a slot machine which doesn't really fit in with the rest. For starters, this looks more like a "lifestyles of the rich and famous" themed slot, than a true Monopoly slot. The cartoony graphics and realistic imagery certainly make the game stand out. Save for the Monopoly title, you wouldn't know this was a Monopoly slot at first glance. The features are also vastly different from other releases. Players will note that in this game, the MM symbol is the wild icon (as opposed to other Monopoly slots, which have traditionally used the Mr Monopoly logo as a wild). Prizes won with these symbols will be paid out, as well as accumulated in the Monopoly Money prize fund. This can then be won via a Free Parking feature, which takes advantage of an "unofficial" rule in the Monopoly board game. It is a nice inclusion. Also, nifty to have in this game are the usual Chance and Community Chest bonuses, offered via a wheel of fortune feature, House and Hotel bonuses, and a free spins round, making Super Monopoly Money a great release, even if it doesn't really look like a Monopoly slot on the face of it.
Gamesys gets in on the action
WMS Gaming and Barcrest aren't the only casino software developers to get in on the Monopoly action. In fact, Gamesys have also been credited with a few Monopoly slots of late. This shouldn't come as too much of a surprise since Gamesys are well known for their gameshow slots such as The Price is Right, Strike It Lucky, and Deal or No Deal, as well as their board game slots. It was only natural that Gamesys would have a crack at Monopoly, too. Their games offer something wholly different from WMS Gaming and Barcrest's attempts.
Monopoly: City Spins is one such release. This 5-reel, 30-line slot can only be played at websites on the Gamesys Network and is a rather basic game to play. Wagers cost between 30p and £90 a spin, and the slot contains your usual Monopoly Board bonus, as well as a free spins feature. However, numerous wild features are available to play in this game, and despite its simplicity, it can deliver more than decent wins.
Monopoly: Paradise Mansion is another of Gamesys' Monopoly slots. This game offers 5 reels and 20 paylines of action and is even more basic than the previous one. Scatters and wilds are present in the game, with wagers costing between 1p per line per spin, and £40 a pop. With a cracking non-progressive prize worth 10,000x your total bet, there is a lot to play for in this game. The M is the wild symbol in the game, whilst the dog token is the scatter. The main feature (aside from the usual Community Chest bonuses) is a property-based bonus. In it, players can select 1 of 3 properties when offered to pocket an instant cash prize. It is elementary stuff, but exciting all the same.
Lastly, Gamesys have also developed a Monopoly: Rising Riches slot. This game offers 5 reels and 25 paylines of Monopoly action, with players able to bet anything from 25p upwards. One of the perks of this game is that following a win, the reels start to re-spin, potentially offering players multiple wins on a single spin. However, whilst that feature certainly helps players land decent cash prizes, other features in this game tend to be few and far between. It is widely considered to be the simplest and weakest of the trio of Monopoly slots developed by Gamesys.
So, which of these games is best for you?
And the winner is…
The Monopoly slots genre has a long history in the online casino world, and there have been so many games that it may seem difficult to choose a winner. Everybody has their own favourites, but for us, the winner must be Epic Monopoly II. It simply has everything you could ever ask for from a Monopoly slot, and then some. If we had to pick a close runner-up, it would be Super Monopoly Money, even if it doesn't really tick all the boxes as a major Monopoly slot machine game.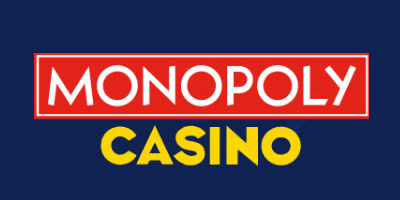 Monopoly Casino (not recommended) trying to cash in on the brand name
You can find Monopoly slots wherever WMS Gaming, Barcrest and Gamesys slots are offered, although since they have lost their Monopoly franchise license, finding somewhere to play IGT's older Monopoly slots is going to be tougher.
If you are a real Monopoly nut, you may be tempted to check out Monopoly Casino. This is an online casino themed on Monopoly, and they can offer you almost all the major Monopoly slots currently available in the online casino world, as well as non-Monopoly themed games. As well as that, they also offer oddities such as Monopoly-themed roulette games, with Monopoly: Roulette – Hot Properties and Monopoly: Roulette – Tycoon, the two most commonly played games.
Sadly this is a cheap shot a using clever branding and nothing else. This is a very weak casino on a very weak platform and we certainly cannot recommend it to you.
Final word
No matter what your preference may be, most major Monopoly slots offer a plethora of special features, relatively cheap bets, and offer a theme which will appeal to most players. There are Monopoly themed slots for those who prefer simple and quick games, slots for players who prefer long, drawn-out games, and those who prefer progressive prizes. There is even a bunch of ultra-faithful Monopoly slots for those who wish to get as much of the board game into their slot gaming as possible. With the world of Monopoly slots at your fingertips, plenty of them to choose from, and many more to come in the future, there is certainly something for everybody with Monopoly slots.