Space Invaders is a video slot based on the celebrated arcade game which came out in the late 70s and completely changed the concept of interactive gaming. Designed to resemble the original arcade cabinet, the slot will make you feel like you're a teenager again, ready to get each end every one of those funny-looking aliens.
Playtech's Space Invaders slot benefits from 5 reels and 10 paying lines, pixelated graphics, a Wild symbol and a decent RTP – enough to motivate you to defend the planet from the invaders. There will be no free spins or Scatters in the game, only Wild action and some intense shooting. Expect to see space canons, flying saucers and an army of aliens on screen.

Turbo mode and Autoplay are at hand, all that's left is to set your line bet and prepare for launch!
Online Slot
Space Invaders
Slot Provider
Playtech Casinos
Jackpot Slot
No
Reels
5
Win Lines
10 (pays both ways)
RTP
96.16%
Free Spins Bonus
No
Pick Bonus
No
Other Bonus
Invaders Turn Wild Feature

UFO Feature
Yes – Why to play Space Invaders Slot
Based on a worldwide phenomenon, an arcade machine that pioneered modern video gaming. Space Invaders is an ultra-classic 1978 arcade game, and the adaptation takes on an authentic design complete with the original buttons and retro 8-bit graphics.
Space Invaders slot offers both-way wins. If merely 10 paylines is an off-putting circumstance for you, know that he reels pay both ways, from left to right and right to left, which doubles your chances of landing a winning combo.
Simple and fun, just like the original Space Invaders arcade machine. The developers kept the gameplay fairy uncomplicated and close to what the original arcade machine was all about.
Where can I play Space Invaders?
No – Why not to Play?
Not all players will be excited for the retro feel. It is possible that the new generations of punters don't feel the connection with the retro arcade era.
No free spins or progressive jackpots. The special features are all about the Wild symbol.
Space Invaders Slot Bonus Features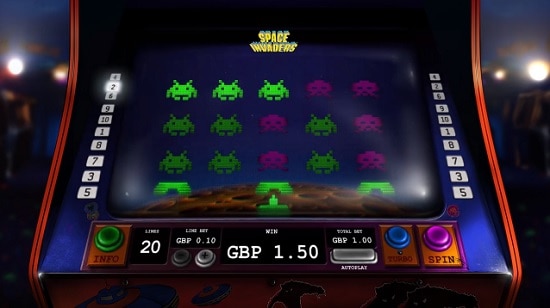 Space Invaders combines classic arcade fun with a few features that are required by the slot format. Nothing extravagant, just a feature or two to make things interesting, and yet simple enough for any player to enjoy.
Invaders Turn Wild
Keep your eyes on the cannon below the reels. Constantly on the move, the cannon will try and target any inconvenient objects and shoot them down.
Whenever the cannon stops below the reels 2 or 4 it will blast away low-value symbols above it and transform them into Wilds, provided that they are in the right positions to form a winning combination.
If a win is accomplished with a Wild, the prize amount awarded gets doubled.
UFO Wild
From time to time, you'll be able to spot a UFO hovering above the reels. When the UFO and the cannon align, the UFO Wild feature gets triggered. The cannon will take a shot at the UFO and the player will receive a free re-spin with up to 9 extra Wilds.
Our Verdict
Despite not having free spins rounds or complicated bonus features, Space Invaders comes across as intriguing, and often hypnotic. The game is a trip down memory lane for all the fans of the original arcade machine, offering suitable sound effects and quirky animations. If you're fond of such outer space adventures and you don't enjoy overly complicated gameplay features, NetEn't Starburst offers a similar experience as Space Invaders slot.