On this Neon Valley Studios Casinos Page You Will Find
The best Neon Valley Studios overall information including:
Top recommended Neon Valley Studios casinos.
Software review & information.
Neon Valley Studios slots RTP database & reviews.
Neon Valley Studios Casinos Approved by Yes No Casino
Neon Valley Studios Slots RTP
Aurora Wilds | 96.2%
Atlantean Treasures: Mega Moolah | 92.08%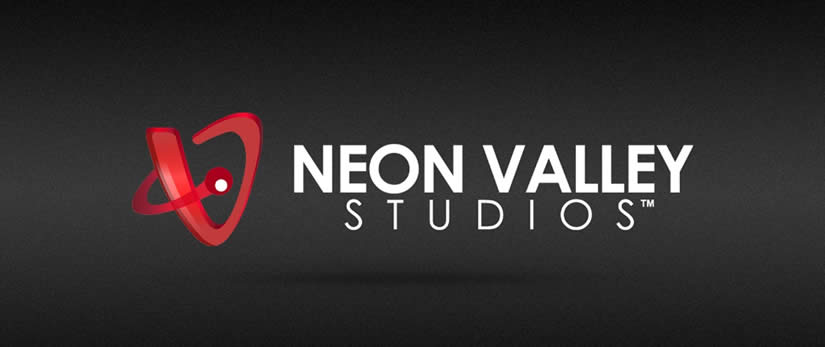 Neon Valley Studios Info
Neon Valley Studios is an online gambling software developing company that hasn't had much exposure before it struck a deal with Microgaming, one of the leading brands in the industry. We'll dive into that in a moment, but first let's see what is there to know about Neon Valley Studios, a representative of "the new modern, free flowing dynamic world that is contemporary Las Vegas".
The official website of the company focuses on the games and withholds any info on the firm. It remains a mystery who owns it and where its offices are, but we would be fools not to believe John Coleman, the CEO of Microgaming, who said that "Neon Valley has years of collective gaming industry knowledge and expertise, not to mention their own distinctive style and personality". These traits were exactly what drew the industry behemoth to partner up with the indie developer and make it one of its exclusive contributors to the continuously growing Quickfire platform. There are no signs that indicate that Neon Valley Studios will be developing table games or anything of the sort – their current occupation are innovative, ground-breaking and cutting-edge video slots.
The Growth of Neon Valley Studios
Operating under the radar for a while, Neon Valley Studios were fortunate enough to draw the attention of Microgaming. We're talking about the company that was the pioneer in the online gambling business, the same one which launched the very first online casino software back in 1994. Lately, they have been reaching out to small and independent gaming studios looking to expand on their production and introduce a touch of fresh originality to their platform.
After setting up collaborations with the likes of:
Game Burger.
Pulse 8.
All41.
Switch Studios.
Fortune Factory.
Stormcraft
Triple Edge
Microgaming & Neon Valley Studios Partnership
Microgaming struck a deal with Neon Valley Studios, now delivering new titles straight to Quickfire, on an exclusive basis. If you are looking for a UK online casino with Neon Valley Studios games, you won't have trouble finding it, just keep in mind that the products are distributed through Microgaming software. In fact, you will find various fast payout casinos on the pages of YesNoCasino.com.
Since the Quickfire aggregator platform requires games to be HTML5 compliant, you can be sure that any title coming from Neon Valley Studios will be optimised for mobile devices and will work seamlessly on your smartphone or tablet. By autumn 2019, the Las Vegas-obsessed team of developers released one game, their firstborn, called Aurora Wilds. They continued production with Atlantean Treasures: Mega Moolah and have now left us in anticipation for their next release.
The Slots of Neon Valley
Aurora Wilds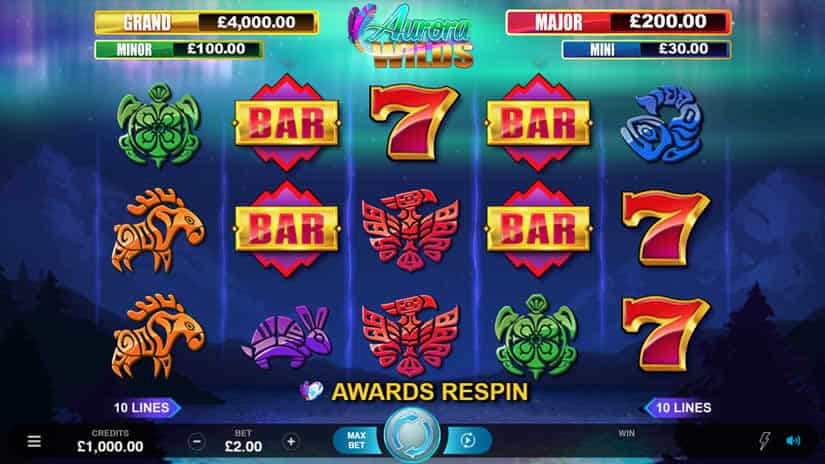 Neon Valley Studios inaugural game is the Aurora Wilds video slot machine. It comes across as unique in presentation and game mechanics. The theme deals with a gorgeous landscape of native lands and majestic spirit animals. Clearly, the designers were inspired by the culture of Native American tribes. The graphics rely on atmosphere and subtlety, while high-charged wins carry the gameplay.
Game-play, Wagering & Payouts
Aurora Wilds a 10 line game with pays in both directions and runs on a standard 5×3 reel grid. The symbols include a lucky seven, a golden bar (a slight nod to the online slots of old) and five stylized totem animals, each one capturing the character, power and unique strength of a tortoise, a fish, a moose, a hare and an eagle. According to ancient Indian beliefs, each person is connected to an animal that accompanies him or her throughout the entire life. Fascinating stuff!
When you land a Wild symbol, it will expand to fill the entire reel which then stays in place for a free re-spin. Wild only appears on the middle columns. The Jackpot Trigger is the other special symbol in the game – it takes 3 of them to launch the jackpot Wheel round where players get to spin the wheel for a chance to win one of the 4 jackpots. A win is guaranteed and the prizes on offer are Mini (15x), Minor (50x), Major (100x) and Grand Jackpot (2.000x).
Atlantean Treasures: Mega Moolah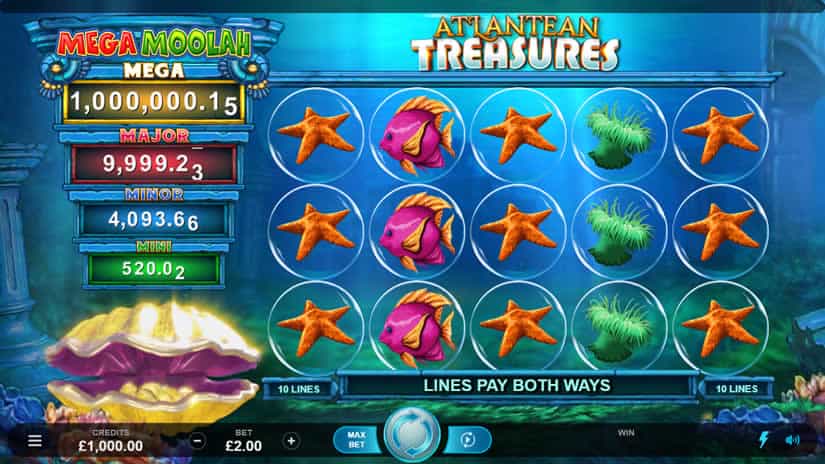 Becoming part of the Microgaming family, Neon Valley Studios released Atlantean Treasures: Mega Moolah in hopes of giving the Mega Moolah progressive jackpot event a fresh approach. Instead of being set in a jungle like the original, Atlantean Treasures speaks of a submerged civilization and mesmerising underwater life. In this game, mermaid Wilds expand and lock the reels for up to 3 re-spins and if you collect enough pearls you will win one of the 4 Mega Moolah progressives. Similarly to Aurora Wilds, Atlantean Treasures is also played on 10 active lines which pay in both directions.
Summary
Look like we'll be seeing a lot more of Neon Valley Studios as their games appear across Microgaming-powered online casinos. Judging what the company has released so far, their games are a perfect fit for the indie portfolio already available on Quickfire. The agreement is probably the best business decision for them at this point, helping them to reach a wider audience.
Both slots they've launched so far show an enormous range of capability and creativity, boasting reasonable return to player rates. The brand has devoted its work to creating highly entertaining, story-driven online slots, and the excitement to see what they've prepared for their forthcoming products is growing larger by the day among the online gambling community.  Markets outside of the US are promised a modern Vegas experience on the web, we'll have to wait and see if the enthusiastic team at Neon Valley will deliver.