The Boom Pirates slot is the result of a collaboration between Microgaming and one of their multiple studio partners, Foxium. The theme itself is fun and well done. The game is colourful and animated, but the real star of the show here is the unique game mechanics that Foxium managed to put together for this one. It will surely stand out among recent online slot machine releases as one of the most different and innovative. Where to play? Most online casinos catering to UK players offer Play'N Go games.
When Boom Pirates first loads up, you'll probably be a bit surprised by the number of apparent reels and rows on the screen. All in all, there are nine reels with six rows. When you start playing, however, the action will zoom in and you'll spin on five reels with four rows. The game uses the "ways to win" payout system but takes the concept to an extreme.
Ways to Win system, Wagering & Payout
On regular spins, you'll start out playing with 1024 ways to win. On any spin, though, the "Boom Pirates" feature can trigger. When this happens, it will open up some of the other rows and reels that you saw when the game started. We'll get into more detail below, but for now, let's just say that the total number of ways to win that are possible will blow your mind.
There are ten regular symbols on the reels. Five of those are high-paying and five are low-paying. It's possible to get up to nine of a kind on a spin. The highest paying symbol, Pirate Captain Mary, will pay 2500 coins for nine. The lowest paying symbols are made up of the playing card values ten through ace and all of them pay the same. For three of a kind you'll get 50 and they go up to 500 for nine of a kind.
There are no coin values or anything like that to mess with on this slot. Wagers are set as preset amounts that you can choose from. You can play for as little as £.20 per spin or go as high as £50.
There is also a "Foxify" feature that will increase your bet by 50% in exchange for giving you a higher chance at triggering the randomized Boom Pirate feature. With the Foxify feature turned on, the minimum bet would be $.30 and the maximum goes up to £75.
Play the Boom Pirates Slot at These Casinos
Yes – Why To Play The Boom Pirates Slot
This slot is most certainly unique when compared to any recently released online video slot. The game mechanics and bonus features show some innovative thinking and look like a great starting point to build on for future releases.
The ways to win payout system gives great opportunities for some huge wins. The payouts on all symbols are quite generous, so when you land more than three or four of a kind there's bound to be a big bounce in your balance.
Players will get excellent value for their money on this slot. The return to player (RTP) rate on Boom Pirates is 96.19%.
Microgaming casinos are easy to find. This online slot designer is present at most online casinos around the world.
No – Why Not Play?
The volatility of this slot is not officially published by Microgaming but it most definitely appears to be at a very high level. You'll need to have a sufficient bankroll to ride out dry spells and patience to hit those big feature wins.
The free spins feature appears to trigger very rarely, which can become quite frustrating after some play. There's an option to buy the free spins feature, but then it isn't really free is it? Plus it costs 100 times the current bet, which isn't very inviting.
The Boom Pirates feature pops up more than you might expect it to but getting to the higher possible tiers of ways to win doesn't seem to happen often. It's worth waiting for, but you'll have your fists clenched with anticipation every time the feature triggers.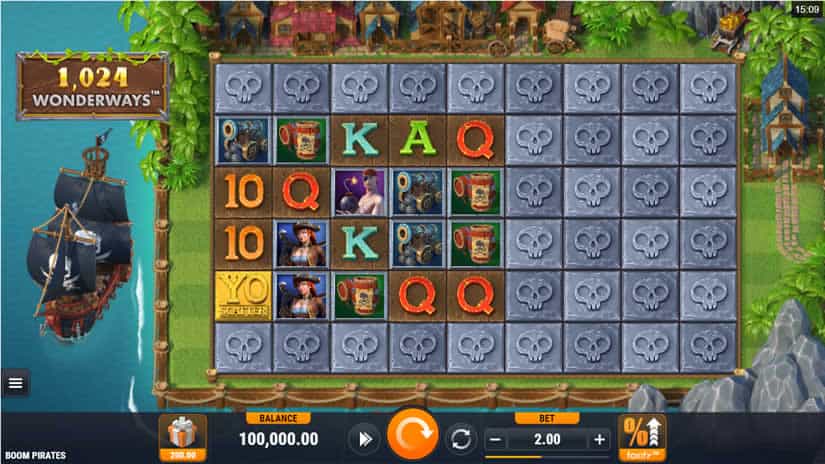 Boom Pirates Slot Bonus Features
There are basically three bonus features built into Boom Pirates. They may not seem like much, but when the playfield opens up, any one of them can create huge matches that will award handsome payouts. Try to combine them with cashable casino bonus offered by your favourite casino to boost your wins!
Mary's Swashbuckling Attack
On any non-winning spin, it's possible that Mary will come to your rescue. When this feature triggers, Mary will swing across the screen and change symbols on the reels to give you a guaranteed five of a kind win, and maybe more.
Boom Pirates Feature
The Boom Pirates feature triggers randomly on both regular and free spins. As was mentioned above, you can also increase your bet by 50% to raise the chances of the feature activating.
When this feature triggers, cannon shots will be fired from the pirate ship that sits to the left of the reels. The cannonballs will land across the reels opening more reels and rows, increasing the number of ways to win. It is possible for this feature to pump the possible ways as high as an absolutely astounding 10,077,696. Yes, that's more than ten million possible winning combinations on a single spin.
When the spin is complete, the playfield will reset to five reels and four rows.
Free Spins
Free spins are triggered, as you might have guessed, when three scatter symbols land on the reels. You'll initially be awarded ten free spins. If it happens that three more scatter symbols land during the feature, five additional free spins will be added on.
The Boom Pirates feature is also active during free spins. The twist here, however, is that any extra reels or rows opened will stay in play until the free spins come to an end.