Cazino Cosmos slot is a space and alien themed game brought to the online gaming community by the veteran Nordic design studio Yggdrasil. It's a very well put together video slot with high definition detail, beautiful design, and exciting gameplay features. Players will find some elements from past Yggdrasil games incorporated into this one as well as some new game mechanics to keep them on their toes. As usual, you can find this slot and others from Yggdrasil at most online casinos around the world, except in the U.S.
Slot Settings
As is common with many modern slots, Cazino Cosmos plays out on five reels with three visible rows and bets are made across 20 fixed pay lines. There are four high paying symbols and four low paying symbols in addition to wild and free spin symbols, for a total of ten on the reels. The high paying symbols are made up of four very elegantly dressed alien types with the top prize being 2000 coins for five of a kind. The low paying symbols are the four playing card suits, and even the lowest paying symbol still awards a fairly generous 100 coins for five of a kind.
The Cazino Cosmos slot uses a symbol collection bonus system, which is a feature we've seen before in several different Yggdrasil slot machine releases. In this case, there are different types of wild symbols that appear on each reel which can be collected. Collecting five wilds on any reel will trigger a special free spin feature that has five different modes depending on which reel collection triggers it.
Wagering & Payouts
Setting up your wager on Cazino Cosmos is nothing too extraordinary. As was mentioned above, all bets play on 20 fixed pay lines. All you'll need to do is set the size of the coin to use on each of those 20 pay lines and you'll be ready to spin. The minimum coin value here is £.005 and the maximum is £1.00. If we do some quick math, that gives us a minimum overall bet of £.10 per spin and a maximum of £20.00.
Top Rated Yggdrasil Online Casinos
Yes – Why To Play The Cazino Cosmos Slot
The bonus features on this slot make it very enjoyable. The bonuses are all based on free spins, but there are so many different free spin modes that it's never the same twice.
The attention to detail on this game is just amazing. From the background to the symbols on the reels, everything is in high definition. The colours are also very pleasing and easy on the eyes.
This game has a great return to player (RTP) rate and maximum payout. The RTP rate on Cazino Cosmos is 96% and it's possible for players to win 11821 times their bet. That's over £230,000 at maximum bet!
No – Why Not Play?
This game is mobile-ready but may use a lot of processing power. If you're on a device where you'll need to conserve power, you might want to experiment with this game to see how fast your power drains before jumping into it for a long session.
Although the wild collection feature can trigger some great bonus features with possibilities for high wins, it seems very hard to collect enough of those wild symbols to trigger the special free spins. This feature should indeed be thought of as just a bonus, don't expect to see it trigger too often.
This is a high volatility slot can cause substantial ups and downs in your balance. Players need to be aware that they may see fairly long streaks with little winnings. You'll need to have the stomach and the bankroll to endure.
Cazino Cosmos Slot Bonus Features
As we mentioned above, all of the bonus features on this slot revolve around the free spins. Yggdrasil has put a big twist into the free spins, though. There are actually six different free spin features on this slot, all with their own unique bonus boosting characteristics. There are, however, two things that all free spin modes have in common. Wilds are always sticky, and if you land at least one wild on each reel you'll get five extra free spins.
First, you have what you might call the regular free spins. These are triggered by landing three, four, or five of the free spin symbols. Doing so will get you 40 coins plus 10, 15, or 20 free spins respectively. Any wilds that are on the reels when free spins are triggered will be made sticky and carried into the free spins feature.
From there, there are five different special free spin features, one triggered by collecting the special wild symbols that appear on each individual reel. Let's take a quick look at how they work, reel by reel.
Triggering from reel one will give you "Card Shot" free spins where two sticky wild symbols are randomly added to the reels when the spins start. Triggering from reel two will start "Hack" free spins which awards five extra spins. Reel three's reward is "Zero Gravity" where each reel will be nudged up or down by one position if it will reveal a wild symbol. Reel four triggers "Mutation" where one random high paying symbol can transform into a wild symbol on each spin. And finally, reel five will trigger "Expansion", making all wild symbols double stacked.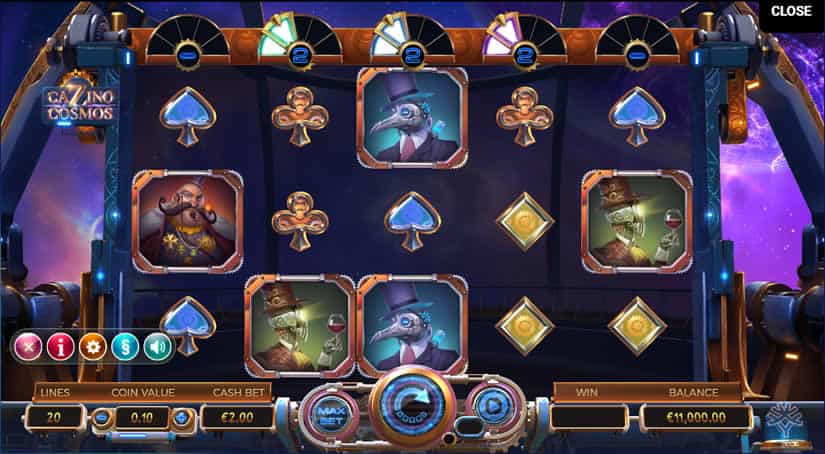 Additional Info
Yggdrasil Gaming is a well known casino game provider. You can find the Cazino Cosmos slot at fast paying online casinos that work under tight legislation. Remember that USA online casinos don't work with this platform, so please visit our specific section for alternative games and software.
If you are a fan of cosmos themed online slots, also check the Crystal Rift slot by Microgaming. Just check our post about the top 5 online slots for February 2019 for the YESNOCASINO crew.
Cheers and Enjoy!