The Crystal Rift slot from Microgaming brings players the chance to walk away with untold riches as they mine through a dark rift in search of just the right combination of crystals. Turn one win into another and build upon your rewards as new crystals fall into place to fill the spaces left by those you've taken.
Crystal Rift is a five-reel, three-row, 25 fixed pay line slot themed around (you guessed it!) crystals. The backdrop is a bit hard to decipher. It could be a cave-like mine, or perhaps a space scene, or maybe it's a cave-like mine in space. Anyway, There's not really any other way to describe the symbols other than to say that they are different coloured crystals in various shapes. There are eight different crystals plus one wild symbol that can appear on the reels. Payouts on each symbol range from six times to one thousand times your line bet for five of a kind.
The Crystal Rift slot uses fall-and-replace mechanics that you might have seen on other slots. Instead of spinning reels, each time you press the spin button, all symbols drop off the bottom and fifteen new symbols drop in from the top to fill the spaces. When a winning combination is hit, the winning symbols are removed, remaining symbols drop down, and then new symbols fall to fill in the gaps. The process continues until no more winning combinations are created.
Setting up your wagers is very straightforward. As was mentioned above, this slot plays on 25 fixed pay lines. The player has the option to set how much to bet on each line per spin. The line bet can be set between £.01 and £2.00, which makes for a minimum and maximum bet per spin of £.25 and £50.00.
Recommended Microgaming Casinos
Yes – Why To Play The Crystal Rift Slot
The game mechanics on Crystal Rift are very different from most slots out there, which makes the action a bit more interesting to watch. A seemingly small win can turn into quite a nice size reward quickly.
Crystal Rift has a very modern look, but at it's core it's a very stripped down and straight to the point game. If you get annoyed by slots with lots of unnecessary bells and whistles, you'll like this one.
Players will find good value for the money they wager. This slot has a built-in long-term return to player (RTP) rate of 96%.
No – Why Not Play?
Those who like a lot of flash and features in their slots might find this one a little bit boring. There isn't much for one to do other than hit the spin button and wait for the results.
The low minimum on this slot makes it very accessible, but the maximum bet of $50 might not be enough to keep casino high rollers interested for long.
This slot appears to be a low to medium volatility slot that pays out small amounts fairly frequently. Large wins seem to be few and far between. This might also make it too slow for those who like constant adrenaline while they gamble.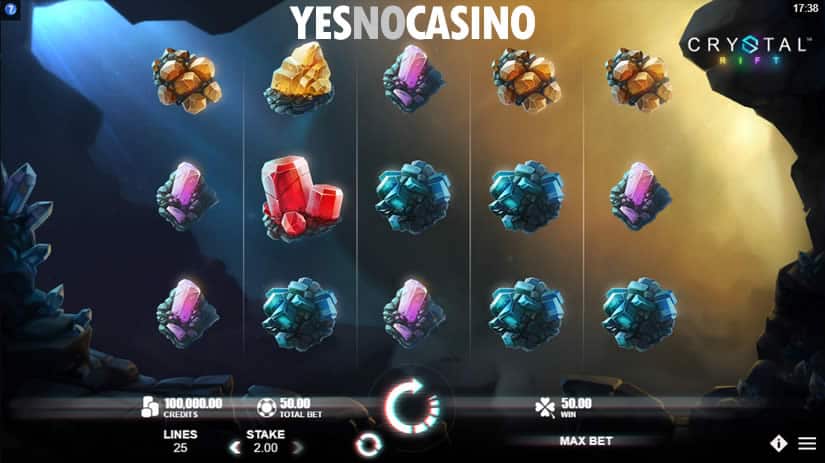 Crystal Rift Slot Bonus Features
You basically have two bonus features in the Crystal Rift slot. Both trigger automatically and are not interactive.
The first feature is simply the automatic re-fall, or respin, that is triggered whenever a winning combination lands. This feature can create multiple respins that have the potential to raise the initial payout on any spin considerably.
The second feature they call the Wild Grid. On each spin, some symbols will be surrounded by a hexagon border. These shapes make up the grid. The number of hexagons on the grid and exactly where they appear on the reels will change with each spin. Each time a winning combination is made, one-third of the hexagons will light up. When the re-fall occurs, if another win lands, another third of the hexagons will light up. If you manage to land three wins in a row based on your initial win plus two re-falls, the hexagons will light up completely and the symbols within them will become wild.
If you're lucky enough to activate the Wild Grid feature when the right symbols are highlighted, there is potential for big wins.
Extras
You can find this slot machine available at any UK online casino, since Microgaming is one of the favourite slot providers throughout Europe. If you happen to be located in USA or Australia, where this company doesn't offer it's services, you can visit our specific sections with online casinos available to you:
Something I really like about this game it's the original mechanic. If you are into trying new games with different features and dynamics, I recommend you the following slots which I love:
Hope you enjoyed this review! Good luck, have fun!