The Conan slot from NetEnt is a wonderful addition to their line-up of licensed, branded slots. We probably don't have to tell you much about the theme behind this one. The name says it all. Conan is based on the character of the same name that is probably most well known from the hit movie series that starred the one and only Arnold Schwarzenegger in his earliest days as an American movie action star.
The Conan slot is extremely well put together, as you'd expect with the combination of such a prominent and famous character and a top-notch game design company like NetEnt. There is plenty in both audiovisual design and game mechanics that give this video slot an entirely unique feeling all its own.
Conan is a six-reel, four-row slot machine with 24 fixed pay lines. All in all, there are nine regular symbols on the reels plus wild and scatter, and a mystery symbol that will transform into one of the others when it lands. The highest paying symbol is, of course, Conan himself. All of the symbols are three dimensional and painstakingly detailed. There's also plenty of animation to keep you watching the entire screen as the game goes on.
NetEnt seems to have simplified their betting procedure somewhat on this slot. There is only one option that can be changed, and that is the coin value. One of the great things about this slot is that you'll play 20 coins even though there are 24 pay lines, so it's like you're getting to play on four extra lines for free. The coin value can be set from as little as £.02 to as much as £10.00, which gives a minimum wager of £.20 and a maximum of £200 per spin.
Where to Play the Conan Slot? Top 5 NetEnt Casinos
Yes – Why Play The Conan Slot
This is an all-around unique video slot. If you're getting a bit bored of only slightly modified variations of the same basic features, you'll find this one refreshing and fun.
This slot is absolutely packed with bonus features. It's clear that the designers went out of their way to come up with some game mechanics that would make the design worthy of its name. One of the best is that all lines pay both ways.
The Conan slot is not only a lot of fun to play, it comes with a generous return to player (RTP) rate and medium/high volatility. Players can expect a return of about 96% in the long run. The RTP varies by about .5% depending on which bonus features you pick when given the choice.
You can find the Conan slot, as well as other NetEnt games at any UK online casino site. NetEnt is one of the most popular slot designers on earth!
No – Why Not Play?
This slot is very hungry for processing power. It's understandable with everything that's going on in the game, but it will drain batteries on mobile devices quickly and could produce quite a bit of heat, too, depending on the device you are using to play. If you are playing online casino games from your mobile, pay attention to performance. This one may be a little heavy.
During testing, it appeared that this game didn't quite work correctly in all browsers. There don't seem to be any problems with Chrome, but if you prefer a different browser, you may run into issues trying to get the game to load.
The theme, obviously, is very specific and heavily implemented. The gameplay itself is great on its own, but if you're not a fan of Conan at all, you might find some other titles more interesting.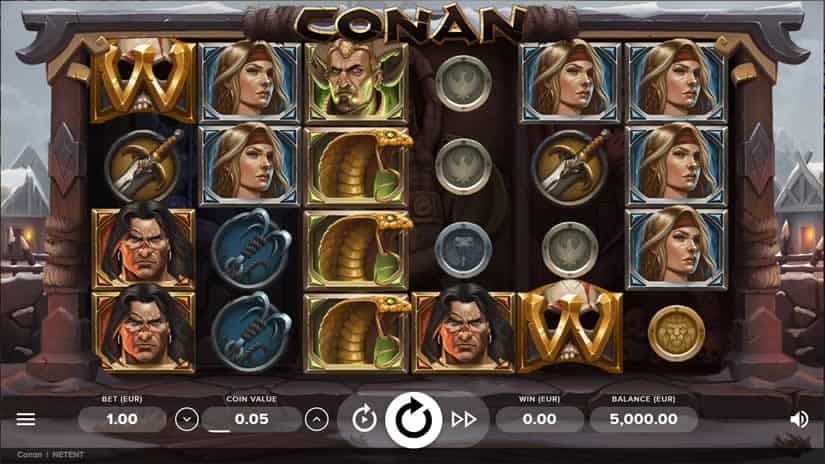 Conan Slot Bonus Features
As we alluded to above, NetEnt packed the Conan slot with bonus features. In fact, there's so much going on here that it can be a bit confusing at first. That's a good thing, though. Once you see how it all works, you'll realize that you have loads of chances to win extra payouts every time you spin.
Conan Slot Pays Both Ways
Probably the most simple feature of this slot, yet one of the best, is the fact that all lines pay both ways. That means winning combinations can start either on the left or the right. It effectively doubles the possible winning combinations.
Mystery Symbols
Mystery symbols can land on either of the two center reels. They can land alone or in stacks. When the spin is complete they will transform into one of the other game symbols (except for wild or scatter). All mystery symbols will always transform into the same symbol.
Mystery Multiplier
Landing fully stacked mystery symbols on reel three or four (or both) will activate the mystery multiplier. If you get lucky enough to land a stack plus a tower wild or battle wild, it will activate the Thoth-Amon feature (more on that below). The mystery multiplier will multiply your win anywhere from three to seven times.
Tower Wilds
Tower wild symbols can land on reel one and two. When they stop in view that can expand to either partially or completely cover those reels.
Battle Wilds
Battle wild symbols can land on reels five and six. When one stops on either reel, it will expand up to three spaces to create more possible matches.
Thoth-Amon Feature
When this feature activates, anywhere from three to six mystery symbols will be added across reels two, three, four, and five in random spaces where there isn't already another mystery symbol or scatter or wild.
Free Spins
Just like most slots, you'll be awarded free spins if three or more scatter symbols stop anywhere on the reels when you spin. The rest, however, is up to you. You'll be given a choice of three different free spins features to choose from.
City Of Thieves Free Spins
In this feature, tower wilds can appear on any reel and can expand to partially or completely cover the reels where they land. No other features can be activated except for linked reels.
Temple Of The Serpent Free Spins
During this feature, the mystery symbol can land alone or stacked on any reel. When a stack lands, it will trigger the mystery multiplier as described above. Landing between five and nine mystery symbols on a spin will randomly activate the Thoth-Amon feature which will add anywhere from three to six additional mystery symbols across all reels.
Neither of the wild symbols or their features are active during these free spins.
Walls Of Tarantia Free Spins
During this free spins feature the battle wild symbols are active across all reels and will expand when they land as described above. Again, no features other than linked reels can be activated until the free spins complete.