The Ozzy Osbourne slot from NetEnt brings heavy metal's Crown Prince of Darkness to life on video slot reels for the first time ever. Teasers and trailers for this slot have been floating around for a while now but the wait for the final product was definitely worth it. The theme most certainly captures the spirit of the legendary Black Sabbath front-man and solo artist at his best. From well-executed imagery to Ozzy classics like Crazy Train, Diary of a Madman, and Mr Crowley, this slot has everything a true fan could ask for.
Ozzy Osbourne slot is a five-reel, three-row slotmachine where all of your bets will play across 20 fixed pay lines. There are eight regular symbols on the reels plus wild and scatter symbols. Of the eight basic symbols, four are high-paying and four are low-paying. The high-paying symbols are various versions of the Oz-man as he's looked over the years while the low-paying symbols are stylised versions of the four playing card suits that include crosses, crowned skulls, and more.
Bonuses, Wagering & Payouts
As you would expect from a quality NetEnt release, there are also plenty of bonus features available that will boost payouts as you play. There's also a "bonus bet" feature that allows you to put down some extra money each spin for a higher chance at hitting bonuses and features.
You have two basic options you can set when placing your wagers on this slot. You'll be able to choose the value of each coin as well as how many coins to play on each of the 20 pay lines. The coin value can be set from £.01 up to £.50 and the coin level (coins per line) can be set from one to five. That gives us a minimum wager of £.20 per spin and a maximum of £50.
If you enable the bonus bet feature, the game works as if you were betting on 40 lines instead of 20. So, minimum and maximum wagers would double to £.40 and £ 100 respectively.
Play the Ozzy Osbourne Slot at these NetEnt Casinos
Yes – Why To Play The Ozzy Osbourne Slot
It should go without saying that if you're a fan of Ozzy Osbourne, you're going to love this video slot. Between the images and animations and the music, the theming on this game couldn't get much better.
NetEnt did an excellent job of mixing just the right amount of bonus features with simplicity to give this slot a great level of excitement without letting the extra features get in the way and slow down the play. The action moves at a great pace and keeps boredom at bay.
The Ozzy Osbourne slot has a very good return to player (RTP) rate built in. This one returns 96.3% in the normal game and 96.67% with the bonus bet feature enabled.
You can find NetEnt games everywhere, including UK online casinos, UKGC licensed.
No – Why Not Play?
There's plenty of excitement on the Ozzy Osbourne slot, but it is a high-volatility slot that may require some patience and calm nerves. Big wins can come in groups, or you may hit long periods of low payouts. Be ready for some highs and lows in your balance as you spin.
Obviously, if you're not a big fan of Ozzy or heavy metal in general, this might not be the game for you. There is plenty of great action, however, so we'd still recommend you at least give it a shot even if the man and his music are not your favourites.
The free spin feature can pay out great prizes but you'll only get four free spins at a time and they don't come up very often. When most games award at least 10 free spins for hitting the scatter symbols, getting only four can leave you feeling a bit short-changed.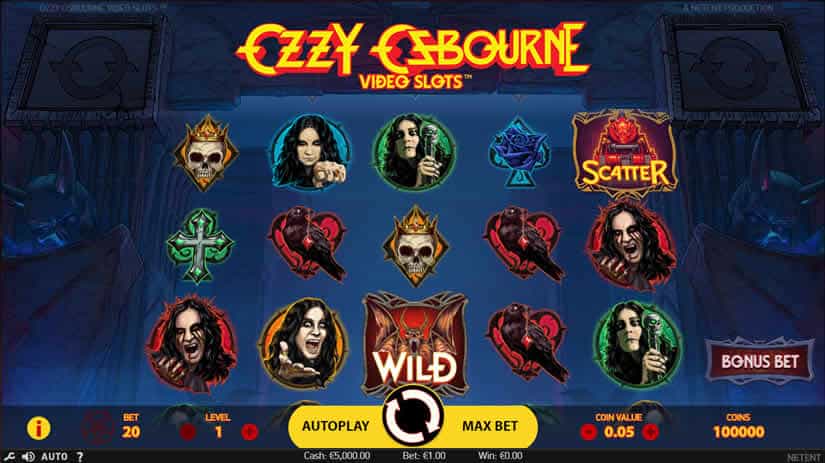 Ozzy Osbourne Slot Bonus Features
As was mentioned above, there are plenty of bonus features built into this slot that will most certainly boost wins into some very high and happy numbers. The features may not look all that impressive at first, but once you've seen them in action a few times you'll start to understand how good they really are.
Symbol Charge-Up
The symbol charge-up feature is always combined with either re-spins or free spins. Before either of those features starts, the charge-up will be triggered.
Above the reels, you'll see one box on the left and one on the right. When the symbol charge-up feature begins, a random symbol will be chosen and displayed in the left box. On the right side, you'll see how that symbol will be altered. It's possible for any of the eight regular symbols to be chosen and thee following effects can be activated:
Coin win – For each symbol that appears on the board, a coin win equal to a three of a kind match is awarded.
Multiplier – All wins with the chosen symbol will be multiplied by either 2x or 3x.
Wild – All instances of the chosen symbol on the reels will become wild.
Upgrade – All instances of the chosen symbol will be upgraded to the next most valuable symbol according to the pay table.
Re-Spins
The re-spin feature is very straightforward. If two scatter symbols land anywhere on the reels, the symbol charge-up feature will activate and you'll get one free re-spin. In addition, if the scatter symbol is chosen in the symbol charge-up feature, you'll automatically be taken into the free spins feature after the re-spin is played.
Free Spins
Free spins are activated when three or more scatter symbols land anywhere on the reels. You'll be granted four free spins. The symbol charge-up feature will activate before each individual free spin and any effects granted are cumulative. This may not sound like much, but with the right combination of charge-up effects, you can score some colossal wins.
Bonus Bet Feature
The bonus bet feature allows you to double your bet in exchange for better odds on all of the game's features. With the bonus bet turned on, you'll be playing 40 coins per bet level instead of 20.
You'll get five free spins instead of four when three scatter symbols land and the possible multipliers in the symbol charge-up feature will go up to 5x and 7x. In addition, the normal frequency of hitting the free spins feature is 1 in 259 but with the bonus bet turned on the frequency goes up to 1 in 140. The win percentage will also go up slightly from 24.2% to 25.5%.