The Rainbrew slot comes to us through a collaboration between Microgaming and Just For The Win. The two companies have come together to deliver a very unique slot machine that starts out as a five-reel, three-row, 243 ways to win game. During the game, however, the reels can take on a 3-5-5-5-3 row configuration with 1125 ways to win. Making things even more interesting — and perhaps confusing — there are two horizontal reels on the Rainbrew slot (reels spin from left to right instead of top to bottom). As usual, you can find Microgaming and Just for the Win games at most UK online casinos.
The theme of Rainbrew revolves around a leprechaun brewery. Among the 12 different symbols on the reels, the male and female leprechaun pay the highest. You'll also see barrels and mugs of beer, as well as three different kinds of wild symbols, free spin symbols, and more.
Wagering on the Rainbrew slot is very straightforward. Since it's a 243 ways to win slot, players don't need to set how many lines they'd like to play. The game doesn't use a coin value or coin multiplier either. You can simply choose how much you want to bet on each spin from the set values, which range from a low of £.10 to a high of £100.
Play at the Best Microgaming + JFTW Casinos
Yes – Why To Play Rainbrew Slot
The unique design of this slot makes it stand out from others. It's a very different experience.
Bonus features on Rainbrew can multiply wins considerably, as well as increasing the number of ways to win.
The return to player on this slot is 96.2% which is a nice high number that will give players good value for their money wagered.
No – Why Not Play?
Although there are some bonus features, there is nothing interactive to really keep the player involved.
The combination of the horizontal reel design and being a 243 ways to win machine may be confusing for new players.
Rainbrew appears to be a high volatility slot, which means some very big wins are possible, but players will most likely have to weather long streaks of small or no wins to get there.
Rainbrew Slot Bonus Features
This game doesn't have a lot of bonus features, but the ones it has work in an interesting and unusual way, and they can have a significant effect on the amount of your payouts.
Wild Symbols And The Sidewinder Feature
There are three different wild symbols on Rainbrew, which can be a little bit confusing at first. All three of the wild symbols will match any symbol on the reels except for free spins.
First, there is the regular wild symbol. This one acts on its own, the same as any other slot machine. Then you have the bottom wild, which is a wild symbol with a small arrow pointing down. And finally, there is the top wild, which is a wild symbol with a small arrow pointing up. Regular wild symbols can only appear on the two horizontal reels. Top wild symbols can only land on reel two, and bottom wild symbols can only land on reel four.
On a regular spin in the base game, only the five horizontal reels will spin. If either a top wild or bottom wild lands on the reels, they will activate the Sidewinder Feature. A top wild will cause the top horizontal reel to spin, and a bottom wild will cause the bottom horizontal reel to spin. One or both may land on any spin. When the horizontal reels spin, it increases the number of ways to win and makes it possible for more wild symbols to land.
Free Spins
If free spin symbols land on reels two and four in the base game, the horizontal reels will activate and spin. In the case that three free spin symbols land, the player is awarded six free spins. If four symbols land, the award goes up to ten free spins.
During free spins, both horizontal reels are active and the ways to win increases to 1125. The following changes also apply:
Free spin and wild symbols will only appear on the horizontal reels.
If wild symbols on the top and bottom horizontal reels line up, the entire reel between them becomes wild.
One extra free spin will be awarded for every free spin symbol that stops.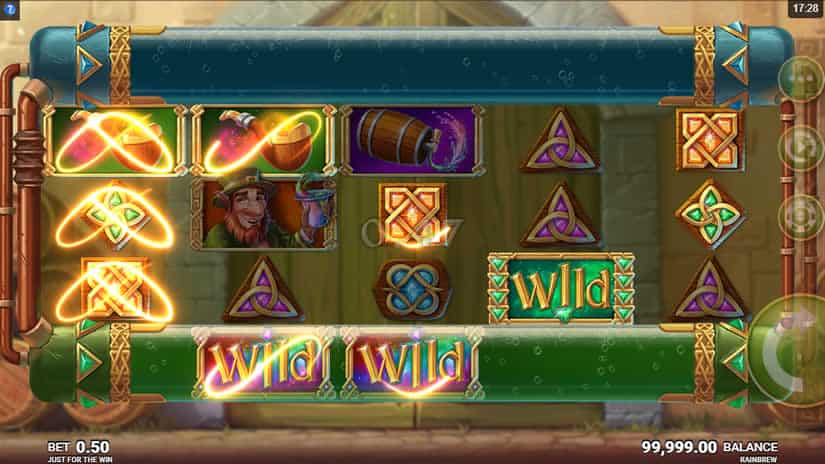 Our Verdict
Rainbrew is certainly a unique slot as far as its looks go. The overall gameplay, however, doesn't seem to keep up with the good design. In the end, what you really have is a 243 ways to win slot with wild symbols and free spins. There isn't anything too exciting about that.
What it's really going to come down to is whether or not the player likes the game design and the chances of winning. It's an interesting visual design, but it just doesn't change gameplay enough to make Rainbrew really special.
Especially with two companies working on the game, one would expect something more. A more interactive bonus feature and perhaps another use for the horizontal reels would have made this one a sure winner.
If you like the 243 ways to win feature, you can check the following slot reviews:
Cheers!