The Santa Vs. Rudolf slot from NetEnt is a refreshing twist on the classic Christmas holiday theme. The background and symbols are drawn in a fun cartoon style and the action puts Santa against Rudolf—who has obviously had enough of Santa bossing him around. Rudolf's insubordination, however, is great news for you. As these two timeless Christmas characters go head to head, you'll get bigger rewards each time they clash. You can play this, and other NetEnt slots at any UK online casinos. Try to aim for fast withdrawal casinos to enjoy a smooth banking experience.
Santa Vs. Rudolf is a standard five-reel, three-row slot with 20 fixed pay lines that pay both ways. There are ten regular symbols on the reels plus one wild symbol representing Santa and another representing Rudolf. Of the regular symbols, five are high value and five low value. High-value symbols are made up of various Christmas items such as gifts, jingly reindeer bells, and a wish-list for Santa. The low-value symbols are made up of playing card values ten through ace, all drawn candy canes.
Setting your wager on the Santa Vs. Rudolf slot involves simply choosing the value of the coins that will be played on the 20 pay lines. The minimum value is £.01 and the maximum is £20. That makes for a minimum and maximum bet per spin of £.20 and £400 respectively.
Play this Slot at these NetEnt Casinos
Yes – Why To Play The Santa Vs. Rudolf Slot
This slot is very simple and easy to understand, yet full of action that will definitely hold your attention. Both new and veteran video slot players should enjoy this one.
This game is absolutely full of extra wins made by wild symbols. When you combine all the wild that hit with the pay-both-ways game mechanics, you get a high potential for large wins.
The return to player (RTP) rate is generous at 96.35% and it's possible to win up to 270,000 coins from a single spin. If you're looking for big prize potential, you've found it.
NetEnt is a very popular casino software provider, so you can find their games at most online casinos.
No – Why Not Play?
The theme for this slot is obviously very specific. If you don't like Christmas themed games, you may not like this one. The game dynamics are good enough that you may want to try it anyway, though.
Another thing about the theme of this slot is that it is very cartoonish and doesn't contain much animation. If you prefer the 3-D slots with loads of animation and all the bells and whistles, this one might not be the one for you.
This slot doesn't have the highest volatility level that NetEnt offers, but it is still a high volatility slot, so you'll need to be sure you're ready for some ups and downs as you play. Wins and win amounts probably won't be very consistent.
Santa Vs. Rudolf Slot Bonus Features
There aren't a lot of bonus features in this video slot, but the features that are there trigger often and bring the potential for payouts that will most certainly put a big smile on your face.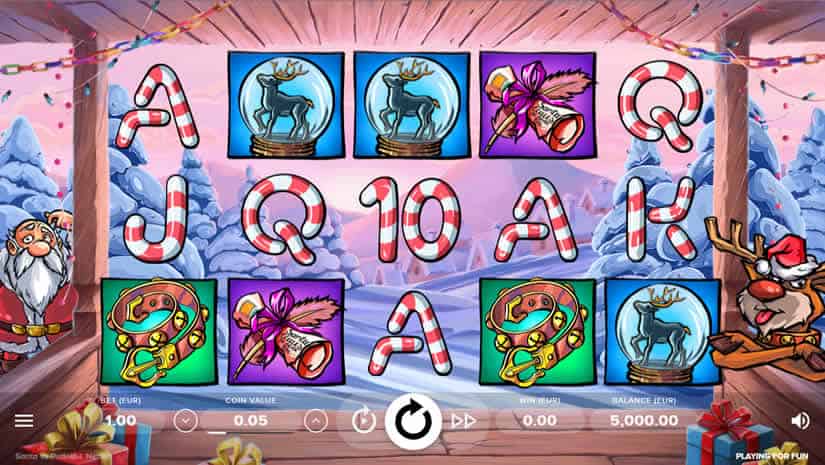 Wild Respins
As was mentioned above, there are two wild symbols in the game, one for Santa and one for Rudolf. During regular play, the Santa wilds will always appear on the first reel and the Rudolf wilds will always appear on the fifth.
Whenever a wild symbol lands, it will trigger respins. With each respin, Santa wilds will move one reel to the right and Rudolf wilds will move one reel to the left. Respins will continue until all wild symbols have moved off the reels. It's possible for new wilds to land during respins and they can come from either side. You could end up getting quite a lot of respins from a single original spin.
Free Spins
Free spins will trigger when Santa and Rudolf meet on the reels. That is to say when one moving from the left and one moving from the right collide. When this happens you'll get ten free spins. It is possible to trigger up to 30 free spins at one time, although that won't happen very often.
During free spins, wild symbols can appear on any reel and will move to the sides just as they do in the regular game. The wilds will also grant respins which do not count against your free spins total. Again, there is the possibility for a lot of free spins when the respins are thrown into the mix.
Also, during free spins, there will be two progress meters on the top of the screen. There is one for Santa and one for Rudolf, each with eight spaces. Each time a wild symbol exits the reels, one space on the corresponding meter will fill. If you manage to fill one of the meters you will be taken to the Rudolf Spins or Santa's Gifts bonus feature.
Rudolf Spins
This feature consists of three free spins with five wild symbols randomly placed on the reels for each spin. The location of the symbols will change with each spin.
This might not seem like much of a bonus, but with five wild symbols guaranteed on the reels and the pays-both-ways feature, you can really score big on those three spins.
Santa's Gifts
Santa's Gifts is an interactive feature. When the feature starts you'll be presented with five choices. The five will be made up of three coin wins, one win multiplier, and one that will end the stage. Keep picking until you hit that stage ending symbol and collect your winnings. It's that simple.