The Serengeti Kings slot from NetEnt takes us on a wild safari through the plains of Africa where the mighty Lion is king and survival of the fittest is the rule of the land. As the sun rises and sets, over this harsh and unforgiving environment, you'll get regular chances at big bonuses. You'll even have the ability to boost your chances for wilds and scatters or buy directly into the free spins feature. Big adventure and big prizes await as the Serengeti Kings prowl the plains in search of prey.
Serengeti Kings is a five-reel, four-row slot that pays out for winning combinations across 26 fixed pay lines. There are six high-value symbols on the reels and five low-value symbols along with wild and scatter symbols. The high-paying symbols are various animals including lions, panthers, zebras, and hyenas. The lower-value symbols are the five playing card values ten through ace.
The theme itself is simple and straightforward, but very well executed. You're not going to see big three-dimensional characters or intricate animations that you may have seen on some other NetEnt slots, but that doesn't take anything away from the action here. This one is designed to appeal to those who really like more of a classic slot machine as opposed to a video game look, and it fits into that mould perfectly.
Wagering & Payout in the Serengeti Kings slot
Setting your bets on Serengeti Kings is quite simple. You only have one option to worry about. All you'll need to do is choose the value of the coins you'd like to play with and that amount will be multiplied by ten to determine your overall bet on each spin. The minimum coin value is £.01 and the maximum is £10. Some quick calculations, therefore, give us a minimum overall bet of $.10 per spin with a maximum of £100.
Top Rated NetEnt Casinos Online
Yes – Why To Play The Serengeti Kings Slot
Opportunities for bonus payouts come at regular intervals—every 12 spins to be exact. This helps keep the player's attention and fight off that feeling that you've been sitting and spinning forever since the last bonus feature triggered.
Even without flashy 3-D designs, the audiovisual aspects of this slot are a real pleasure. Symbols are crisp and clear and the colours are bright and enticing. Animal lovers, especially, should find Serengeti Kings very attractive.
This is a high volatility slot with a generous return to player (RTP) rate of 96.2%. This configuration guarantees players an exciting time while giving good value for money wagered.
You can find NetEnt games at most online casinos with fast payouts. Why? NetEnt follows high standards, so you can see them powering the libraries of reputable online casinos around the world.
No – Why Not Play?
As was mentioned above, this is a more or less classically designed video slot. If you're the type who prefers slots that behave more like 3-D video games, you might get a little bit bored with this one.
The high volatility of this slot may be a bit nerve-wracking for newer or more conservative players. You should be prepared to experience some moderate to large ups and downs in your balance while playing this slot.
While the chance to win a bonus comes around every 12 spins, it can sometimes be frustratingly long before the bonus actually amounts to anything on that 12th spin. A little something extra to lend some more excitement in the meantime would really improve the playability of this slot.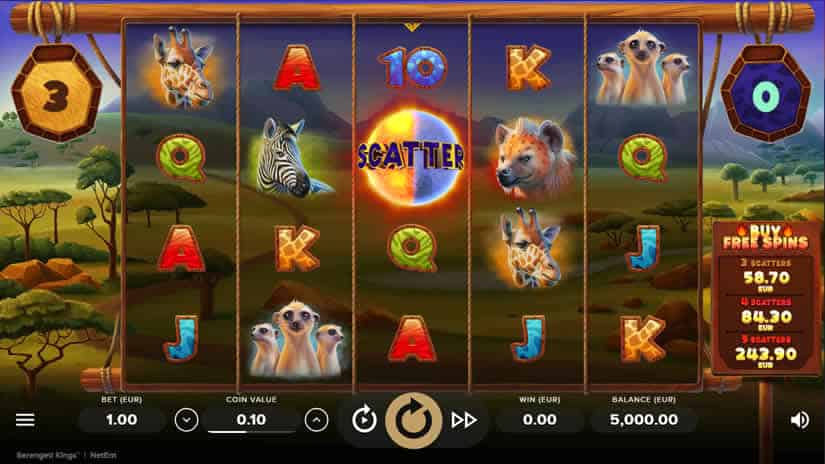 Serengeti Kings Slot Bonus Features
In addition to wild symbols, there are two bonus features built into Serengeti Kings. Either of them can result in some significant payouts when the odds fall in your favour.
Lion and Panther Spins
During standard spins, Lion and Panther spins are activated alternately. Lion spins will last for 12 spins and then panther spins will go for 12 spins, then back to lion spins, and so on.
With every spin, regardless of which mode you're in, lion and panther symbols are collected and counted on either side of the reels. In lion mode, when all 12 spins have been made, all collected lion symbols will be randomly placed on the reels, giving you a shot at a pretty large payoff. As you probably guessed, in panther spins mode the same thing happens with collected panther symbols.
When placed on the reels, symbols can also combine to increase possible winnings. If lion and panther symbols land in the same space, that symbol will become wild. If a lion is placed on top of another lion symbol, or a panther is placed on top of another panther symbol, that symbol will become a multiplier. Then, finally, if a lion or panther symbol is placed on top of a wild symbol, it will become a wild multiplier. Multipliers on winning lines will be added together to create the final multiplier for that payout.
Free Spins
Free spins are triggered when three or more scatter symbols land. You'll be given 12 free spins no matter how many scatters stop on the reels. During free spins, lion and panther symbols will be collected and then when the final spin completes all of the collected symbols will be placed back on the reels and follow the rules stated above.
If the free spins feature is triggered by three scatter symbols, the lion and panther counters will start at zero.
If triggered with four scatters, you'll go into free spins with the counters at the same number they had when the feature was triggered.
When five scatter symbols trigger free spins, you'll go into the feature with both counters retaining their count from the moment when free spins were activated plus five additional symbols will be added to each counter.