The Great Albini slot is brought to us through the efforts of Foxium and Microgaming. It's a very well designed video slot with animations and features that are somewhat out of the ordinary for a Microgaming release. The audiovisual aspects of the game are put together well to create a very good experience full of old-time magic show mystery and excitement.
The theme of The Great Albini is based on the type of classic live magic shows that one might have seen in the early twentieth century. The reels, of course, take centre stage, but Albini himself is always present just to the left of the reels performing amazing tricks with his magic wand that can help to boost your payouts as you spin.
Paying Symbols
As Albini stands impeccably dressed, with goatee and moustache, the symbols on the reels to his right also invoke memories of the charm of classic magic show theatre. There are five high-paying symbols, with Albini himself paying out the most. The others are made up of his lovely assistant Lily, a yellow canary, a target full of throwing knives and a set of magical cups. There are five low-paying symbols as well, made up of the playing card values ten through ace. You'll also come across three bonus symbols which are a wild symbol, a giant free spin symbol, and a mystery box that can trigger respins and big payouts.
Wagering
Wagering on The Great Albini slot is a very straightforward affair. This is a five-reel, three-row slot with 25 fixed pay lines, although when the free spin feature is activated it switches over to a six-row layout. Players can set their bet to any one of nine predetermined amounts from the minimum of £.25 per spin up to the maximum of £50.
Top Rated Microgaming Casinos
Yes – Why To Play The Great Albini Slot
The theme of this slot is fun and unique. The characters and elements of the game are put together in a very entertaining way that makes it very enjoyable to play.
The return to player rate on The Great Albini is 96.66% which gives players a very good value for the money they are wagering as they play.
The volatility of this slot seems to be in the medium range. This means there should be enough smaller wins coming in on a regular basis to keep away the feeling of long cold streaks, but big wins are also possible at any moment.
At just £.25, the minimum wager is comparatively low, making The Great Albini a great game for more conservative players.
No – Why Not Play?
The maximum wager on this slot is also fairly low when compared with many other slots. For high-roller type players, this could be a turn-off.
There is an option to "buy" into the free spins feature. You can choose 8, 10, or 12 "free" spins but the minimum cost to get the 8 free spins is 100 times your bet, which is just ridiculous. The odds of getting back 100 times your bet or more on a single round of free spins seem extremely small. This feature is obviously designed to just suck money out of unwary players.
Those looking for big bonus features might find The Great Albini somewhat disappointing. There are a couple of different bonus features that can generate significant wins, but there is nothing interactive and what makes this game enjoyable is more the graphics, characters, and animations than any special bonus features.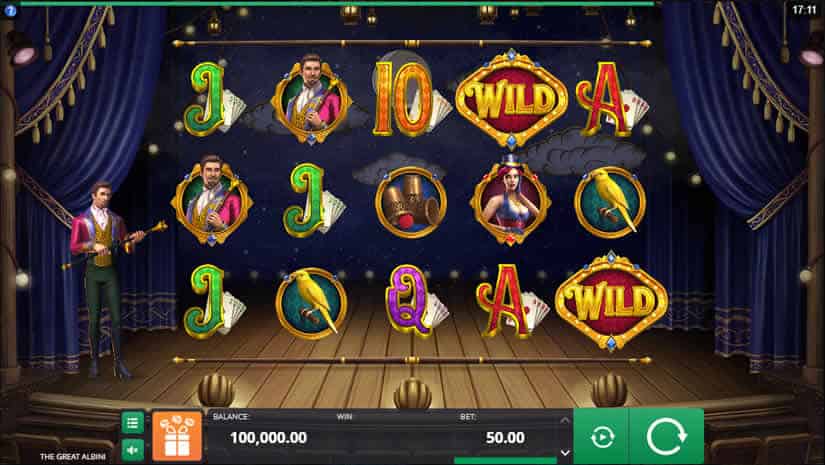 The Great Albini Slot Bonus Features
The Great Albini has several bonus features designed to amaze and astound you. In the base game, aside from wild symbols, the two possible bonus features you'll encounter are the mystery box respins or free spins. The mystery box feature is it's own bonus system, while the free spins make it possible to hit even more bonus features.
Sometimes as the reels are spinning, The Great Albini will wave his wand and new symbols will appear on the reels. In one case he will add a large three by three block symbol which triggers free spins. If this large symbol lands completely visible on the reels, you'll be awarded 12 free spins. The other possibility is that he will change the centre reel to three green mystery boxes.
Mystery Box
When the mystery box feature starts, the centre reel will stay locked and all other reels will respin three times. With each spin, if another mystery box lands, the new box will also lock in place and the respin counter will reset to three. When either three spins complete without landing any more boxes or the entire play grid is filled with mystery boxes, all of the boxes will be replaced with a single random symbol and all line wins will be paid.
Free Spins
When free spins are triggered, the play grid will switch to a five-reel, six-row layout with 50 pay lines. You'll also see Albini's assistant Lilly appear on the right side of the reels. During free spins Albini can make her disappear and reappear on the reels. This is the Lily Feature.
Lily Feature
During the Lily Feature, Lily serves as a stacked wild symbol on one of the reels and awards respins on winning spins as well as adding a 2x win multiplier. During the Lily feature, each win is rewarded with a respin that does not count against your free spins. The respins will continue until you hit a losing spin and then free spins will continue. The Lily feature can also trigger more than once during any set of free spins.
Additional Information
As you may know, Microgaming casinos are available everywhere except in USA and Australia. If you are located in these jurisdiction, please visit:
All in all, I liked this online slot. It offers good payouts for conservative players with reasonable bets. If you prefer high volatility slots, check these out:
Cheers!