The Astro Legends slot: Lyra and Erion, if we can call it a slot machine, comes to us from UK gaming development company Microgaming. This is an unusual game that resembles a video slot machine but doesn't quite work the same way. For one thing, there are no reels on it.
Astro Legends most certainly shows off the creativity of both Foxium and Microgaming, who collaborated to bring us this release. The playfield is made up of 22 different spaces, arranged in a sort of half diamond configuration. There are 6 regular symbols plus a wild symbol that can appear on the board. Wild symbols can also grant win multipliers between two and five times.
There are no traditional pay lines or spinning of the reels. When the spin button is pressed, the play field is emptied and refills in a random pattern. Wins are paid for clusters of like symbols on the board. The minimum for a win is a cluster of five symbols — or four symbols and a wild — and the maximum can go up the entire 22 spaces on the board. There are also a few unique bonus features that can be triggered, as you might expect.
Setting up your bet is very straightforward. Players are simply given a few options from £.10 up to £10.00 per spin. All pay table payouts are shown as a multiple of your bet. No tricky math to do here.
Recommended Microgaming Casinos 
Yes – Why To Play The Astro Legends Slot
This is a very unique slot that most definitely makes for a good break from the traditional video slot games. It's a good game to keep in your bookmarks to play as a bit of a diversion when you get bored with the "regular" slots.
Astro Legends: Lyra and Erion has a solid return to player rate (RTP) of 96.63%. This is right in line with most recent slot releases, giving players great value for their wagers.
The main bonus feature can take some time to trigger, but it's worth it. There are some large payouts possible.
No – Why Not Play
This appears to be a very high volatility game. Big payouts are possible but players will definitely see streaks of small wins and losses before hitting those larger wins.
Compared to a traditional slot machine, each "spin" on this game takes a bit longer to complete. For players who really like to see the symbols move fast, this game could get a bit frustrating.
Points accrued to trigger the main bonus feature are saved between sessions, but be careful about changing your bet. If you change your bet the points will reset without any kind of warning.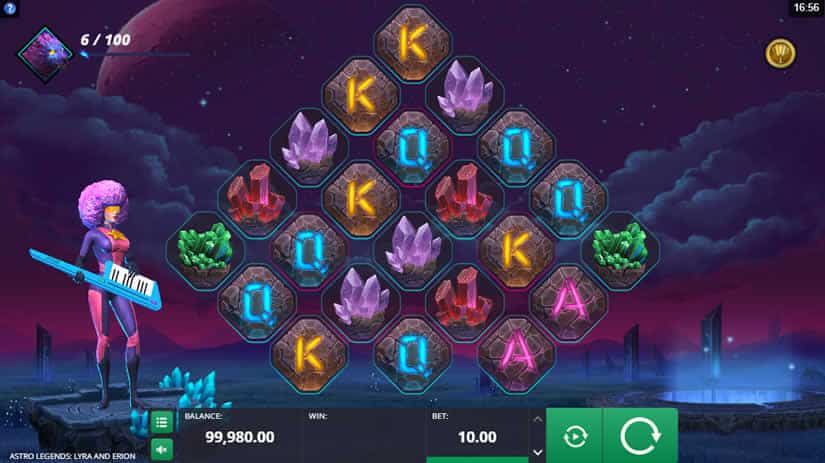 Astro Legends Slot Bonus Features
Although this game can look a little bit confusing at first, the bonus features are pretty straightforward and easy to understand. We already mentioned the wild symbols which can add multipliers to your wins. In addition, there are respins and the main bonus feature which is called the Lyra Spirit Bonus.
Sonic Re-spin
The sonic re-spin feature is triggered randomly whenever there is at least one cluster of five symbols and all winning symbols on the board are the same symbols. During the re-spin all winning symbols are held in place and remaining spaces on the board re-spin. If another of the winning symbols lands and adds to the previous cluster, or if another cluster of five lands, another re-spin is granted. This will continue until either all 22 spaces on the board are filled or no additional matching symbols land.
Stardust Symbols
As the game is being played, stardust symbols will randomly land over spaces on the board. When they land, they will reveal anywhere from two to ten points to be added to the Stardust collection. When the Stardust collection total reaches 100, it triggers the Lyra Spirit Bonus.
Lyra Spirit Bonus
During the Lyra Spirit bonus round, a wolf spirit will run down one of three paths. The wolf has three lives when the round starts and there are seven stages to the bonus round. The player will choose which of the three paths the wolf will run on for each of the seven levels. The wolf collects gems as he runs, but will lose a life if he is hit by Erion. The bonus feature ends when either the wolf loses all three lives or gets through all seven stages. If the player gets the wolf through all seven levels with any lives remaining, an extra reward of twenty times the bet is added.
Additional Info
As you may know, Microgaming slots are not available to USA nor Australian players. If you happen to be located in those jurisdictions, please visit:
As mentioned previously, this is a high volatility slot, which may not be convenient for more conservative players. If you are looking for a smooth game to get started, I recommend you to check the following:
Cheers and Good luck!