Wild Bazaar is another in a long line of releases from wildly popular gaming development company NetEnt. It brings some interesting bonus features to a more or less classicly styled video slot. The game is basically based on a street bazaar. The design around the reels would seem to indicate a sort of Middle Eastern theme.
Getting down to the nuts and bolts of the Wild Bazaar slot, the base game is pretty much what you'd expect from most NetEnt releases. This one is five reels and four rows, with 26 fixed pay lines. The symbols on the reels are somewhat simple. You'll see four different types of chests, each a different colour, that serve as the game's high paying symbols. All four carry the same payout for matching three or more on a line as well. The low paying symbols are four jeweled trinkets, also different colours and awarding the same payout for matches.
Symbol and Wagering Options
The most interesting symbol in this game, though, is the wild symbol. We'll talk a bit more about this below. Wild Bazaar has an unusual way of awarding wild symbols, which then become part of the bonus features on this slot.
Another common feature that you might expect to see on a NetEnt slot is the somewhat confusing wagering options. Players have the ability to set both the coin value and the bet level. The confusing part of this is that your wager is added up as if you were betting on 20 lines instead of 26. So if we think of the bet level as the number of coins per line, as NetEnt suggests, we multiply by 20, not 26.
So, technically betting on 20 lines, we can set the coin value between £.01 and £2.00, and then the bet level can be set from one to ten. We, therefore, have a minimum overall bet of £.20 and a maximum of £400 per spin.
Best NetEnt Casinos to get Started
Yes – Why To Play The Wild Bazaar Slot
For novice players, this slot should be very easy to understand. While it does contain some good bonus features, there's nothing too complicated. High and low symbol groups also share the same payout, making mental math even easier.
NetEnt classifies this slot as a medium to high volatility slot. This would indicate a pretty good balance between winning consistency and award amounts.
Like most NetEnt slots, Wild Bazaar gives players good value on their wagers with a high RTP rate. This one comes in at 96.15%.
No – Why Not Play?
The bonus features on this slot are pretty unique but lack any kind of interactivity, and all of them are quite similar. Depending on how you look at it, you could say this slot has four features, or just one. If you like varied and interactive bonus features, you'll most likely find this slot too simple to hold your attention for long.
Although the symbols and background are well drawn, they lack any real imagination. I would say this slot just barely has a Middle Eastern theme. The background is very nondescript and the four symbols in each of the high and low paying sets are too similar to one another.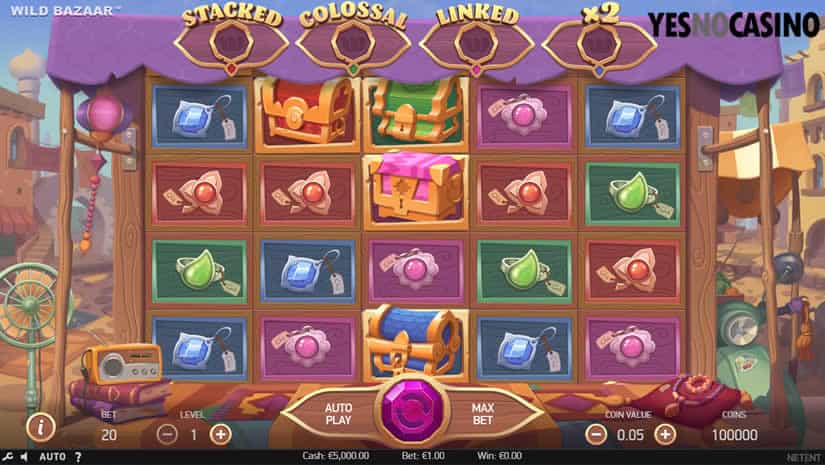 Wild Bazaar Slot Bonus Features
It is possible to rack up some rewarding payouts on Wild Bazaar, but as we said above, the bonus features are a combination of unique and a little bit boring. Everything comes down to the game's unique delivery of wild symbols.
The basic idea is that whenever you land a win with the high paying symbols (the chests), it will trigger one of four versions of the Wild Spins bonus feature. You will be given a number of wild spins based on how many symbols matched, and each of the four chests triggers a particular feature during those spins.
Features include stacked wilds, colossal 2×2 wild symbols, linked wilds — which will transform any symbols between two wilds into wild symbols themselves — and 2x multiplier wild.
The features can be re-triggered, and some huge wins are possible when some of them are activated, but wins are not guaranteed, and you can go through quite a few spins without triggering anything at all.
Additional Information
You will only find NetEnt games on reputable online casinos offering top notch services and fast payouts. So if you are located in USA or Australia, you should be looking for alternative slot reviews :).
If you are into Middle eastern themed slots, you should also check:
Cheers and Enjoy!