The Wild Blood II slot from Play'n Go is the devilishly good sequel to the game developer's successful vampire-themed slot, Wild Blood, which was released back in 2013. (You probably figured that out on your own though.) As you spin the reels, you'll encounter several beautiful female vampires who are most certainly trying to tempt you to get close enough to allow them to feed. As you explore their world of blood and bats, you're sure to find some fortune as you uncover the mysteries.
Wild Blood II is a six-reel, four-row slot that pays out based on 4096 ways to win. Rather than paying on traditional pay lines, wins are paid out when symbols match on at least three adjacent reels starting from the left-most reel. This effectively creates 4096 possible pay lines or "ways to win".
There are ten regular symbols on the reels with four paying higher values and six paying less. There is also a male vampire who serves as the wild symbol and a vile filled with blood as the game's scatter symbol. A wild symbol stopping in the right place can trigger a free respin and the scatter symbol will trigger free spins, as you no doubt suspected.
Placing wagers on Wild Blood II is quite simple and straightforward, as we've come to expect from Play'n Go slots. There are 13 preset bet amounts and all you'll need to do is select the one that's right for you. You can play for as little as £.20 per spin or go all the way up to a maximum of £100.
Recommended Play'N Go Casinos to Play at
Yes – Why To Play The Wild Blood II Slot
The team at Play'n Go seems to have a special talent for dark games and this one is no exception. The theme is beautifully done with plenty of animation and dark Gothic beauty. From the light fog that drifts in the background to the subtle expressions of the vampires when a winning combination lands, you'll easily spot the attention to detail.
If you want to play a game with big payout opportunities, this one should satisfy your desire. It's possible to win up to 5,000 times your bet on a single spin. Playing at the maximum bet, that's a shot at £500,000 every time you spin.
Another characteristic we've come to expect from Play'n Go is a good return to player (RTP) rate. Wild Blood 2 is no exception. The long-term RTP rate on this slot is 96.18%.
You can find Play'N Go games at most casinos around the world, but you can find them specifically in online casinos with fast payouts.
No – Why Not Play?
Obviously, if you don't care for vampires, or even have something against them, you're probably not going to like this slot very much. It's definitely designed to appeal to a specific audience.
Although the default RTP rate (see above) is very good, it is possible for individual operators to adjust it. The game's help files will tell you what the actual RTP rate is on the specific site where you play. Be sure to check this to make sure that you know what you're getting into when you place a bet.
Although everything present in the game is well done, in the end, it feels like there's still something missing. It's fun as is, but a little bit more in the area of bonus features would have pushed it over the top and made this a definite hit.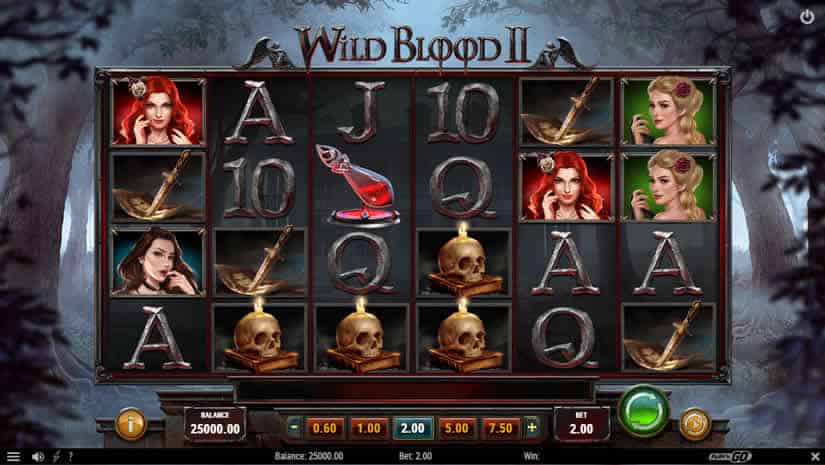 Wild Blood II Slot Bonus Features
The main bonus feature on this slot is the free spins. It's not just any free spins feature, however. When you trigger free spins, you're in for a wild time with our blood-sucking friends.
Vampire Bat Respins
The minor bonus feature to be found on this slot is the vampire bat respins. They are triggered when the wild (male vampire) symbol lands on the last reel during any regular spin. When this happens, our friend will transform into a vampire bat and fly over to the first reel. When he reaches the first reel, he'll become his full-form self again and fill the entire reel. The other five reels will then spin once and you'll have your shot at an additional win.
Blood Lust Free Spins
The blood lust free spins are triggered when you land at least three scatter symbols (blood viles) anywhere on the reels. Landing three, four, five, or six scatter symbols will result in 10, 15, 20, or 25 free spins respectively. In addition, whenever free spins are triggered, you're guaranteed to win at least five times your bet.
You'll have three options to choose from before free spins begin. Take your pick from the three beautiful female vampires to experience one of three different free spin modes. Laura will make every wild symbol that lands on the reels spread up or down. When you play with Margaret by your side, for every four wild symbols you collect the win multiplier will increase by one and you'll be granted two additional free spins. Rebecca will multiply every wild by either two or three times and they can combine up to a total of 81 times. It's also possible to gain more free spine with Laura or Rebecca when you land two or more scatter symbols.
In addition to all of the above, vampire bat respins remain active during free spins with one additional effect. During vampire bat respins within blood lust free spins, the symbol of the female vampire you chose will also serve as a wild symbol.