The evolution of technology never stops, and that includes the technology that drives online casinos and the online gambling experience. One of the areas of technology that has seen some of the most substantial advances in recent years is virtual reality. Many players are unaware of it, but several casino game developers have already adapted quite a few of their most popular games for play on virtual reality casino platforms.
Virtual reality delivers an amazing, fully immersive experience that not only recreates real-money casino games, but it also recreates the entire casino experience. Players can move through a lobby and browse through their favourite games with the same feel as being in a land-based casino. The best part, though, is that when you sit down to play one of your favourite slots, you won't just be watching the game, you'll feel like you're in the game. This is where virtual reality surpasses any real-world experience you've ever had in a casino.
Whether you've never experienced virtual reality online slots or you're just looking for some new VR games to play, we have a selection of superb slots that you shouldn't miss. These are the best virtual reality slots available to play in 2019. Get ready to have your mind blown!
(And  the best of all: the VR online slots listed here are available at most UK online casinos).
NetEnt Virtual Reality Slots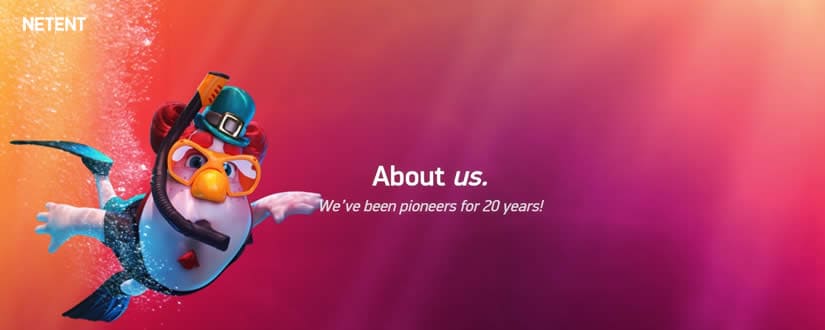 NetEnt has consistently been one of the leading game developers when it comes to online, real-money, video slots. They have taken some of their most successful slots, which were impressive enough in their original form, and adapted them to fully immersive play in a virtual reality world.
Where to Play: Best NetEnt Online Casinos
Jack And The Beanstalk Virtual Reality Slot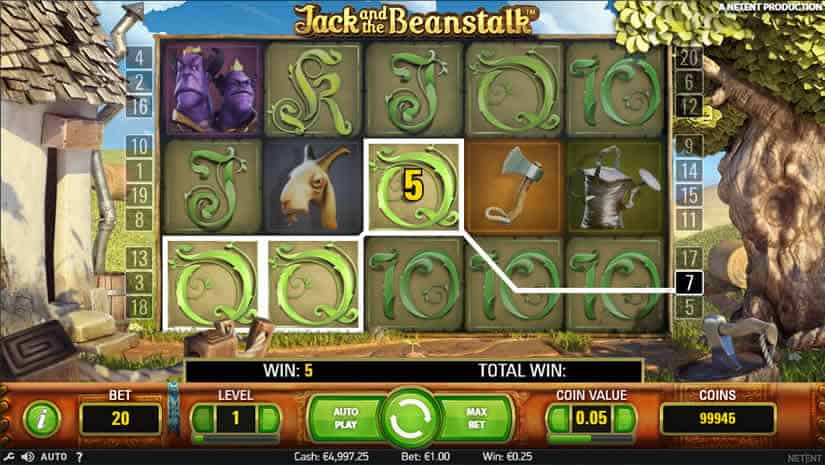 Become a part of one of the world's most well-known fairy tales — and take your chances at winning some nice prizes too. This was the first video slot machine that NetEnt made available in a virtual reality format.
Jack And The Beanstalk slot is a five-reel, three-row slot with 20 fixed pay lines. There are plenty of bonus features that keep the action moving along. You'll see walking wilds, free respins, free spins that can be retriggered, bonus multipliers and more. You can play for as little as £.20 per spin or crank it up as high as £100 if you're looking to put a little bit more gamble into your game.
Gonzo's Quest Virtual Reality Slot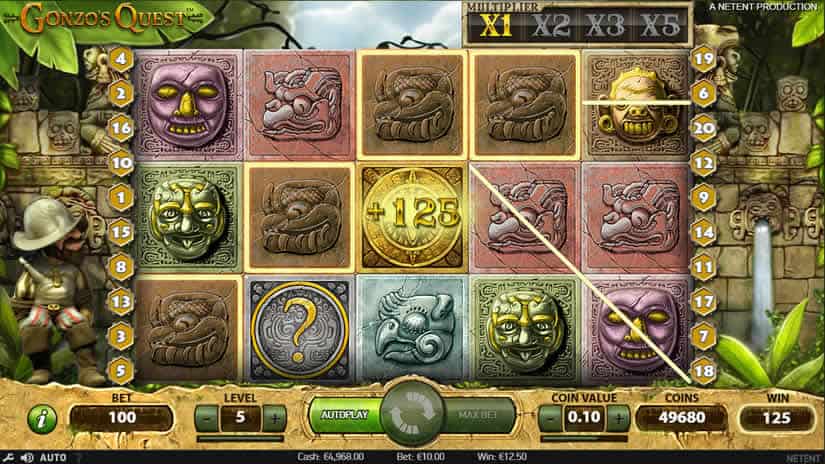 Gonzo's Quest is another NetEnt release that has done extremely well for the company with its superb three-dimensional graphics and exciting gameplay. The game's main character, Gonzo, has become a highly visible and well-known symbol of NetEnt games on all types of gambling websites.
The Gonzo's Quest slot also plays on five reels and three rows with 20 fixed pay lines. Symbols etched in stone will fall in from the top of the screen to create combinations. Whenever a winning combination lands, those symbols will be removed from the playfield and new symbols will fall in creating chances for more wins. With each new win, a multiplier will increase the prize payout. It's possible to win multiple sets of free spins and the win multiplier can reach as high as 15 times.
This slot has a lower volatility than most NetEnt releases, which means plenty of wins to keep you on your toes. You can get into the game with a minimum bet of £.20 and go as high as £50.
Starburst Virtual Reality Slot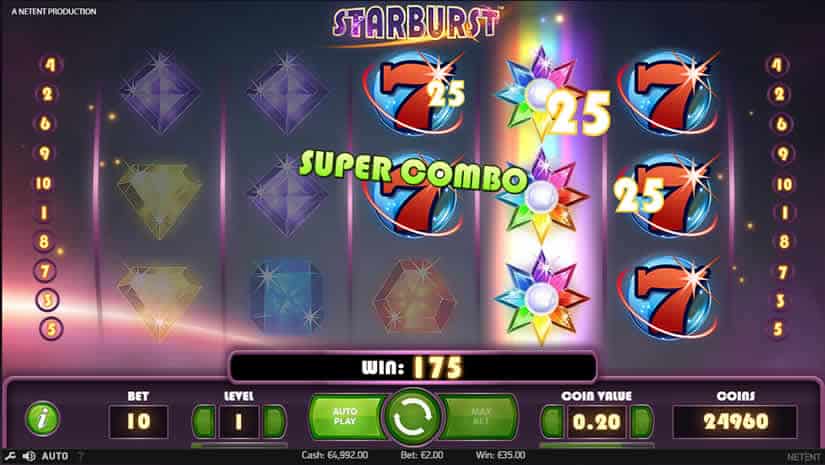 Starburst is a simple yet elegant video slot that has proven to be a consistent favourite among players for quite some time. It seems only natural that this one would eventually be included in NetEnt's catalogue of virtual reality video slots.
This is a five-reel, three-row slot that plays on ten fixed pay lines. It is one of the relatively rare video slots that pays both ways. That is, you can win on combinations that go from right to left as well as left to right. It's a low volatility slot with a generous return to player (RTP) rate of 96%. You can start spinning with a minimum wager of just £.10 per spin or take it up to the maximum of £100.
Blood Suckers Virtual Reality Slot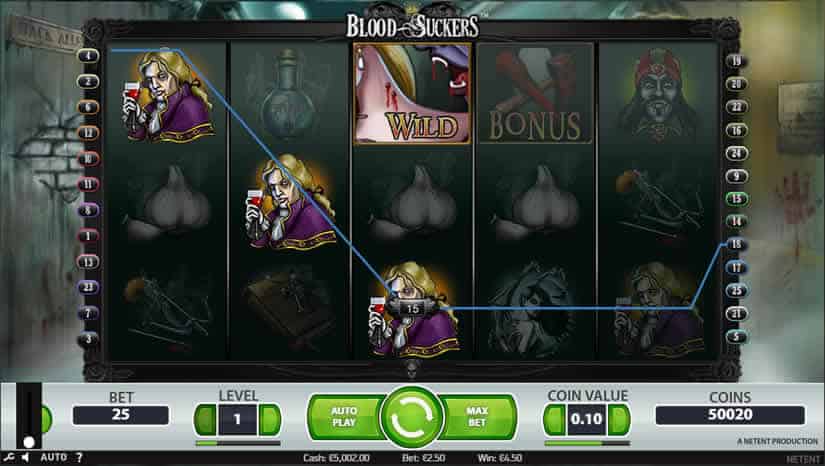 With its ghoulish and gory cast of characters, the Blood Suckers slot lends itself perfectly to a virtual reality environment. For fans of vampires and horror, this slot is sure to be an immersive, exciting experience that will soon become one of your favourite games.
Blood Suckers is another five-reel, three-row slot and plays on 25 fixed pay lines. The reels are covered with long-fanged vampires, all looking for lunch. You'll run into wild symbols, free spins, and an interactive bonus game where you'll need to hunt down sleeping vampires and drive a wooden stake through their hearts in order to collect your winnings. You can get in on the dark fun for as little as £.25 per spin, or risk as much as £50 if that's what it takes to get your heart pumping.
Jack Hammer Virtual Reality Slot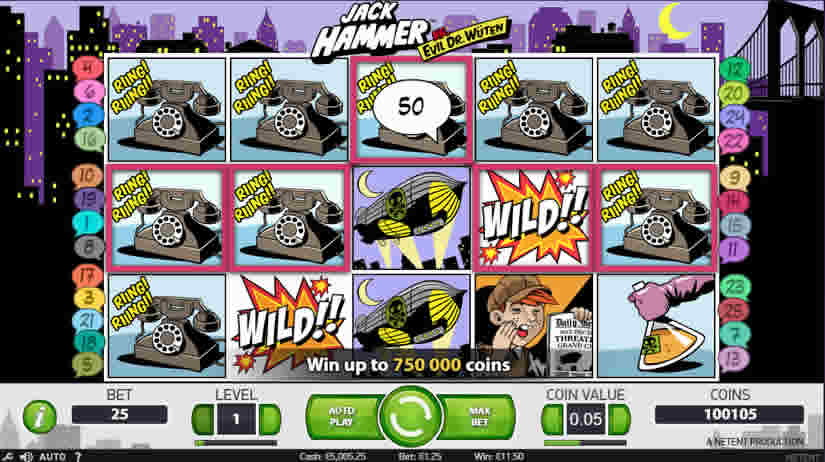 The Jack Hammer slot is based on classic crime detective comic books that you're most likely familiar with from your childhood. Our hero, Jack Hammer, takes on the evil Dr Wuten, who is threatening to bring Grand City to its knees. Of course, if Jack does well, so do you.
Jack Hammer plays on five reels with three rows, using 25 fixed pay lines. There are wild symbols, sticky wins with free respins, and a free spins feature that can award up to 30 free spins at a time plus a three times win multiplier. You can start your adventure for as little as £.25 per spin or wager all the way up to £250.
NextGen Gaming Virtual Reality Slots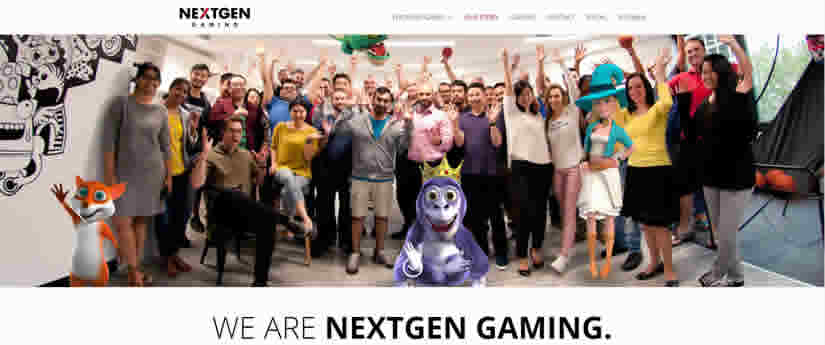 For 20 years NextGen Gaming has been known for creating both memorable characters and innovative games. On land and online, the company has been a favourite of both casino operators and slot machine enthusiasts. Their playful, animated characters are a perfect fit for the escape a virtual reality world aims to provide.
Where to Play: Best NextGen Online Casinos
Gorilla Go Wild Virtual Reality Slot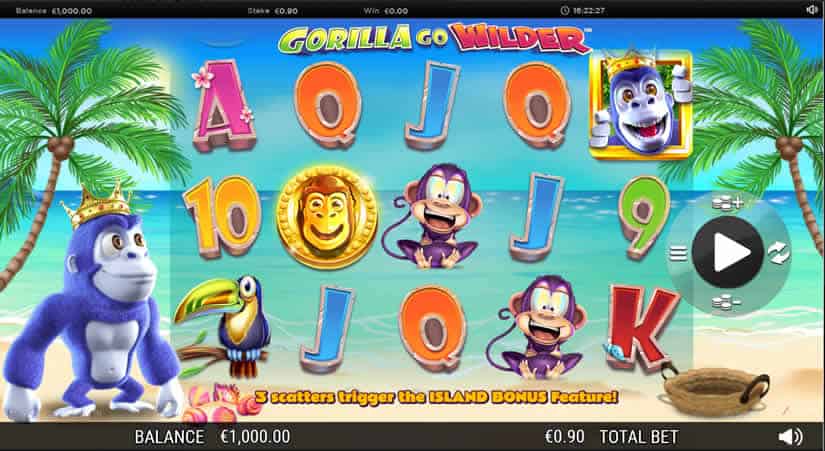 Gary Gorilla is big and purple and he loves two things: bananas and playing the slots. He'll sit by the side and stuff his face with his favourite food and for each of the bountiful bananas that he manages to get down his gullet, you get better chances at bigger bonuses.
You'll be playing on five reels with three visible rows and 25 fixed pay lines. One of the best features on this slot is the random Gary's Bonus Time feature that can trigger after any spin and award up to 1000 times your bet. There are also free spins and other bonuses to watch out for. The longer you play, the more of them you'll unlock. Gary will play with you for as little as £.30 per spin but you can feel free to feed him up to £150 if you like.
Foxin' Wins Virtual Reality Slot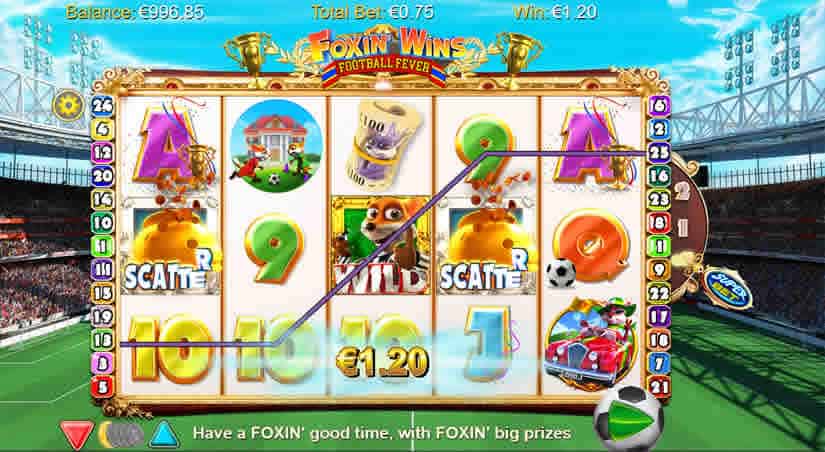 Foxin' Wins features a memorable mascot and brilliant design that has spawned several game sequels. Foxin' Wins is, naturally, the first to be transformed into a full-on virtual reality experience.
The game is played on five reels with three rows and 25 pay lines. The setting is the rich Fox's mansion where the right combination of symbols and random bonuses can land you thousands of times your stake as a reward. There are plenty of bonus features that keep the action rolling along as well as a SuperBet feature that will increase your chances of hitting them all for just a few extra coins. The minimum bet to get in on the action is £.25 and the maximum without SuperBet is $625. With the maximum SuperBet enabled, you can lay down up to $1,250 on a single spin.
Play'n Go Virtual Reality Slots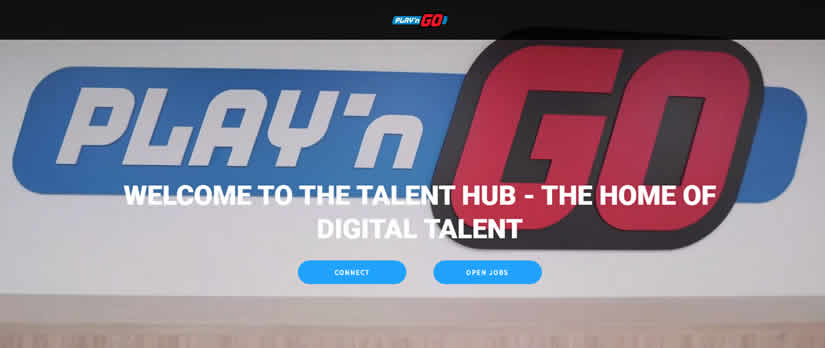 Play'n Go is another game development company with a stellar reputation for great ideas and brilliant designs. Their games are often filled with lifelike characters, three-dimensional symbols, and highly detailed animations.
Where to Play: Best Play'N GO Online Casinos
Tower Quest Virtual Reality Slot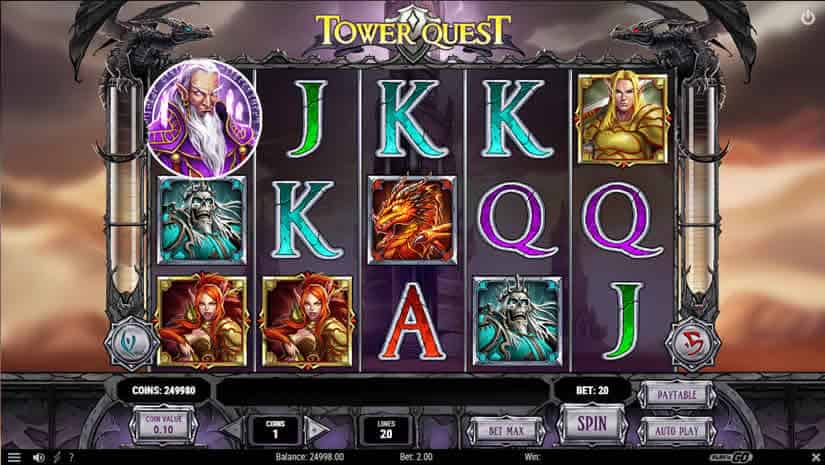 The Tower Quest slot is a trip into a fantasy world filled with orcs, elves, dragons, skeleton warriors and more. Elaborate symbols, background, and animations make this a thoroughly enjoyable game, especially when you're in the middle of it all.
This is a three-reel, five-row slot with 20 fixed pay lines. There are two different types of scatter symbols you can collect to trigger any of six different bonus features. There's also a bonus symbol that will take you to an interactive card game that can deal out big bonuses of up to 500 times your bet as well. You can embark on your own quest for just £.20 per spin or enhance your risks and rewards by playing up to £100 on each.
Gemix Virtual Reality Slot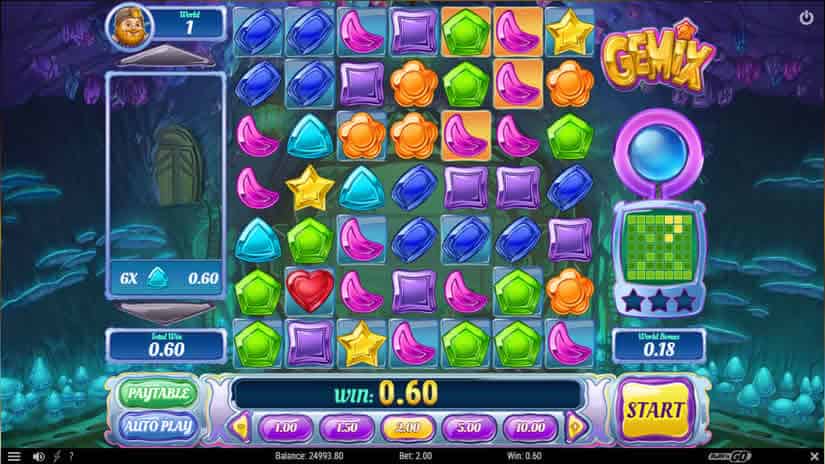 The Gemix slot really looks a bit more like the popular match-three gem and candy games than a traditional slot machine, but it's infinitely more fun, and, of course, you have the opportunity to win real money when you make those matches.
Gemix takes place on a seven by seven grid filled with symbols, which, as you might have guessed, are various types of gems. You'll win by landing clusters of at least five of any type of gem and it's possible to land more than one cluster on each spin. Winning gems are removed from the board and new gems fall in to create more winning opportunities as well. Win with large enough clusters and you'll trigger special bonus features. As you play you can also level up and move to different worlds where bonuses grow and you can increase all the prizes that you collect.
QuickSpin Virtual Reality Slots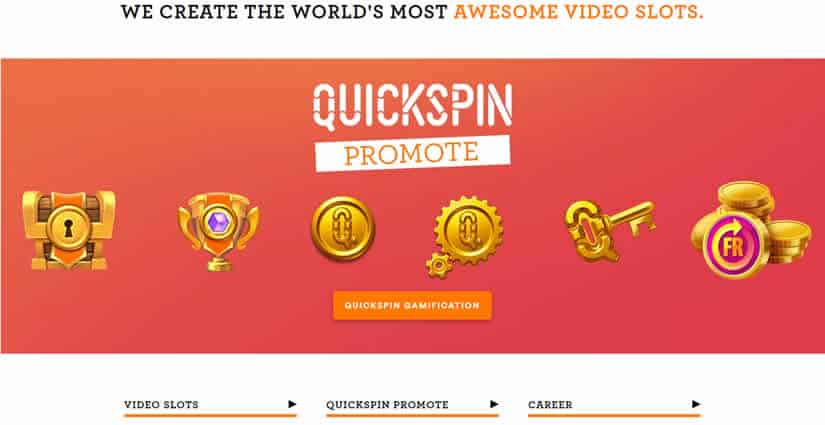 The crew at Quickspin have always taken a quality over quantity approach to their work. They don't really come close to matching the output of some other slot developers but the games they do release are top-notch and worthy of the attention they get.
Big Bad Wolf Virtual Reality Slot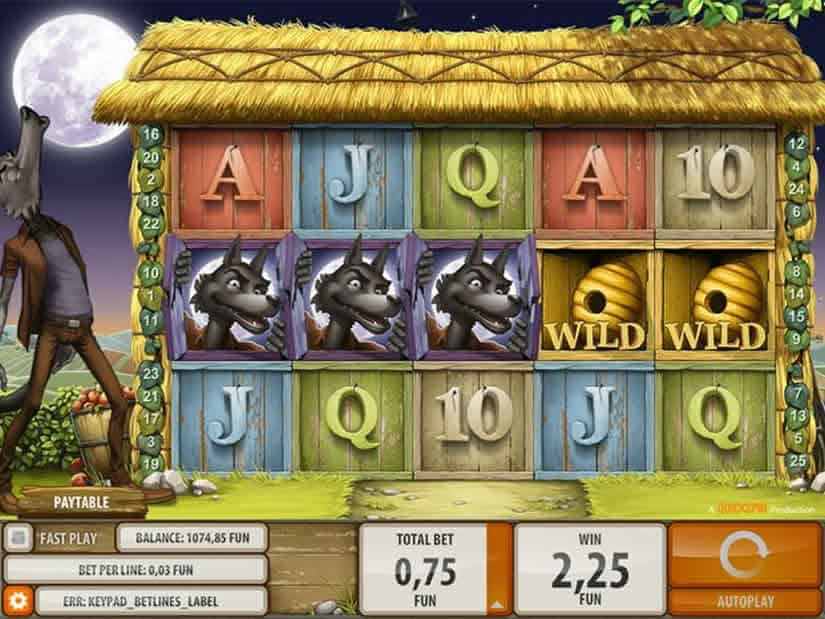 We only have one virtual reality slot to recommend from QuickSpin, and that's the Big Bad Wolf slot. You've probably already put together the fact that it's based on the classic children's tale of the Three Little Pigs. The story makes for a surprisingly good slot machine theme.
Big Bad Wolf is a five-reel, three-row video slot machine with 25 fixed pay lines. On winning spins, the wolf will blow winning symbols off the reels, allowing them to be replaced by new symbols. There are regular wild symbols, pig symbols can become wild during spins, and it's possible to retrigger the free spins feature. You'll also collect special bonuses if you collect enough moon symbols to help the wolf blow down the pigs' houses. The minimum wager is £.25 per spin with a maximum of £100.
So there you have our top ten virtual reality slots that you should be playing in 2019. If you're not sure where to find these games, have a look through our lists. We have plenty of places where you can play with your virtual reality gear and get an online casino experience like you've never had before.
Cheers and good luck!