2 By 2 Gaming is a name that is probably not very well known among casino players and slot machine enthusiasts, but the company is certainly known within the gaming industry on many levels. Known more for their work behind more well-known names, the company is involved in designing games for land-based casinos, online casinos, and even for free-to-play social apps on Facebook, iOS and Android.
If you've ever played slots at a land-based casino, you've probably seen the work of 2 by 2 Gaming in releases from Bally Technologies, Incredible Technologies and Alfastree which can be found in Europe, North America, and Macau.
On this 2 By 2 Gaming Casino page you will find:
The best 2 By 2 Gaming casinos.
Complete review of 2 By 2 Gaming casino software & information.
2 By 2 Gaming slot rtp database & slot reviews.
2 By 2 Gaming casino bonus list, 2 By 2 Gaming casino bonus codes & 2 By 2 Gaming no deposit bonus casinos.
The Best 2 By 2 Gaming Casino Bonuses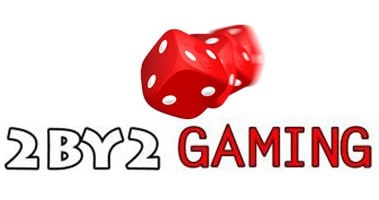 2 By 2 Gaming Slots: Return to Player (RTP) Summary

2 By 2 Gaming Casino Game
RTP %
Agent Valkyrie
96.05%
Burglin' Bob
N/A
Cabaret Royale
N/A
Celtic Goddess
96.30%
Cosmic Invaders
N/A
Crystal Gems
N/A
Dreams of Fortune
96.02%
Enchanting Spells
N/A
Festival Queens
N/A
Fire N' Fortune
96.04%
Giant Riches
96.06%
Gunsmoke
96.01%
Greener Pasteur
N/A
Hansel & Gretel Treasure
96.05%
Humpty Dumpty Wild Riches
96.05%
Jumpin' Rabbit
N/A
Legends of Africa
N/A
Lost City of the Incas
96.50%
Mandarin Fortune
95.05%
Meduza's Golden Gaze
96.06%
Ming Dynasty
96.03%
Nauticus
N/A
Pinocchio's Fortune
95.02%
Riches of the Sea
N/A
Secrets of the Tomb
94.99%
Snow Queen Riches
96.02%
Spell of Odin
95%
The Alchemist's Gold
96.02%
The Honeymooners
96.05%
The Sand Princess
96.05%
The Voyages of Sinbad
95.05%
Wild Birthday Blast
94.99%
Wolfheart
96.03%
2 By 2 Gaming Intro
In the online gaming world, their content is distributed through such companies as Quickfire, Openbet, Lega, Amaya, Multislot, and Worldmatch and can be found on some of the world's largest and most well-known online casinos such as William Hill, Mr Green, Unibet, Bet365, BetVictor and Pokerstars.
Their presence in the social gaming channel is still growing, but their work can already be found on all three of the major mobile operating systems, iOS, Android and Kindle as well as Facebook through the popular apps Mega Fame Casino and Tropworld.
The company is headquartered in Chicago, Illinois with founder Shridhar Joshi at the helm as CEO, supported by the head of development, Darryl Hughes. 2 By 2's website boasts a combined history of more than 125 years of real-money gaming experience among the company's employees. On top of this impressive characteristic, both Joshi and Hughes played key roles at Williams Interactive, a hugely popular and successful game creator in its own right.
The company's primary purpose appears to be developing and licensing its own games — which can be for land-based or online play — but offers several other services as well. In addition to their game creation talents, the team at 2 By 2 can be hired to develop and create custom games of all types and complexities, assist in the conversion of land-based casino games of all kinds to online gaming versions, or to provide expert consulting services.

Exotic Locations With Common Characters
Browsing through 2 By 2's catalogue, it quickly becomes apparent that the company works hard to make sure that their games will appeal to a wide audience. Their slots span a variety of volatility levels and pay line configurations while keeping the basic gameplay mechanics somewhat consistent so that players can easily find the slots that will fit their individual tastes and gambling styles.
As far as the themes of their online slots go, many are based on generic geography or historical epochs with a bit of mythology thrown in for good measure. Riches of the Sea, which is one of the developer's most popular slots, for example, is a common 20 pay line game that takes place under the sea where the player is surrounded by mermaids and colourful sea life.
Exploring another somewhat common theme among online video slots, Secrets of the Tomb is a 30 pay line slot that fits squarely into the ancient Egyptian archaeological genre. The overall game itself is somewhat basic, but there is some interactivity in the bonus features and doubled wins during free spins to keep players interested.
Two more such examples are Mandarin Fortune and Legends of Africa. The former presents the ever-popular oriental theme filled with ornate symbols and Chinese dragons while the latter gives the player a safari-like look at the wondrous and magnificent wildlife of the African continent.
Sticking With What Works
Overall, 2 By 2 does good work and creates games with great quality and solid playability, but they also seem to prefer to play it safe. Most of their slots follow the most popular styles such as having five reels and 20 to 30 pay lines, for example. There is nothing wrong with that, of course, but a team of people that have demonstrated such obvious skill could most certainly take things to a whole new level by climbing just a little bit out of the box and taking some risks in the name of innovation.
With 2 By 2 Gaming's proven track record and a long list of both partners and clients, it seems safe to say that we'll be seeing plenty more of their work in the future, be it under their own name or someone else's. Their name might not be on the tips of the players' tongues, but every slot machine enthusiast has probably experienced their work, knowing it or not.