The Age of Asgard slot from Yggdrasil takes players into the mythological world of the Norse gods to do battle for riches and glory. With powerful female goddesses and evil undead warriors facing off on the reels, you'll be left in the middle to help decide the fate of the gods and your own fortune. This uniquely themed and constructed video slot is sure to satisfy the hunger for battle of even the most blood-thirsty warrior soul.
Age Of Asgard is a five-reel, three-row slot times two. That is, there are two independent sets of five reels with three rows and 20 fixed pay lines each to give you some wild chances at winning big prizes. One set of reels represents the goddesses fighting for good, and the other represents the gods of evil. Making the action even more exciting, it's possible to combine everything together and play on a massive five by six playfield with 50 pay lines. Where to find it? You can play the Age of Asgard slot at most UK online casino sites.
Wagering & Payout
There are 14 regular symbols on the reels plus three different types of wild symbols and two different free spin scatter symbols. High paying symbols on the reels are made up of three goddesses and three evil gods. It may seem somewhat unfair at first that you only have six high paying symbols which leaves eight low-value symbols. The thing is, though, all of the high-value symbols are always stacked three high on the reels. The low-paying symbols are a mix of stylised drawings, four each on the good and evil reels, that loosely resemble the four playing card suits. In reality, you have three high-value and four low-value symbols on each set of reels.
Placing your bets on the Age of Asgard slot is an easy affair. All bets automatically play on all 40 lines and you have the option of setting the value of the coins to play on each line. The minimum coin value is £.005 and the maximum is £5.00. If we do the math there, that gives us a minimum overall wager of £.20 per spin with a maximum of $200.
Play the Age of Asgard Slot at These Yggdrasil Casinos
Yes – Why To Play The Age Of Asgard Slot
No – Why Not Play?
There is a lot of action in this slot but it lacks some of the polish that we've come to expect from Yggdrasil video slots. If you're a hardcore fan of the three-dimensional characters and animations everywhere, you might find this one to be a bit too toned down for your taste.
Some bonus features on the game come up with a fair bit of regularity but the big ones most definitely seem to be hard to trigger and this can build up some frustration if you happen to hit a very dry run of spins.
The dual sets of reels result in the symbols being quite small. This may just have been something necessary in order to allow the game to fit well on mobile screens but if you're playing it on a desktop or laptop computer, the large portions of empty real estate on the screen really stand out and leave the symbols looking unusually small compared to other games.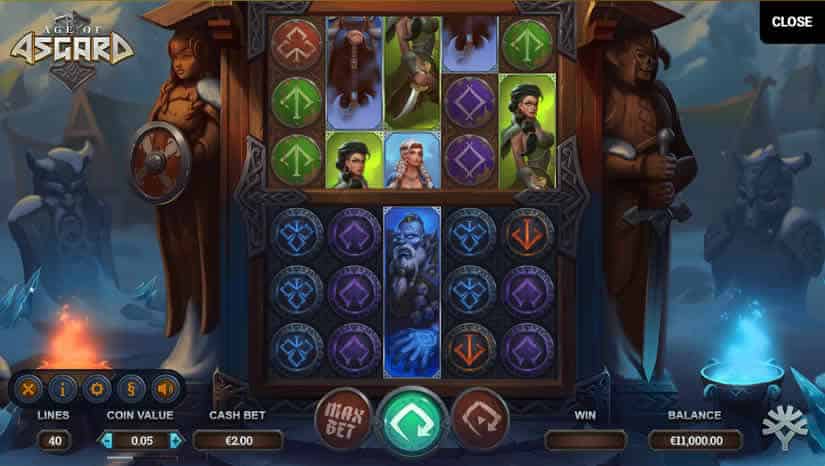 Age Of Asgard Slot Bonus Features
Things might seem a little bit confusing at first with so much going on between the two sets of reels, but you'll soon see that there are some great bonus features incorporated into this game. Let's take a look at how they all work.
Wild Symbols
There are two different wild symbols in the base game. Both are stacked three symbols high. One appears on the top set of reels and the other appears on the bottom. When either of the symbols lands anywhere it's possible that they will be nudged up or down to cover the entire reel if they aren't already doing so.
When a reel is completely covered by a wild symbol, that symbol will lock in place and a free respin will be awarded. Respins will spin all reels on both sets. If another wild symbol lands and covers another reel, another respin will be awarded, and so on, until no more wilds land.
The Clash Feature
If wild symbols land opposite each other on the top and bottom reels the clash feature will trigger. To be clear, this feature will trigger when, for example, a wild symbol lands on, and completely covers, reel three on both the top and bottom set of reels.
When this happens, each of the original wild symbols will spawn up to four more single-space wild symbols. What's more, if any of these new wild symbols happens to spawn over a high-paying symbol, the entire stacked symbol will become wild.
Free Spins
Free spins are triggered when you land three free spins symbols on either the top or bottom set of reels. All three symbols must be on the same set of reels. Landing two symbols on the top and one on the bottom, for instance, will not trigger the feature.
When free spins are triggered, whichever set of reels triggered the feature will expand to cover the six rows and the free spins will be played with symbols from only that set of reels. You'll be given ten free spins.
In addition, during free spins, there are six-high stacked super wild symbols. The super wild symbols also have a chance to be nudged just like the regular wilds. If a super wild symbol completely covers any reel, it will also trigger the clash feature plus award a free respin.
Randomizer Wheel
The randomizer wheel is triggered when you land five free spins symbols (three on one set of reels and two on the other). It can either upgrade your free spins to the special Ragnarok free spins feature or award 1000 coins. There are four spaces on the wheel that will upgrade your spins and four that will award coins.
Ragnarok Free Spins
If you land six free spin symbols (three on each set of reels) you'll trigger the rare and highly rewarding Ragnarok free spins feature. This feature will combine the top and bottom set of reels and remove all low-paying symbols. You'll be awarded 20 free spins which will play out with only wild symbols and the six stacked high-paying symbols.
Like the regular free spins feature, there are six-high super wild symbols but during Ragnarok free spins they will always nudge to fill the entire reel, trigger the clash feature, and award a free respin.