Microgaming and Crazy Tooth Studio have put together one of the most unusual and fun to play slots that we've seen in a long time. The Banana Drop slot puts together brilliant, cartoonish graphics, fun sound, some unique game mechanics, and just the right amount of whacky dancing monkeys to make a nearly perfect game.
This slot is most certainly not like anything Microgaming has released in the recent past. There are big bonus features that can trigger randomly on any spin, thousands of ways to get paid, and, as we said, dancing monkeys. How can you go wrong with this one?
We found the Banana Drop slot to be thoroughly entertaining and hard to walk away from. With six reels and four rows of fun, there's always something going on that keeps your attention glued to the screen.
One of the best features of the game is that it works on a "ways to win" system that will pay you for at least three adjacent symbols anywhere on the reels. That means that at least any three symbols on any three consecutive reels will award a win. Combinations don't need to start from the leftmost or rightmost reel. All-in-all, you have 4096 ways to win, which is like playing on a regular game with 4096 pay lines. You're sure to hit plenty of excitement on this one.
Between yes and no, this game most definitely gets a yes on our list. It stands out from other slots based on both looks and gameplay mechanics. If you're playing at any casino that offers Microgaming slots, you should definitely look for this one.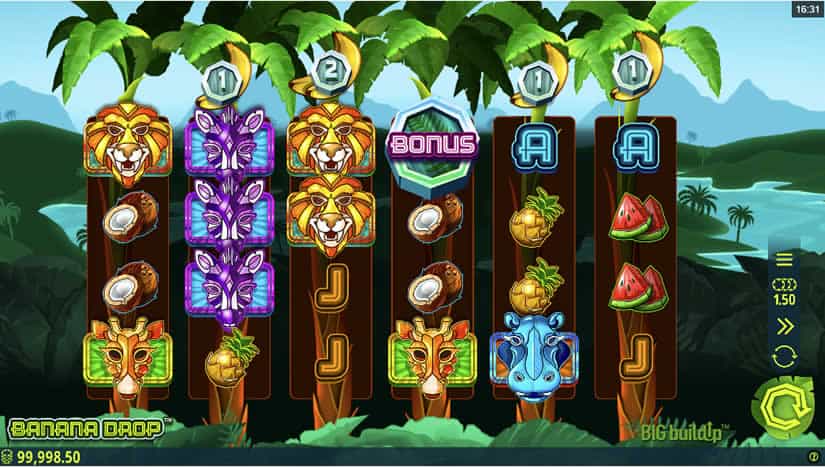 Real Money Microgaming Casinos
Banana Drop Slot Game Details
Banana Drop has six reels, four rows, and as we said, 4096 ways to win. There are 11 different regular symbols on the reels plus wild and scatter symbols. The game will also keep track of achievements such as hitting certain combinations of wins.
The value you'll get for your money is also good. This volatility of this slot game appears to be on the higher side, which might make a bit of a wild ride for more conservative gamblers. There is a good RTP rate (return to player) of 96.7%, however, which means that you have a pretty good chance of winning back a lot of the bets you make.
Wagers are controlled by preset selections. All you'll need to do is pick the amount you'd like to bet on each spin and you're good to go. You can play for as little as £.15 and go up to a maximum of £30.
Banana Drop Slot Bonus Features
There are a few different bonus features in the game, as you'd expect. Each of them will give you a nice boost in your win rate when they hit.
Banana Drop Bonus
The most obvious bonus feature is pretty much what the game is based on. The banana drop. Each of the reels is hanging on a tree where anywhere from zero to three bananas can grow. You may not see them right away, but there are also some hungry monkeys hiding down in the grass below looking to get their hands on those bananas. This bonus triggers randomly on any spin during the regular game.
When the bonus triggers, the monkeys will show themselves and knock the bananas from the trees with sticks. From one to three bananas can fall down on any reel and they will each leave behind either a direct money win or wild symbols. Coin wins are paid out right away and symbol combination matches created by wild symbols will be calculated and paid once the feature is complete.
Watch out for those tricky monkeys, though! Sometimes they'll pop up from the grass but they just show their faces and then hide again without knocking any of the bananas free!
Paid Achievements
The paid achievements feature is not available in all jurisdictions due to varying regulations, but if it is available where you play, there are several achievements you can get that will trigger an extra payout.
All achievements are based on landing three, four, five, or six of a kind of different symbols. The more you land, the more you win, of course.
Free Spins
If three or more scatter symbols land on the reels at any time, you'll get seven free bonus spins. Even better than just free spins, it's guaranteed that every spin will trigger the banana drop bonus. So you know you'll get paid nicely when those scatter symbols hit.
There are also stacked monkey symbols on the reels during free spins. Whenever one of these stacked symbols lands on a reel it can increase the number of bananas in the tree above up to a maximum of three.