The Cash-O-Matic slot from NetEnt is a hardcore slot player's dream. This game forgoes cute characters and unnecessary animations in favour of rock-solid design and steady gameplay that are sure to satisfy the vast majority of gamblers out there, no matter what your style happens to be. Shining gems and big bonus features beckon in this latest NetEnt release. As you can imagine, Cash-0-Matic slot is available at most UK online casinos (that usually feature NetEnt games).
Cash-O-Matic is a five-reel, four-row slot that pays on 1024 ways to win. There are no traditional pay lines and wins are simply paid based on like symbols appearing on consecutive adjacent reels. There are five high-value and five low-value symbols on the reels plus a scatter symbol. One thing you won't see is a wild symbol. The five high-paying symbols are made up of various coloured gems and the lower paying symbols are the playing card values ten through ace. Plenty of big combinations are possible on regular spins in the base game.
As with most NetEnt games, setting your wager amount is achieved by selecting how many coins you'd like to play—or the bet level as they call it—and the value of the coins. On Cash-O-Matic the bet level can be set from one to ten and the coin value can range from £.01 to £.50. That will allow you to bet anywhere from a minimum of £.20 per spin up to a maximum of £100.
Play Cash-0-Matic Slot at These Casinos
Yes – Why To Play The Cash-O-Matic Slot
This slot has a very basic, yet attractive and well-designed theme that should appeal to just about anyone. It's a great slot for those that are more interested in the game than the characters within it.
Cash-O-Matic combines some innovative bonus features that will keep you guessing. There is a lot of action on every spin, win or lose, to keep you on your toes.
NetEnt knows how to put together big bonuses. When the bonus features on this slot combine, big payout opportunities will light up your eyes.
Cash-o-Matic slot return to player (RTP) is 96.33% which can be considered fair.
No – Why Not Play?
As we mentioned above, this slot is all about the gameplay, not flashing lights or cute mascots. If you're looking for themes based around characters, fictional or otherwise, this one might not hold your interest.
High payouts are there, but this is a high volatility slot where it could take some time to hit those big bonus features. Patience is definitely going to be required to avoid frustration.
Although the overall design of the game is good, in both the play and visual aspects, there still just feels like there is something missing. The complete absence of a theme might be a bit too much. There could have been a bit more imagination put into the symbols on the reels, for example.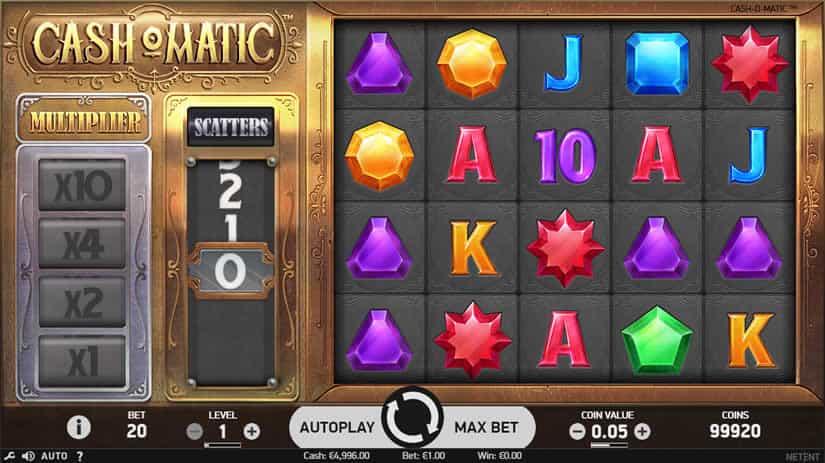 Cash-O-Matic Slot Bonus Features
There are a few different features within Cash-O-Matic that, when combined, can lead to some outrageously large payouts.
Avalanche Feature
The avalanche feature works somewhat like the cascading symbols feature that you may have seen on other video slots, but with a twist. Instead of removing winning symbols from the playfield, all of the other symbols are removed and the winning symbols stay and fall to the bottom. Empty space at the top is then filled in by new symbols. If more wins are produced, the process will continue to repeat.
Main Game Multiplier
The win multiplier in the main game is tied to the avalanche feature. When the avalanche feature triggers, for each complete row filled with the winning symbols, the win multiplier will move up a level. The four levels on the multiplier will grant you wins worth one time, two times, four times, and ten times the normal payout.
Free Spins
Free spins are awarded based on scatter symbols. The good news is that scatter symbols will disappear from the board when they land and allow more to fall in from the top. The bad news is that it will take at least 10 scatter symbols to trigger free spins, but it's worth it.
For 10 or more scatter symbols you'll receive one free spin for each scatter symbol that you collect. During free spins, matches and the multiplier levels work the same, but each multiplier level is worth much more. The exact value of each multiplier level is determined by how many scatter symbols triggered the free spins. The multiplier can grant wins anywhere from 2 times up to 50 times the regular pay rate.