The Cash Vandal slot from Play'n Go once again shows us that this veteran online video slot design team is still worthy of the considerable reputation they have earned among both casinos and players. This slot comes with a unique theme that is beautifully designed and a concept that is expertly executed. For those who like a high volatility slot that brings the excitement, Cash Vandal should hit the spot. As usual, you can find the Cash Vandal slot and all Play'N Go tittles at any UK online casino.
Cash Vandal is a four-reel, three-row slot that pays on ten fixed pay lines. There are eight regular symbols on the reels plus wild and scatter, making ten in all. The symbols on the reels are all reminiscent of classic fruit machine symbols, but with a modern twist; drawn as if they were painted by a graffiti artist. You'll see watermelons, cherries, bars and diamonds as you've never seen them before, all against a background of a heavily painted and sometimes moving commuter train.
Wagering & Payouts
The highest paying regular symbol will award ten times your bet for four of a kind on a line. The wild symbol, however, will give you back 50 times your wager if you manage to land four. The lowest possible return you'll see is one-fifth of your bet for three raspberries. High paying symbols will count a win by matching just two on a line. Low paying symbols require you to match at least three. Payouts might not seem extremely high, but it possible to win up to 5,000 times your bet, or £500,000 — whichever comes first.
As with all of Play'n Go's recent releases, placing your bets on Cash Vandal is a perfectly simple process. You will have your choice among 20 different preset bet amounts. Simply choose how much you would like to play on each spin and let the games begin. You can bet as low as £.10 and as much as £100.
Play Cash Vandal Slot at These Casinos
Yes – Why To Play The Cash Vandal Slot
The visual design of this slot is spot on. The team has done a wonderful job of putting a very modern twist on classic symbols and even using the concept to tie into bonus features.
Interactivity and choices to make when bonus features are triggered add another level of fun and anticipation to the game. It's always going to be a bit different each time you play.
The simplicity provided by game elements like using four reels instead of five and only ten pay lines creates a perfect slot for novice players who are looking for a game that is easy to experiment with but contains enough features to keep things interesting.
The return to player (RTP) of this game is 96%, which can be considered fair.
No – Why Not Play?
Cash Vandal is listed as a high volatility slot. While this type of slot usually provides a great level of excitement for veteran players, it may not be the right game for new casino players who are a bit nervous about their bankrolls. Players should make sure they have sufficient funds to ride out losing periods between larger wins.
Although this video slot certainly stands up to high expectations, it may be a little bit oversimplified for veteran players and high casino rollers. With relatively low betting limits and so few pay lines, those who have been playing for a while might feel like they need something a touch more complicated to hold their attention.
Cash Vandal Slot Bonus Features
There are several different bonus features built into cash vandal that help keep excitement levels high and gameplay interesting. Sometimes you'll even get to choose which bonus feature you want to activate.
Stacked Symbols
The first and most basic feature is simply stacked symbols on the reels. On each spin, one symbol will be randomly chosen to appear stacked eight spaces high on all reels. This, of course, will give you much higher chances of matching that symbol on the given spin.
Free Spins + City Bonus Feature
The other bonus features are made up of a combination of free spins and the three different city bonus features incorporated into the game. Everything kicks off when you land a golden spray paint can anywhere on the fourth reel. If you get just the golden can, you'll get one respin with reel four held in place. If you get the golden can plus one other can on any of the other reels, you will get one free spin with stacked wilds on reel four, plus one of the city features active.
Golden
If you land the golden can along with two or three of the other spray paint cans you'll get five or ten free spins respectively, plus you'll get to choose which of the three city features you want to activate. Go to London and you'll get up to nine mystery symbols painted on the reels with every spin. Go to Paris and reels one and two will be linked together and spin with giant 2×2 symbols. Pick Berlin as your destination and two or three wild symbols will randomly be painted across reels one two and three on each spin.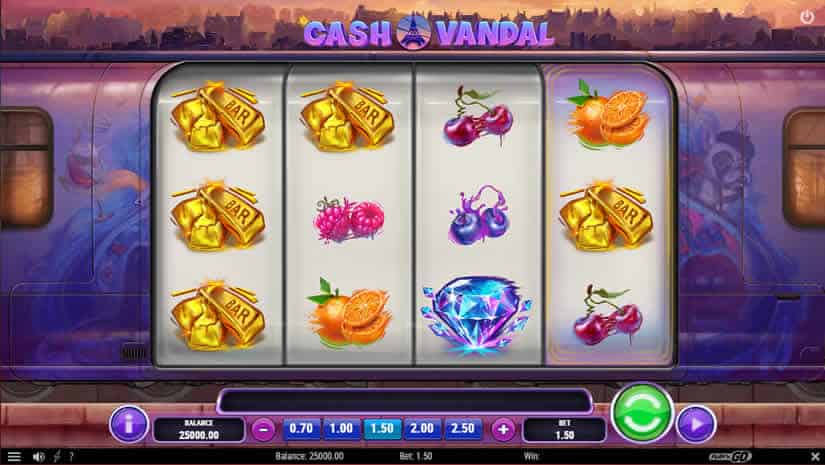 Additional Info
Play'n go slots can be found at most reputable casino sites, including fast paying online casinos. I personally love all new releases from this software company and here you will find 3 more slots with decent RTP and lower volatility, in case the one at Cash Vandal slot scares you a little:
Cheers!