The Champions of Rome slot from Yggdrasil brings together a unique theme, brilliant high-definition graphics and animations and some exciting bonus features to create a game that is thoroughly entertaining and well worth the attention of any online slot machine enthusiast. Massive titans will battle to the death as the reels spin and the victor will determine whether you walk away with the champion's spoils or lay your head down for the last time on the cold arena floor.
Champions of Rome is a five-reel, three-row slot that pays out on 20 fixed pay lines. There are ten regular symbols on the reels plus a wild symbol, a free spin symbol, and a special "Beast" symbol that appears during free spins.
Symbols and Payouts
Symbols are divided into three pay tiers. The top paying symbols are three monstrous gladiators which can pay up to 1200 coins for five of a kind. The mid-tier symbols are three stone animal heads that you might see around the walls of the battle arena. They will pay up to 120 coins for five of a kind. The low tier symbols are four different Roman coins which can pay up to a maximum of 30 coins for five of a kind. Free spin symbols also award a coin prize in addition to triggering the free spins feature. If you land three, four, or five of them you'll be paid 20, 300, or 12000 coins respectively.
Since all bets on this slot play as one coin on each of the 20 pay lines, setting up your total wager is simply a matter of selecting the value of the coins you'd like to play with. The minimum value available is £.005 and the maximum is £5.00. That, of course, creates a minimum wager of just £.10 per spin and a maximum of £100.
Top Rated Yggdrasil Online Casinos
Yes – Why To Play The Champions Of Rome Slot
The audiovisual design of this slot is nothing less than beautiful. The resolution is high-definition and everything from the action of the reels spinning to the hulkish gladiators stomping into the arena is spot on. Yggdrasil continues to solidify their reputation for stunning design work.
This slot has a 96.4% return to player (RTP) rate and appears to have a low to medium volatility. Players will get good value for the money they bet and the wins will come in often enough to keep spirits up and excitement levels high.
The bonus features are both creative and varied. Each time you trigger something, it will be a bit different and you can make choices, too. This definitely helps to keep things from getting monotonous.
You can find the Champions of Rome slot and other tittles at any online casino in UK, or other European brands.
No – Why Not Play?
There is a "buy bonus" feature available that will allow you to buy directly into the free spins feature for 1000 coins. This is undoubtedly a bad bet and should be avoided. It is possible to win more than 1000 coins during a set of free spins, but putting yourself in a situation where you need to win 1000 just to break even is not going to work out well.
The price you pay for Yggdrasil's great design work is often higher power and CPU consumption. If you're playing on a laptop or mobile device, you can expect to see a reasonable drain on the battery and high CPU temperatures.
Champions Of Rome Slot Bonus Features
Yggdrasil is known for finding interesting ways to deal out bonuses in their slot machines, and this one is no different. The basic bonus features are wild symbols and free spins, but they don't trigger in the usual ways.
Wild Symbols
Wild symbols do not appear on the reels as with most slots. Instead, whenever two free spins symbols land, one of three different gladiator features will trigger and place four wild symbols on the reels in various configurations. The sword feature will throw two swords at the reels which will create one 1×2 and one 2×1 symbol. The mace feature will create a single 2×2 wild symbol, and the trident feature will add four random wild symbols.
Free Spins
Free spins will be triggered when you land at least three free spins symbols. Before the feature begins, however, you'll be given a choice. You will have to choose whether you want to enter training mode or deathmatch mode. In training mode, you will get eight free spins and automatically collect and keep all of your winnings. In deathmatch mode, you'll have to score at least 450 coins before your free spins run out in order to collect your winnings — but in exchange for the risk, you get a bonus multiplier of up to four times.
Special Conditions
There are also some special conditions that occur during the free spins feature. Before spins being, a gladiator will be chosen. All high paying symbols on the reels will be replaced with that gladiator's symbol. In addition, after each spin, the gladiator will throw his weapon at the reels and generate wild symbols as we described above. There is also a special gladiator — The Beast — who appears on the reels during free spins. If your gladiator hits the Beast symbol with his weapon, you'll be granted an extra free spin.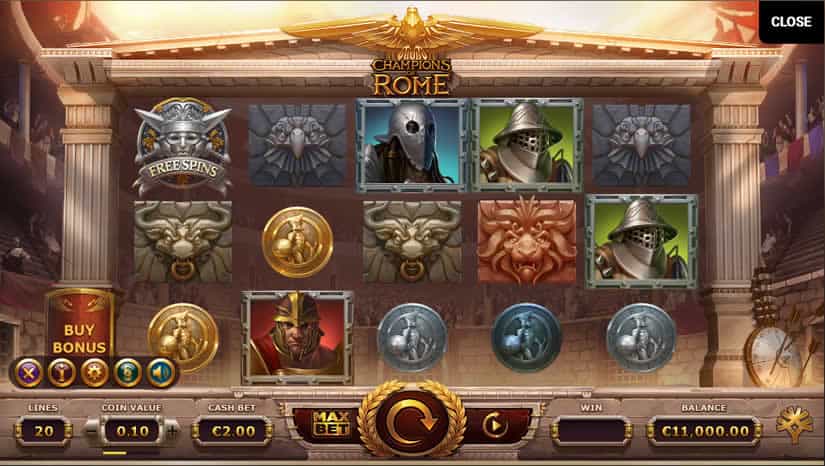 Additional Info
Yggdrasil produces some of the best modern online slots, no joke! Every month we test new games and they keep getting better: Good RTP and fun to play! Here you can find 3 alternative Yggdrasil slots that are on my podium:
Good luck!