Gunslinger: Reloaded slot is a wild west adventure on reels brought to us by Play'n Go. This well-conceived video slot is themed around cowboys — good and bad — with plenty of whiskey drinking, poker playing action, and even a bit of gunplay thrown in just for good measure. This slot has some great payouts built in, but as one of the few Play'n Go slots with a progressive jackpot, this slot, in particular, has the potential for massive wins. As usual, you can find Play'n Go slot machines at any online casino in UK (and Europe).
The Gunslinger: Reloaded slot follows the popular five-reel, three-row design and offers a 25 fixed pay line betting structure. As the reels spin by like bullets in a revolver, you'll see symbols including the gunslinger, his steed, bags of gold nuggets, a pretty maiden, wanted outlaws, the sheriff's star and playing cards you can use to build a winning hand that just might reward you with that elusive jackpot.
Top paying symbols will net you 150 times your bet for five of a kind, with five wild symbols kicking you back 400 times your stake. Regular payouts will hit a maximum of 5,000 times your bet on one spin, but, of course, the progressive jackpot can grow far larger than that.
Setting up your bet on Gunslinger is straight to the point with no tricky settings to navigate. As we said, your bet will always play on 25 lines. All you need to do is select the total you'd like to wager on each spin from the available denominations. The minimum bet on this video slot is £.25 and the maximum is £100.
Recommended Play'n Go Casinos
Yes – Why To Play The Gunslinger: Reloaded Slot
If you like western themes, this game is extremely well put together. The visual details are great and the sounds fit perfectly. From tumbleweeds blowing by in the background to the animations on the reels, it's a lot of fun.
There are several great bonus features built into Gunslinger: Reloaded, from free spins to that potentially

massive progressive jackpot

, there are many chances to score big wins.
The bounty hunter feature is a great example of a well-designed, fun to play, interactive bonus feature.
No – Why Not Play?
This one seems to be a pretty high volatility game, so you'll need to have the cash and the mental patience to be able to absorb some losing streaks before you see bonus features or hit any big wins.
The return to player (RTP) rate is unavailable in the game pay table. On games that have progressive jackpots, the RTP will often vary some with the size of the jackpot. In some cases, this can mean RTP rates that are considerably lower than what you'd find on standard slot machines that are not attached to a progressive jackpot payout.
Gunslinger: Reloaded Slot Bonus Features
Play'n Go really did a superb job of mixing up a fun combination of bonus features. We've already mentioned that there are wild symbols, as you'd expect on most slots. The Sheriff's white steed serves as a scatter symbol. Landing two or more scatter symbols only triggers a payout, however. There is no additional feature attached to a scatter win. Aside from those two symbols, there are also three more bonus features that can be triggered.
If you land three whiskey bottles on the reels you'll be given free spins. You'll be prompted to take out your revolver and shoot one of the three whiskey bottles to reveal exactly how many spins you'll get. All wins are doubled during free spins and the feature can be re-triggered!
You can also get into an interactive bonus feature by landing three wanted posters. In this case, you'll be asked to choose between three outlaws, each with their own level of risk and reward. First, you'll need to do some sharp shooting to fend off their attacks, and then it's time for a good old-fashioned showdown out on the dusty street.
Last, but by no means least, is the progressive jackpot. On top of the slot machine, you'll see the five cards that make up a royal flush in poker. Whenever you land a win on the reels with one of the playing cards, the card that it matches will light up on top. Light up all five cards for a shot at that jackpot.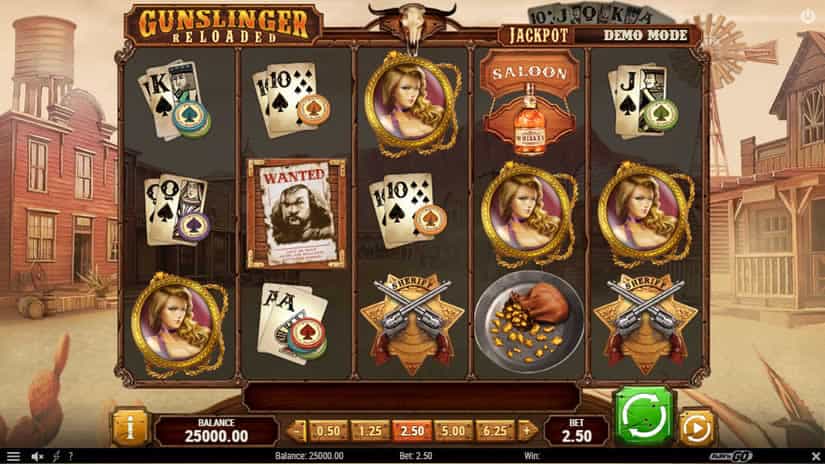 Additional Information
This online slot seems to be of high volatility. If you prefer less risky games, you should try:
If you don't really mind about RTP but prefer to play Western themed slot machines, I've got some for you:
Good Luck!