The Jingle Spin slot is a timely holiday release from the veteran online video slot development crew at NetEnt. With an unmistakable Christmas theme and some imaginative game mechanics, this one is sure to be a crowd pleaser, even after the holidays. For now, though, let's see if we can't show you how Jingle Spin might help raise your holiday spirits with some ho-ho-hot wins.
As you would expect on a Christmas themed slot, it's loaded with symbols and characters that represent the traditional Christmas lore, all rendered with a bit of a steampunk touch. Jingle Spin is a five-reel, three-row video slot with 20 fixed bet/pay lines. As you watch those five reels spin, you'll see symbols such as a few types of Christmas tree ornaments, reindeer, pine cones, and the playing card symbols 10 through Ace.
When it comes to wagering on Jingle Spin, players can choose how many coins they'd like to bet on each line, ranging from one to ten. Coin values can be set from £.01 up to £1.00. When all is said and done, that gives us a minimum bet per spin of £.20 and a maximum of £200.00. That should be quite suitable for both the conservative and the not so conservative gambler.
Best NetEnt Online Casinos
Yes – Why To Play The Jingle Spin Slot
As with most NetEnt slots, Jingle Spin comes with a very respectable return to player rate (RTP). Over the long term, this slot will pay back 96.48% of money wagered.
There's a whopping big max win on this slot of 94,750 coins. Playing at maximum coin value, that's a shot at winning £94,750.00 on one spin. Heck, playing at minimum coin value, that's still a shot at winning £947.50 — not too bad either way.
The unique and generous bonus features make this slot a lot of fun to play with chances for tons of free spins and extra payouts.
You can find this slot machine at most UK online casinos, since NetEnt is present in all reputable casino brands working under regulation.
No – Why Not Play?
As well as this slot is put together, the symbols really lack imagination. Graphics are rendered nicely, but the symbols themselves are just lacking. Having five playing card symbols here seems like someone just wasn't trying. There are so many things that come along with Christmas, there's no excuse for not filling the reels with themed symbols.
The bonus features can be very generous, but there's no interaction with the player other than hitting the spin button. Players looking for interactive bonus features probably won't find this slot all too exciting.
Of course, if it's not near Christmas, or you don't celebrate or don't like Christmas, Jingle Spin might not end up on your must-see list.
Jingle Spin Bonus Features
NetEnt has come up with a pretty interesting way to implement bonus features on the Jingle Spin slot. There are wild symbols on the reels, but that's about the only thing that resembles any kind of bonus system you'll see on other slots.
On Jingle Spin, bonuses are awarded based on a three-point system. On top of each of the reels sits a helper dwarf. To the right of the reels is a Christmas bauble wheel that deals out possible bonuses. Among those bonuses are spreading wilds, bonus coin wins, free spins, and a surprise bauble which could contain any of the previous three.
Here's how it works: Each time you spin, the bauble reel will also spin. Not all spaces on the wheel contain a bauble, but if the wheel stops on one, it will be given to the first helper dwarf who sits above the fifth reel. With each spin, the dwarves will pass any existing baubles to the left, one dwarf at a time until they fall off the left side.
To trigger one of the bonuses, a wild symbol must land on the reel below a dwarf that is holding a bauble. Spreading wilds will do just as they say, the wild symbol will spread out in different directions across the reels. Coin wins can range from 5 up to 2500 coins and the player can win as many as 50 free spins.
During free spins, all spaces on the bauble wheel contain a bauble, so all five of the helper dwarves will always be holding something. You can also win addition free spins to keep things going even longer.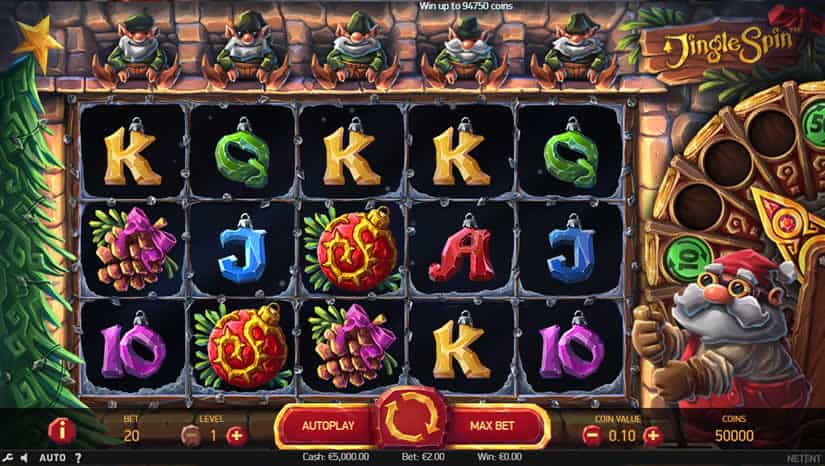 Additional Info
I honestly found this slot really fun to play. I love it's graphics and special effects and there's no way to not get tempted by the high payouts. If you are into the festive christmas themes, I recommend you to try the following tittles too:
Not sure why NetEnt didn't create this slow with the 243 ways to win mechanics. Almost every single new slot comes with this feature, which basically allows you to win with combinations in different directions. Please check the following slot machines to see what I'm talking about (I'm sure you will love them!):
Cheers and Enjoy!