The Lara Croft: Temples And Tombs slot comes to us as the result of a collaboration between Triple Edge Studios and Microgaming. Based on one of the most popular female video game heroes in history, this slot most certainly doesn't disappoint. It doesn't matter if you're into Tomb Raider, high-quality modern video slots, or a bit of both, you're sure to have fun with this game.
Lara Croft: Temples And Tombs is a standard five-reel, three-row slow that uses the 243 ways to win payout system. It also plays with a rolling reels function, sometimes called cascading symbols. Whenever a winning combination lands, the winning symbols will be removed from the board and new symbols will fall in from the top, creating the potential for multiple wins on one spin. Not only that, each time a win is created and symbols are removed, the win multiplier increases granting up to five times the normal award.
Bonus Features & Payout
There are ten regular symbols on the reels as well as wild and scatter symbols. You'll see several different versions of Lara herself as well as some of her archaeological tools and trophies.
There aren't a lot of bonus features on this slot, but that doesn't mean there aren't some big prizes to be won. Things are put together in such a way that a single spin can net you some heft rewards.
Wagering on the Temple And Tombs slot is about as straightforward as it gets. There are no lines or coin values to fiddle with. There are simply 27 choices ranging from a minimum of £.20 to a maximum of £20.00 per spin. Pick the amount you'd like to bet and you'll be good to go.
Try Lara Croft: Temples And Tombs Slot Here
Yes – Why To Play The Lara Croft: Temples And Tombs Slot
The game carries a simple design yet manages to create a lot of excitement. This makes it perfect for novice players who are looking for a video slot machine that is easy to follow and contains bonus features that can lead to surprising situations.
As you would expect from a game based on the licensing of a very popular character, the quality of this slot is very high. Graphics, sounds, and animations are all very well done. If you just can't play on anything but the top level designs, this one won't disappoint.
This Lara Croft slot has a 96.05% return to player (RTP) rate. This will give players great value and plenty of play time for the money they invest in the game.
No – Why Not Play?
It should be fairly obvious that this game has a very specific theme. Although the gameplay itself is good, if you are not a fan of the Tomb Raider franchise of video games and films, you might not find this slot particularly appealing.
Those with more conservative bankrolls will find this slot easily accessible, but for those who like to play with higher amounts – casino high rollers – the relatively low maximum of £20 could be just too low.
Although the free spins feature on this slot is quite generous, it seems to be hard to trigger, which can become frustrating after playing for some time.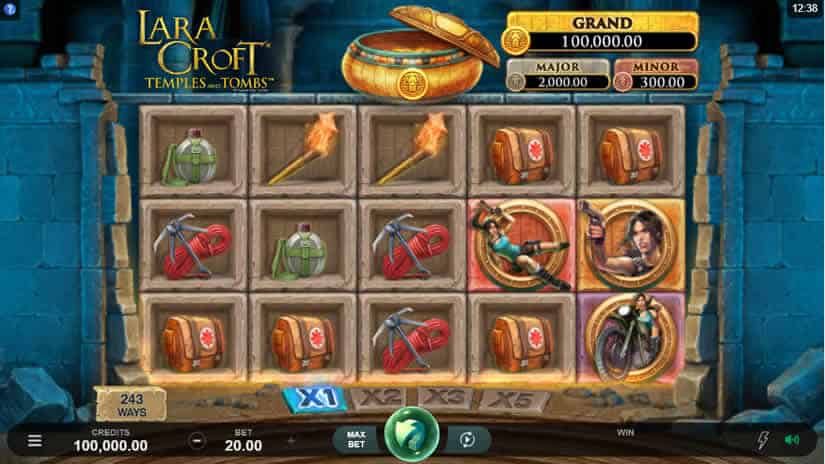 Lara Croft: Temples And Tombs Slot Bonus Features
In addition to the rolling reels, there are three basic bonus features on this slot that are all tied together in one way or another. You have wild symbols, free spins, and three jackpots that can be won. Following is how they all work.
Wild Symbols
Wild symbols, of course, match up in combination with any other symbol on the reels. They are also collected each time they land as part of a winning combination. After the win, when the rolling reels feature is finished, there is a chance that you will win one of the three jackpots. The more wild symbols that are collected during rolling reels, the higher the chance you have of being awarded a jackpot. If you do get a jackpot win, the game will randomly choose which of the three you get.
Free Spins
When free spins are triggered you'll get a minimum of eight spins. The trigger is much more generous than most slots, however. It is possible to trigger free spins on more than one winning way at a time, which means it's possible to win multiples of eight free spins. Wild symbols can also match with free spins symbols, which is very unusual. And finally, free spins can be retriggered. The multiplier that climbs for each rolling reels win also goes higher during free spins. It's possible to have a win multiplier active up to fifteen times the normal award.