The Treasure Horse slot from Pragmatic Play is a simply designed but elegant and exciting slot with an Asian theme that also incorporates some traditional fruit machine style elements, too. With interesting bonus features and plenty of ways to win, this slot is sure to become a favourite with those who enjoy the more classic slot designs infused with a touch of modern gaming technology and mechanics. As you imagined, Pragmatic Play slots are available at most UK online casinos and other brands catering to European players.
Treasure Horse is a three-reel, three-row slot where all bets play on 18 pay lines. There are seven regular symbols on the reels plus wild and scatter symbols. The top four symbols are made up of Asian items like a small bamboo plant and Asian coins. The lowest symbols are simply the traditional single, double, and triple bar symbols that have appeared on slot machines seemingly since the beginning of time.
Out of the regular symbols, four pay of well while the other three may leave you feeling a bit disappointed. The highest paying symbol on the reels is the wild, which pays out a very nice 55.5 times your bet for three of a kind. The top regular symbol pays out 22.2 times for three. The lowest symbol will only give you back a mere 27% of your original bet.
Betting options on this slot are also easy to understand. It's possible to play between one and ten coins on each of the 18 lines and the coin value can be set anywhere from £.01 up to £.50. That makes for a minimum overall bet of £.18 per spin and a maximum of £90.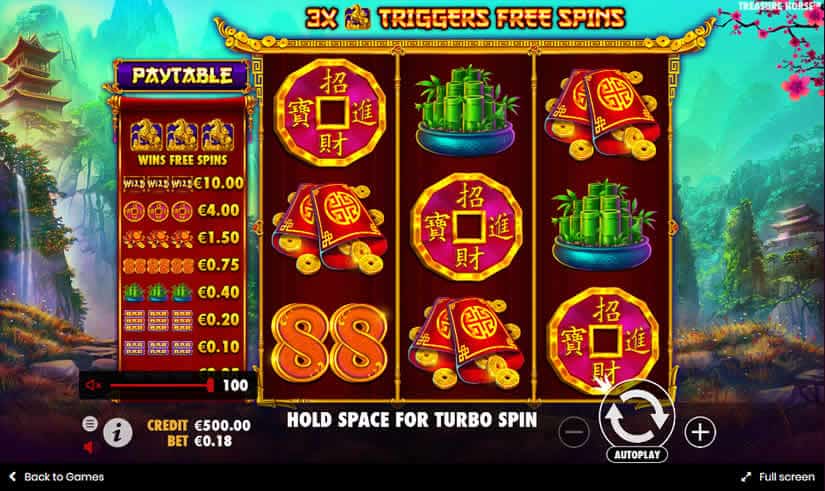 Play Treasure Horse Slot at These Casinos
Yes – Why To Play The Treasure Horse Slot
For those who enjoy simple, straightforward, classic slot designs, this one should hit just the right spot. It's the perfect mix of video slot technology and classic mechanical slots gameplay.
There aren't a lot of bonus features on this slot — just like the old classics. When you do hit the bonuses, it's possible to get some extremely generous payouts, even on small bets, when things go your way.
This is a perfect slot for novice players who are experimenting or for those who want a good slot to play for killing some time on a mobile device. There's nothing too complicated to understand, it plays fast, and you can play a lot of spins with a fairly small bankroll.
The return to player (RTP) for the Treasure Horse slot is 96.52%, which can be considered good.
No – Why Not Play?
Pragmatic Play is one of few game designers that publish the volatility levels of their games and they rate this one as a four out of five. So while it's not the absolute highest, players should be prepared for some fairly significant ups and downs in their balance as they play.
For veteran slot enthusiasts, this game might just be a bit too overly simple. It's good for quick, pure gambling, but there aren't a lot of bells and whistles for those who like lots of features or impressively animated characters.
The Treasure Horse slot plays very fast. If you turn on quick spins and start clicking, it's very easy to lose track of how much you might be betting. Players should be sure they are paying attention to what they're doing, or use the auto-spin feature to make sure they don't risk anything beyond their intention.
Treasure Horse Slot Bonus Features
As was alluded to above, there aren't a lot of bonus features on this slot, in fact, there is really only one and that's free spins. Don't let that fool you, though. When you do hit the free spins, there are handsomely generous payouts waiting for you.
As you probably deduced on your own, free spins trigger when you land three scatter symbols anywhere on the reels. When this happens, you'll be granted eight free spins to start. You'll also be granted one extra for each scatter symbol that lands while free spins are active, with no limit on how many you can rack up.
In addition to the regular three reels, a fourth reel will also be added for the duration of the free spins feature. This fourth reel contains multiplier values from two times up to six times. With each free spin, any wins will be multiplied by the value that lands on that special fourth reel.
When things go right, with the combination of additional free spins and multipliers on every winning spin, the total prize you collect from just one free spins session can go through the roof.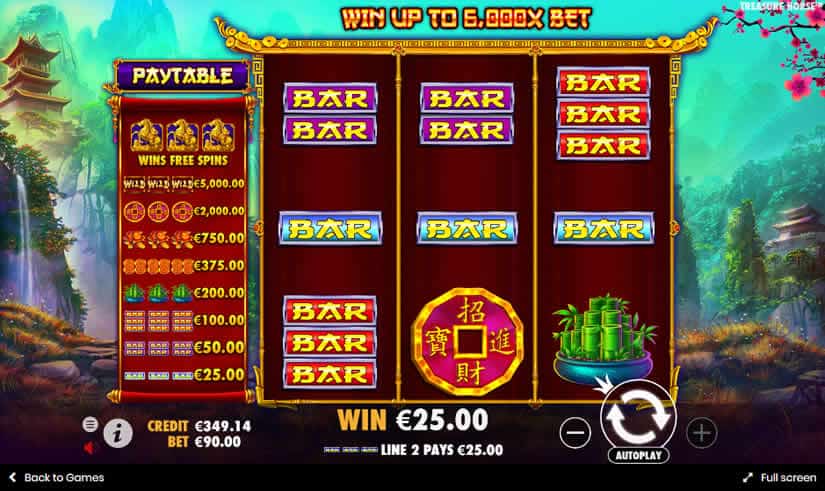 Additional Info
You can find the Treasure Horse slot at most multiplatform online casinos. If you prefer online slots with more visual effects, I recommend you to check these ones:
Enjoy!